Rev-Up: America the Beautiful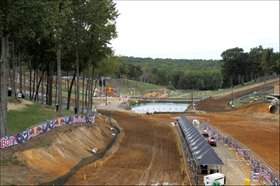 The Budds Creek facility is coming together nicely.
photo: Steve Bruhn
Hello, everyone, and welcome to The Rev Up. It's been the most incredible two weeks, my friends. Two weeks ago to the day I jumped on my brand new Harley Davidson Nightrod Special and headed south for Richmond, Virginia. Along my way I rode through the George Washington and Jefferson National Forests. During my stay in Virginia I rode across the state through Lynchburg and Roanoke by the edge of the Blue Ridge Mountains before heading back north. I am not sure what took me the most, the heart-crushing beauty of the country side, the confederate civil war cemetery I saw, or numerous American history markers all along the way. I suppose it was the juxtaposition of the wind on my face, the painfully gorgeous view, and the power of standing before bonafide American History that has filled my heart with so much pride recently. That trip coupled with the events of the past two weeks (you know which ones) has me more pumped up about the 2007 FIM Red Bull Motocross of Nations than you can imagine. Let's get Revved Up about this very special event that we will be playing host to this weekend.
I want all of you to take in the last couple words of that last sentence and think about them for a moment. We are playing host to the world. The United States is the most amazing country on the planet. I've traveled to a couple third world countries and read enough about the world to have a firm belief that we have it better here than anywhere. This is the land of the free, the home of the brave. We have more opportunities and freedom than anyone and we have fought long and hard for things to be the way they are. So we all need to be humble, gracious, and accommodating to our foreign guests. Remember, unless you are a Native American Indian, you came here from somewhere else anyways. It seems to me that America has been given a black eye in the past couple of years. This is mostly for reasons beyond the scope of this motocross website, but on this weekend in our little MX world we'll have the responsibility to bare the direct face of America to our foreign competitors. Let's all be respectful and do our best to have our guests saying, "Man, America is the most beautiful and incredible place I've ever been" when they leave.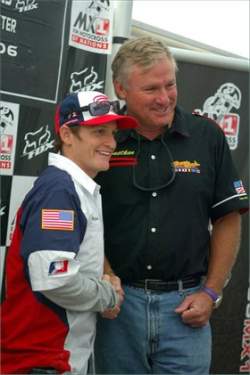 Ricky Carmichael will race his last motocross race on Jonathan Beasley's track.
photo: Steve Bruhn
All the same, we have to kick their asses as well. Ah, the American machismo and ego. You're damn right. The ghosts of Audie Murphy, General Patton, and Franklin Roosevelt will be riding with our boys as they do their duty to make the old legends proud. Bailey, Laporte, Hannah, Lackey, Chandler, Stanton and the boys all gave it everything they had to establish this country as the team to beat. We won 13 in a row, ran through a dry spell, then have since stood tall in the saddle. We're going to bring out The GOAT for possibly his final charge for the Peter Chamberlain trophy. Wait till they get a taste of RV Park. Hell, even our aging soldiers are nasty.
Timmy Ferry
will hold'em back, you just watch.
I wish I had more insightful information and bench racing information about this race but I am at a loss. I've never attended the MXoN and I am not extremely well versed in the GPs. I know the main guys but not enough to contribute worthy pre-race data. All I know is that the world is coming to our house and a line has been drawn in the sand. I can't wait to be there and see it all go down. The weather is going to be perfect, and
Budds Creek
is a beautiful venue for a motocross war of the worlds.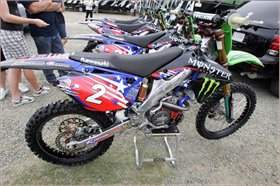 RV's chariot is ready for battle.
photo: Steve Bruhn
With that, I'll be missing that "other" race that will be taking place in nearby Dover, Delaware. This was a difficult decision as the events of last Sunday afternoon certainly changed the look of that whole deal. I won't bore you with much about that, but I do want to say thank you for all of the e-mails and phone calls. A lot of you asked me what I was doing - if I was drinking heavily, bouncing off the walls, or screaming like a lunatic. Nope. I just sat in sober silence in my little wooden chair in my living room watching and waiting for those last final laps to click off. I did pretty good till I heard his voice screaming, "Yes! Yes! Yes! Yes!" This was quickly followed by hearing Mom and Dad's voices in Victory Lane, then Clint and Casey's on their proceeding phone calls. It was the perfect American afternoon and I'll never forget that feeling for the rest of my days. It was so beautiful, powerful, and pure.
2007 has been the most astonishing year of my life. This year I've been to Arlington National Cemetery and seen the changing of the guard and I've walked the hallowed ground at the site of the Battle of Antietam. Those memories were fresh in my mind on my ride south through the heart of Virginia and all of it will be in my head as a proud American spectator when that first gate drops this weekend. Somehow, I have a feeling that the best moments of the year are yet to come. Good luck boys. On to victory for the red, white and blue!
Thanks for reading, see you next week.

Watch the 2007 Red Bull Motocross of Nations LIVE on
MediaZone.com
!