This is one of George Jobé's shirts he used for the 1987 MXdN in Unadilla Valley. I wasn't at the race, but I raced in those days and for the 1988 season I bought Jobé's '87 250 CR. Since he was 500cc champ in '87, his 250 was as good as new. He threw in some gear and that's how I got the shirt. I really didn't remember I had it until i started cleaning my garage a few months ago. I remember there was also a very ugly M. Robert open-face helmet—even in those days it wasn't cool. Good thing I lost that one...


As far as the Belgian results in
Unadilla
'87 go, well, let's just hope we'll do better in this year's edition!
Thierry Sarasyn. Belgium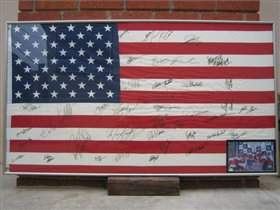 The entire 2005 Team USA signed this!
This is the flag held on the podium by Carmichael, Windham, Tedesco and DeCoster during the victory ceremonies at MxDN Ernee, France 2005. Signed that day by the entire team and family members that attended. This will be very tough to top!
Jason Balcon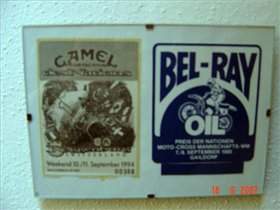 Stickers from the '85 MXoN
Here is a Bel-Ray sticker from the 1985 MXdN in Gaildorf/Germany and a ticket from the 1994 MXdN in Roggenburg/Switzerland—this one is also a sticker! I was at both of these races and the stickers are under glass now. Have a great time!
Al Eisenhunt
And, here's another of DC's collectibles: It's a fund-raising sticker from the '83 Team USA squad, which was not made up exclusively of Honda riders following two straight sweeps by Red Riders. But the change of bike brands did not change the results—Team USA's David Bailey, Mark Barnett, Broc Glover and Jeff Ward topped the Trophee des Nations in Czechoslovakia and the MXoN in Belgium.
Want to share your collection? Send us a look at what you've got: Online@racerxill.com
Watch the 2007 Red Bull Motocross of Nations LIVE on
MediaZone.com
!