Number Cruncher: MXoN Edition
Welcome to the Shift Number Cruncher. It's MxoN week so let's run some numbers surrounding the history of the biggest and longest running race in our sport. I can still remember the enormous hype surrounding the 1987 event at Unadilla. Everyone was so pumped for the race to be coming to America, especially Bob Hannah who made no bones about wanting to compete and that he would even do it, "on a stinkin' 125!" I had only been racing a few years by then but I knew that we had won it the year before. I watched every episode of Motoworld and I can still hear Larry Maiers screaming about O'Mara flying past King David Thorpe, and then seeing the images of Johnson and Bailey riding across the finishline side by side doing a high five. I waited for that race every year and couldn't wait to get my Cycle News to see how we won and everything shook down. After taking a glance at the new 2007 FIM Red Bull Motocross of Nations program some cool numbers jumped right at me. Enjoy.
Jeff Stanton
photo: Jack Burnicle
Some of the most heroic rides in American MXoN history have been put in by riders wearing #2.
Ricky Johnson
,
Jeff Stanton
, and
McGrath
all raced on winning teams at the MXoN with the #2 on the front of their Hondas. Now it appears that our next great American hero has made the number all his own. Two-time defending Lites champion
Ryan Villopoto
will be looking for his second consecutive class championship in his second appearance wearing #2. RV2? Hmmm… I guess that works.
Oh yeah, Jeff Ward looked pretty cool running the #2 in 1985, which was the first year that the two races—Motocross and Trophee des Nations—were pared down to one MXoN. Team USA won that race, on the heels of great rides by
Wardy
, #1
David Bailey
and #3
Ron Lechien
. But the overall winner that day?
King
David Thorpe
, running #7 for Great Britain. Sure, he got beaten the next year by a 125, but so did everyone else; on this day, with his 1-2-1 in three motos. On that day, he was the King of the entire Motocross World.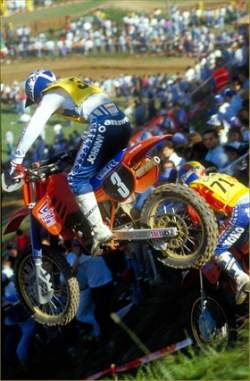 Johnny O'Mara
photo: Jack Burnicle
This number stands for a few really interesting things. For one, it's for huge 125cc rides like the one that
Johnny O'Mara
put in back in 1986 running the three. A year later the #3 was pretty damn good to "
The Hurricane
," who used it on an RM125 to help Team USA win the
Unadilla
Mudfest. And who can forget
Danny "Magoo" Chandler
's extraordinary run through the autumn of '82, wearing #3 to take every moto in the Motocross and Trophee des Nations?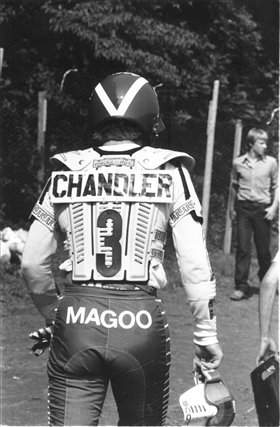 Danny Chandler
photo: Dick Miller Archives
Another interesting correlation to #3 is that
Timmy Ferry
will run it at the event this year.
James Stewart
was supposed to race with it last year but when RC stacked it up at
Glen Helen
he had to sit out the MXoN. This put James into the #1 slot and moved
Ivan Tedesco
into the #3 ride.
Kind of ironic that this year James is out with an injury and RC moved from #3 to #1 on the team, and
Timmy Ferry
will take to the track running #3 on a KX450F.
Do recall
Mike Brown
(USA #3) was slotted for the 2005 team, when he was replaced with Ivan who went on to race and win his class? And wasn't it Brownie who was going to wear #3 in both 2001 and 2002, when Team USA pulled out?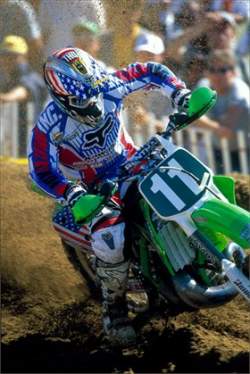 photo: Simon Cudby
This has been one of the hottest numbers in recent MXDN history.
RC
won with it in 2000,
Ben Townley
wore it in 2006, and now the super-fast
Antonio Cairoli
will wear number 11 for this year's event.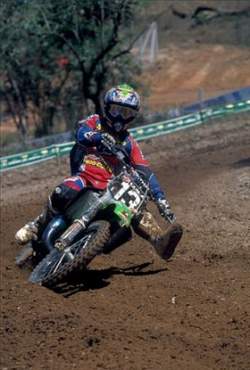 photo: Eric Johnson
This has been quite the daunting number for Team USA. In a streak that began in 1981, Team USA won the event 13 times in a row before that dreadful race in 1994. Five years later, fate had
Ricky Carmichael
wearing #13 at the Brazilian MXdN. Early crashes and broken bike pieces cost him the win. Hopefully the number bodes better for
Sebastian Pourcel
, as he leads team France wearing the spooky digit.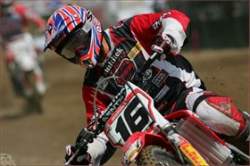 Great Britain's James Noble
photo: Geoff Meyer
If everything works out the way team USA hopes, it will mean win number 18 for the red, white, and blue. When we won last year it pushed us past Great Britain as the all-time winners of the event. Oddly enough, a Brit named
James Noble
will wear number 18 this year which could inspire the Union Jacks to even the score and possibly beat team USA to the lofty number in 2008. Pretty cool, huh?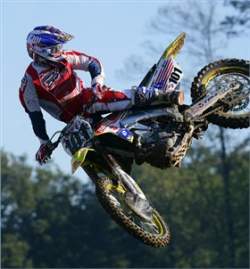 photo: Simon Cudby
Team USA's victory in 2005 was one of the sweetest ever. RC ran the
#101
to the victory but along the way he had to ride pretty hard to put some space between himself and a guy named Ben Townley. Two years later the New Zealand rider became "BT101" and put in a grand performance in the 2007 AMA Supercross and outdoor contests.
OK, guys that was fun. If you have a few minutes test your MXoN history against some of the numbers I have chosen, or please e-mail me some cool Number Cruncher style renditions of your own cool MXoN digits.
It is going to be a really, really fun weekend. See you there!
Watch the 2007 Red Bull Motocross of Nations LIVE on MediaZone.com!