With the 2007 FIM Red Bull Motocross of Nations finally upon us, Racer X Online plans on spending the whole week looking ahead to the big race at Budds Creek. With that in mind, we're asking our readers to have a look around their houses for cool Team USA/Motocross of Nations collectibles and send a photo in so we can share them with the rest of our readers. Just send it to: Online@racerxill.com.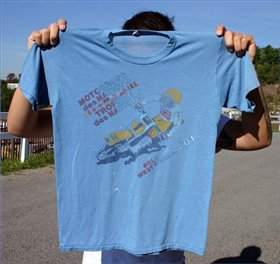 1981 MXoN t-shirt.
This one is as rare as rare gets! It's a Team USA T-shirt that was being sold prior to the 1981 Motocross and Trophee des Nations! But here's the thing: This was the first shirt that was being offered as a fundraiser for the team that did NOT go -- the one that included the top Suzuki and Yamaha riders of the day. When they all backed out, MXA's Dick Miller, Hi-Point's Larry Maiers and Bel-Ray's J.J. Hanfield went to work on raising money and getting someone to go. American Honda stepped up, and Dave Arnold sent Roger DeCoster along as manager for this quartet: Donnie Hansen, Danny LaPorte, Johnny O'Mara and Chuck Sun. And the rest, as they say, is motocross history!
As for this shirt, it belongs to Ed Perry, and he handed it over to us at Loretta Lynn's after he caught his daughter wearing it around the house! Our goal is to raffle or auction it off the next time a nice chunk of change is needed.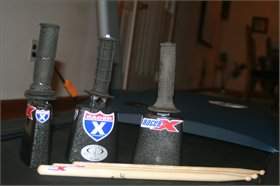 John Kelly's cowbells
Okay, these are not collectibles yet, but they will be after the race! John Kelly of Langhorne, PA, made this special cowbells to root the riders on at
Budds Creek
.
And here's a submission by Dave White of Birch Run, Michigan: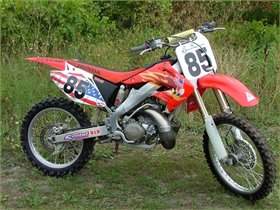 Dave White's 2003 RC MXoN replica CR250R.
This is my 2003 CR250R RC Replica of the '03 MX of Nations bike Carmichael rode that year. It was the last year a two-stroke 250 in recent history won this race. Graphics by Throttle Jockey.

Stefan Paetow's 2002 MXoN ticket.
The Motocross des Never Was... Turned out to be pretty good as the WCoMX. And hey, I got my money back from the organisers too.
Stefan Paetow
This is my stuff from MXDN 87. Never forget the mud and crowd. Can't wait for this weekend!
Marc Tiesler
It's Paul Lindsey. I was checking out your Des Nations memorabilia section and thought I'd lob this one at you. It really only has meaning to me, and I'd be willing to bet that without this, no one would remember or believe this story: We all know that DeCoster has been the team manager for the US team for, well, as long as I can remember. But what you probably didn't know was that ONE year (call it an asterisk year), 1999, he couldn't go. Duke Finch was the AMA motocross manager at the time and he knew that I had first hand knowledge of the racing scene in Brazil (where the Des Nations where to be held that year) having raced there as recently as '97, and he needed SOMEONE to manage the team, so he asked me!!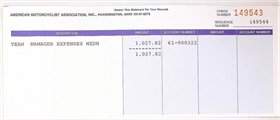 Paul Lindsey's team manager reimbursement.
Of course, growing up a HUGE fan of this race I didn't even hesitate to accept. There was not a big deal made about it, no press releases or announcements, no interviews, we just went and did the job (if I recall, technically I was "co-manager" along with Duke). Honestly, I'm not even sure that the riders knew of my title, and I mostly did gopher work like finding us a place to go test when we arrived, sorting out fuel, etc. It was a great experience that I'll never forget, although we did loose that year which was a major bummer.
Anyhow, even this pay stub isn't much proof as it doesn't show the date or location, but I know the deal and that's all that matters I guess. Enjoy.

Kris Vancer's 2002 MXoN ticket
Here's the only souvenir I have from the MXoN that never was. And it only cost me $35!
Kris Vancers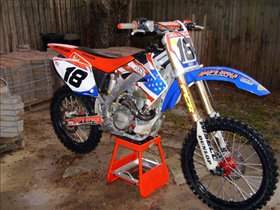 Endo's Team USA bike
Check out my Team USA bike. See you there.
Endo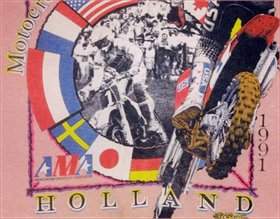 Rob Harris' 1991 MXoN t-shirt.
Here is Chris Burgeson's collection of MXdN t-shirts. He says, "I think the collection, while not very deep, is rather noteworthy."
A shirt from the '02 race that never happened.
A shirt from '05 race with Windham, RC, and Mike Brown. Brownie was initially selected but dumped and other shirts with updated graphics were printed later.
A shirt from last year with RC prominently displayed. Of course he never raced after getting hurt at Glen Helen.
An official team shirt from last year that I got as a member of the AMA contingent that went over to Matterley Basin.

Finally, here's another super-rare piece from DC's MXoN collection, only this one is from the "Trofee der Naties" of 1972! It's the official souvenir program for the Trophee des Nations at Horensbergdam-Genk, Belgium. The winners were the home team from Belgium , which included Roger DeCoster, Joel Robert, Jaak Van Velthoven, and Marcel Wiertz. Now that's old school!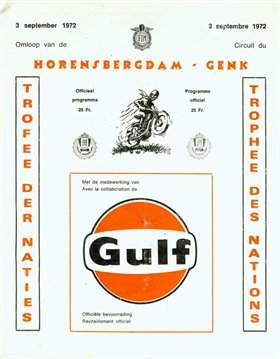 Trofee der Naties!

So what's in Your "MXoN" Collection? Send it in and we will post more tomorrow! Online@racerxill.com
And don't forget to watch this weekend's FIM Red Bull Motocross of Nations, live on
MediaZone
.