Monday Conversation: Roger DeCoster
September 17, 2007 12:32pm
It's hard to think of the Motocross of Nations and not think of Roger DeCoster right along with it. He has long backed this race, first as a member of Team Belgium, then, beginning in 1981, as the advisor/manager of Team USA. With the race upon us, we thought it would be cool to start the week by talking to The Man.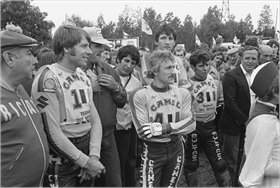 DeCoster was a member of Team Belgium for over a decade.

photo: Charlie Morey

Racer X: Roger, we're a few days away from the 2007 Motocross of Nations at Budds Creek. How many of these have you been to, ballpark?
Roger DeCoster: Probably about 35.
Wow! What, 12 or 13 as a rider?
Yes, something like that as a rider. With the American team, I've been to all of them except three, I believe. I didn't go to Australia or Austria. And I did go to the one in Roggenburg, Switzerland, but not working. I was present at all of them with the U.S. team since '81 except for two. And I was with them for 15 out of 17 winning ones.
As a rider you were part of the Belgium team that if I'm not mistaken, didn't Belgium win the Trophee des Nations 10 times in a row?
They actually won it 11 times in a row, but I was on the team as a rider 10 of the 11 years. I was selected as a rider the last year that I raced, but I decided to stop after the last Grand Prix.
You've had a career that is unmatched in motocross. There have been a couple of guys who've done things on this side of the pond and that side of the pond; but to do it on both sides and for so long, you stand alone. And as an American motocross fan, I'm sure glad you're on our side now!
[Laughs] I'm happy to be on this side, too.
Looking ahead, I know you have a busy week because not only do you have the event here in the States where your team—Monster Energy Team USA—is the defending champion two years running, but I'm sure you have a lot of old friends coming over.
Yeah, but mainly we have Sylvain [Geboers] and the Belgian Suzuki team. Sylvain always helps with a lot when we go over there, and this is one opportunity that we can return the favor.
Roger holds the Peter Chamberlain Trophy on the podium of the 2006 MXoN.

photo: Simon Cudby

If Sylvain has Kevin Strijbos racing, how big of a problem is the Belgium team for us?
I never think we should celebrate before it's done, but we should win this, if we don't have bad luck or screw up. The Belgium team has Steve Ramon who is now world champion, and he's a good rider, but I don't think he can beat Ricky. And their second rider, I don't think he can match Villopoto, and the third rider, I don't think he can match Ferry. So we should be all right. I hope the Belgium team is going to be strong and do good. I want to win and have good competition, but it may come from a team like New Zealand. But even them, I think they're going to have a hard time getting three strong riders together.
I have a program here, and it's Jeremy Van Hoorbeek in MX2 and Ken De Dicker in the Open class. Okay, the Italian team has Tony Cairoli, New Zealand has Ben Townley, and France has Sebastian Pourcel. But when you really look at it, the Australian team has three guys that American fans are most familiar with as challengers.
Yeah, they have a good team, but again, I really look at this year is one of the years that we're the strongest favorite. But we have to be careful to not mess up, you know?
And we've seen that happen. We've been on the winning end and the losing end of a few of those upsets.
Something could happen on the start and you have a few riders down in the first turn and suddenly things shift pretty quickly.
Can you think back to what was the most special race for you in the MXoN? If I remember correctly, didn't you sweep both motos in the '78 Trophee des Nations?
I don't remember, but for me, the first time we won it at Farleigh Castle in 1969 with the Belgium team that I was involved with. Belgium had won it in the early history of the Motocross des Nations, but it had been many years since they had won when we won it in '69 with Joel Robert and Sylvain. We had won the week before in the 250cc class in Belgium, and that was great, but it felt better to go over and win it in England. England and Sweden were the strongest countries at the time, and England was the winningest country. It was only last year that we finally beat them for overall wins. England was kind of specialists in the Motocross des Nations.
They had won every year from '63 to '67, and then the Russians came out and won in '68. Hey, I'll bet you a Loretta Lynn's bib for one of your Camel bibs that you don't know the fourth member of that '69 Belgian team.
Hmmm… I think it was Joel, Sylvain… Jeff Teuwissen and me.
Ah, you got it!
But Teuwissen was not known outside of Belgium very much, but in Belgium the guy was awesome. He was an unbelievable in the sand. He was not on the sand at that race, but he was a good rider. He lost a lot of his capability once he went over to other countries.
Kind of like Andre Vromans.
Yes, he was quite a sand rider too.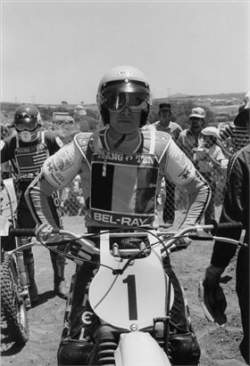 Roger with the #1.

photo: Dick Miller Archives

Speaking of Belgium, you have a really neat ceremony coming up on Thursday night. Can you tell us about that?
Yes, actually, the Belgian Ambassador to the United States in D.C. has invited the Belgian team and the press, and the American team also, to the Belgium embassy. It's pretty cool that some people in the upper echelon of society are paying attention to our motocross team, so it'll be interesting to go.
Congratulations on that. I do look forward to being there. One more question: With the exception of the Paris Supercross and U.S. Open, this is it for Ricky, as far as outdoor motocross goes. Do you expect him to go out the way he has showed up every year this year, or do you think it'll be hard for him to focus on the task at hand?
I think he will be focused and I expect him to be on top of his game like he always is. I don't think he's going to slack off this last race. If he wanted to do that, he had plenty of chances to do it this year, but when he came he was always prepared and always give it 100 percent.
As a Team USA fan, that was the answer I wanted to hear! Good luck this weekend, Roger, and thanks for always taking the time and effort you give this race.
Thank you, DC.