Privateer Profile: Kyle Mace
September 13, 2007 9:00am
It's a great feeling to finish the season on a high note. Teams are filling the last positions on their rosters, scouts are looking for hungry talent and the momentum you take from the last round carries you through to the start of the next season. One rider that has to be feeling that high right now is Kyle Mace. The California native scored the best finish of his career at the final round in San Bernardino with a ninth overall in the AMA Motocross class. Getting a top ten at any national in either class is impressive, so we chased Kyle down for this week's Sponsorhouse.com Privateer Profile.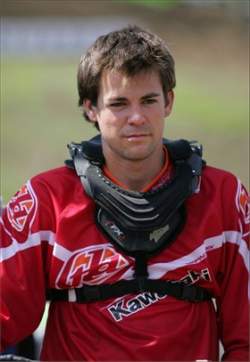 Kyle Mace

photo: Steve Bruhn

Racer X: Kyle, great job at Glen Helen! Tell us about the weekend.
Kyle Mace: It was a great weekend for me. It started out good; I was eleventh overall on Saturday after all the practice sessions. I liked the track and I'm pretty familiar with it since I ride here quite a bit. On Sunday things didn't start out so good. I broke the water pump seal in my bike during the first practice so I didn't get to even ride the second practice.
So, you probably didn't have a very good gate pick then?
No, I was, like, 31st for the motos. Luckily the start at Glen Helen is pretty fair. You could probably pull a holeshot from just about anywhere on the gate if you got a good jump. I was maybe ten from the far outside and I came around the first turn in the top fifteen both motos.
Tell us about the motos.
Once I got decent starts I just tried to ride smooth and not fall off the pace too bad at the end of the moto. The track was super-rough so it was easy to make mistakes if you pushed too hard. I kind of kept the same game plan for both motos and I ended up going 13-12 for ninth overall.
The track was so rough and technical that there seemed to be quite a bit of inconsistency in the results. So, putting two motos together there was an even bigger accomplishment.
Yeah, it was kind of like Texas. Texas was so hot and rough that there were a lot of riders that had one good moto and one bad moto. I just wanted to put two motos together and hope for a good overall. I didn't expect to be in the top ten but I was expecting to be in the top fifteen. I've gotten 21st overall, like, three times this year. That is the worst position to finish in a moto or overall.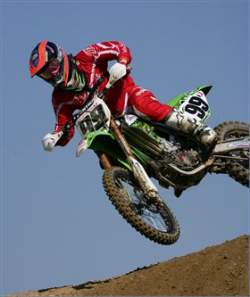 Mace finished a career-high ninth overall at Glen Helen in the AMA Motocross class!

photo: Simon Cudby

How was the rest of your season?
It was alright. This was the first year I rode supercross on the 450. I made the main at two of them and earned five points. When outdoors started my fitness wasn't even close to where it needed to be. I faded a lot. Right around RedBud I started riding with the Alessis and that helped me a lot. I picked up on a lot of the little things they do. It helped me so much to be prepared for the races.
Do you live near the Alessi boys?
Yeah, they live just a few miles down the road from me.
What kind of stuff were you doing with them?
I was just doing motos with them. I wasn't doing any of their training or anything but just to be doing motos with those guys and timing laps and all that stuff, it really helped me focus. Those guys are fast.
You never went to their little hot-box room with the spin bikes to cycle in 100 percent humidity?
No, I don't think I've ever seen that.
What are your plans for next year?
I'll ride 450 supercross and some of the 450 nationals. I talked to a few teams but nothing really came through for me. I guess I'll just do my own deal again.
Did you just drive yourself to the races this year?
Actually, Michelin took my bikes and I just flew in and brought my gear with me. It was like I had a ride but I was just paying for everything myself. It made it so much better though.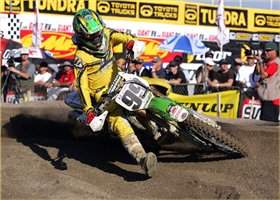 Kyle is looking for a ride for 2008.

photo: Steve Bruhn

What are you doing this off-season?
I'll probably start riding supercross in a month or so. Until then I'll probably just be hanging out and playing golf. I'm just going to be taking it easy. I didn't get invited to the U.S. Open or anything so I don't have much to do.
Will you stay with the same bikes and program next year?
Yeah, I'll probably stay with Kawasaki and Pro Circuit. Mitch has always given me really good stuff and I love my bikes.
What other sponsors do you want to thank?
I definitely want to thank Mitch and all the guys at Pro Circuit as well as Troy Lee Designs, Factory Effex, Michelin, Hinson, Scott and Corona Motorsports. Those guys all take good care of me and I appreciate it.