Bench Racing Ammo: Langston's Gear
Grant Langston
made some news this week when he won the 2007 AMA Toyota Motocross Championship in MSR gear. Now MSR has a long history of success in motocross, and Langston certainly has a resume full of his own previous success: He's won a world title, an AMA MX title and a pair of 125/Lites Regional SX Championships. But what makes last weekend's championship win interesting here is the fact that Langston wore M2R gear all summer long, then switched to MSR for the last round. How did that happen? Well, M2R was sold earlier in the year, and with that sale came reorganization. Having to refocus its revenues, the company decided to buy Langston out of his contract earlier this summer. Langston decided to keep wearing the M2R until something for '08 and beyond came along, and when it did--with MSR--he decided he would go ahead and switch now as a gesture of good faith to his new gear sponsor, having done likewise with his old gear sponsor by wearing it long after they had completed their business relationship.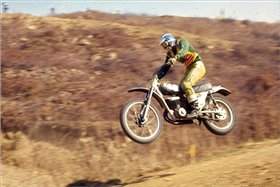 Brad Lackey
photo: Dick Miller Archives
Okay, so what makes that Bench Racing Ammo? The fact that similar late-season switches have happened before. Take Brad Lackey in 1972, for instance. Lackey rode a CZ towards the first AMA 500cc National MX Championship, but then switched to a better-paying Kawasaki deal with exactly one race left in the eight-race series. Why? He wanted to go to Europe in '73 to race on the then-more-prestigious Grand Prix circuit, and Kawasaki was willing to help out. As a result, they held the #1 plate in '73 at the AMA races Lackey did come home for, even though "Bad" Brad raced (and won) only one national on a Kawasaki at Talledega, Alabama—and he won four races on his CZ!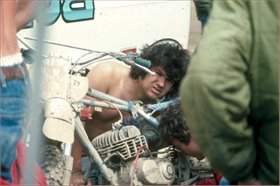 Tripes, shown here working on a Bultaco, switched from Husqvarna to Can-Am for the last race of the '74 season.
photo: Dick Miller Archives
In 1974, Can-Am was on its way to a first and third in the AMA 250cc National MX Championships with Gary Jones leading the way (albeit as a result of the AMA's rule back then not to allow international riders like Pierre Karsmakers take the domestic title) ahead of Jimmy Ellis. Right before the last race, it was learned that second-ranked Marty Tripes had a falling-out with Husqvarna and was willing to switch to Can-Am, even if for just a little while. So Can-Am signed the well-traveled Tripes and ended up 1-2-3 in the final championship standings!
And check this out: In 1982, when David Bailey got called up to ride for Team USA in place of the injured Donnie Hansen, Bailey showed up in Europe with his bag of Fox Racing gear to race. The event was held at the very rocky Gaildorf, West Germany track, and Bailey did not have a chest protector. Turns out that John Gregory of JT Racing was there with an extra V-2000 chest pro, as well as a contract offer for Bailey. So David wore the JT piece in the race, with Fox Racing gear underneath! By the team they went to the second race in Wohlen, Switzerland (back then there was a Motocross des Nations for 500s and the Trophee des Nations for 250s) he was wearing JT head-to-boot.