Between the Motos: Rob Kinsey
September 12, 2007 2:50pm
Last year, we named Rob Kinsey "Racer X Artist of the Year" based on the wonderful paintings he was doing of motocross heroes past. Lately, Mr. Kinsey, who hails from England, has upped his output, and he will be the featured artist of the 2007 Red Bull Motocross of Nations at Budds Creek. He will be selling his work next weekend at the event, where he will have a full exhibit, or you can check out his work on www.robkinsey.com. In the meantime, we conducted this interview with the motocross artist!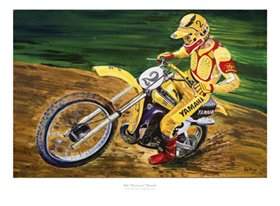 Bob Hannah

Racer X: Rob, how did you get involved in motocross in the first place?
Rob Kinsey: I got into motocross in 1968 when my uncle gave me his old DOT motorcycle. With the help of my Dad, a Rolls Royce engineer, who taught me how to work on bikes, we got it going. I raced schoolboy motocross alongside Graham Noyce, progressing to expert and racing in the British Championship in the late '70s, earning national #69. My biggest win was the Yorkshire Grand National in '78 on my Maico 440, which I still race today in vintage events. I also rode a few French Internationals.

What about art? When did you get into painting?
I went to Blackpool College at 16 and studied Technical Illustration, Fine Art and Graphic Design for four years. All my projects were on motocross and I was able to have my first illustrations of Graham Noyce and Neil Hudson published in TMX News. Upon graduating I worked for several Manchester studios but grew tired of the repetitive work, so I worked in sales for 25 years. It wasn't until after last years MXoN and inspiration from an article in TMX News praising my original work that I picked up the paintbrushes again and decided to pursue my art as a full-time career.
Which one is your favorite painting?
My favorite painting is hard to decide. I like "Holeshot Unadilla" and "Danny 'Magoo' Chandler" best, but each one has a special meaning and fans really seem to like the old vintage paintings, keeping alive the rich history of our sport.
What else have you done in the motocross industry?
I have worked as an announcer at Grand Prixs, Nationals race promoter and also worked in sales for Dunlop Tires and area sales management for Fowlers of Bristol on lines such as AXO. In 1984 I worked together with Mike Goodwin and his SMC staff to promote a World Supercross at Wembley Stadium in London selling sponsorship, liaising with the stadium, etc. Mike pulled out when he wouldn't pay the exorbitant sanctions fees the ACU wanted. But from these contacts I formed my own video distribution company, Stadium Video Europe, selling supercross and motocross home video in the UK and Europe.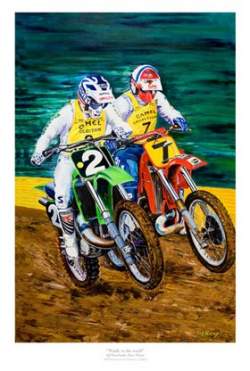 Jeff Ward
I also started Moto Travel, a specialist tour company, taking over 350 British fans to the Paris-Bercy Supercross and also on trips to U.S. Grand Prix and AMA Supercross. I also worked in the bicycle industry for many years and managed the British Downhill Mountain Bike team when we dominated the European championships in Vars France, and I am also a UCI International Commissaire and have been Chief Commissaire (Referee) at several World Mountain Bike Championship rounds.
How long does it take to complete one of your paintings?
A painting usually takes about 50 hours to complete from initial sketches, plus I spend a long time researching my subjects, checking old photos for detail, etc. In my vintage paintings, such as the Magoo painting, I worked from a black/white photograph so had to go through the history books researching info and colors, things like that. I also work with the original photographers seeking copyright permission, rider endorsements, signings, and more.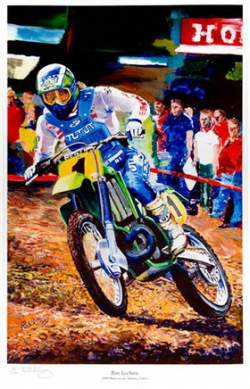 Ron Lechien

Where does your inspiration for each painting come from?My inspiration comes from trying to capture the spirit and action of motocross. Art shouldn't be just detailed, laborious copying of a photograph; it should communicate passion, feelings and take you right back to that special moment. I work in acrylic paints on canvas, using palate knives to spread the paint on thickly, scrapping back to reveal detail…. Often the hardest part is knowing when to stop working! So I will walk away for a few days, start another piece then come back with a fresh eye. I also like to get feedback from the industry and often preview my work on Mototalk.
When I first started Rob Kinsey Art I was unsure about working solely on motocross, but got great inspiration from a marketing guru David Parrish who told me to work on my strengths, my knowledge and passion and become a great motocross artist. I hope that one day I can achieve that accolade.
(You can view more of Kinsey's collection at www.robkinsey.com.)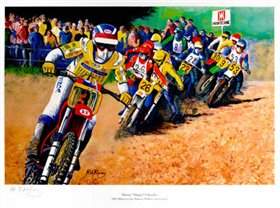 Danny Chandler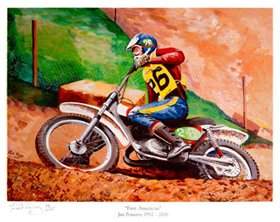 Jim Pomeroy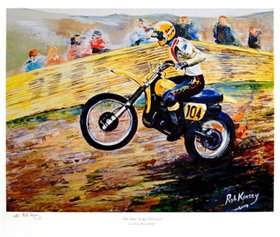 Roger DeCoster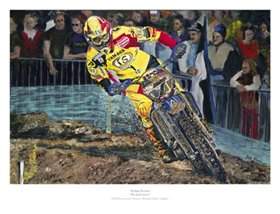 Stefan Everts