The end is finally upon us. What seems like the longest, most inconsistent season ever is four motos from its conclusion. Sure, there's still the Motocross of Nations to be run, as well as the U.S. Open and even the Paris-Bercy SX, but the end is sight at Glen Helen. Two champions will be crowned in AMA Toyota Motocross, joining AMA Supercross Champion James Stewart and World MX Champions Tony Cairoli and Steve Ramon on the stage reserved for the biggest winners.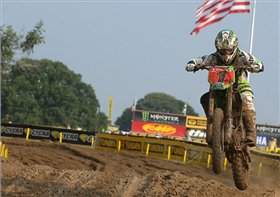 Looks like RV1 might be adding another 1
photo: Carl Stone
Of course,
Ricky Carmichael
won't be there, though his part-time foray into the outdoor series went beyond anyone's expectations—he won all six races he entered. Regardless, two of the big favorites to win motocross titles this summer—Stewart and the veteran
Josh Coppins
—got injured on pretty much the same day, ending their title runs way too early.
And if Ryan Villopoto beats Ben Townley for the AMA Lites title, which seems like a good bet, he will join Cairoli as being 250F riders who transcended their own division and probably could have beat the 450 class too.
But the real drama is yet to be played out: the AMA Motocross title will go down to the wire, down to four guys on four different brands of bike, all still the hunt. "Bad" Bill Ursic, who apparently almost cleared a set of doubles on Wednesday night, added up all of the points and came up with this Bench Racing Ammo explanation of what it will take for each of the four to win. Smart money is on Grant Langston, but as Stewart and Coppins fans all found out, there's no such thing as a sure thing in motocross.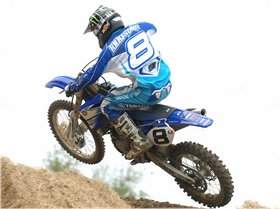 Team Yamaha's Grant Langston is in the driver's seat
photo: Carl Stone

Racer X will be all over the Glen Helen finale, with a special pre-race feature on the Racer X Motocross Show on Motocross.com, which Wes Williams and his crew of mini-Spielbergs plan on having up Saturday evening after practice. Then on Sunday, Jason Weigant, David Pingree, Sean Beaucar, Steve Matthes, and the hot chick Hammertime loves to hate—Miss Leticia Cline—will be calling all of the action on the Racer X Live Webcast, also on Motocross.com. And finally, on Monday morning, we will wrap it all up with the Racer X Post-Race Show. Will we see takeout moves and kill-switch searches? You never know! Glen Helen should be epic!
Unfortunately, I had to cancel my own ticket at the last minute, which means I missed the MotoBowl brouhaha last night, all of the fun at the racetrack, Sunday's finale, and even Monday's Dirty Harry's Lawndog Backyard BBQ and minicycle race, which is Monday night. I really wish I could see in person the monster motocross track that Jody Weisel and his crew always offer up at GH, and I hope the fans are treated to a pair of last-moto title decisions.
By the way, check out Steve "TFS" Bruhn's Weekend Window for tons of Motobowl 2007 photos.
Travel help from Simon Cudby: If you are going to Glen Helen from Orange County, you might want to take a different route from the OC on Sunday morning—maybe the 57 to 60, the 10, or the 210—because the 91 EASTBOUND, all lanes, will be closed at Green River Road (Santa Ana Canyon) Saturday night, Sept 8th, 11 p.m., until Sunday morning, Sept 9, at 9 a.m.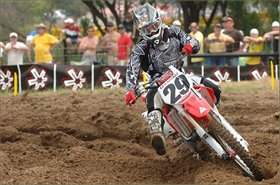 Team Honda still has a shot at this with Andrew Short
photo: Carl Stone
Damn, I wish Simon would have come to Pittsburgh and warned us about the closed tunnels!
Last week, Texas held its first AMA Motocross race in 19 years, and I was extremely impressed not only with the effort of Tony Miller and his whole crew at Freestone County Raceway, but all of the fans in the Lone Star State who came early, stayed late, and cheered the whole time. They saw some excellent racing in both classes, including an up-and-down day for Andrew Short that might have cost him the title, a mercurial performance by Josh Hill in his 450 debut, and another Ryan Villopoto runaway.
The Lites class was a Monster performance by Villopoto once again, though Austin Stroupe continues to blow our minds with his ridiculous, right-out-of-Loretta Lynn's speed. The kid hounded veteran Broc Hepler right to the finish line in the first moto, then made a lighting pass in the whoops at the end for his second runner-up ride in two weeks. Of course, the second moto didn't go so well, but yet another Monster Energy/Pro Circuit rider was there—Townley—to give chase to Villopoto.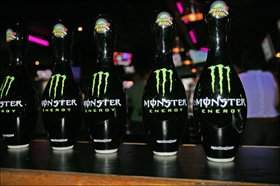 Monster was everywhere at the MotoBowl
photo: TFS
And I made a mistake on the webcast, which I apologize for: I said that Ryan had a five-moto winning streak going, having obviously forgotten that Hepler won the first moto at
Steel City
—which I later called
High Point
! Sorry, it's harder than it sounds, announcing these "motorcross" races.
Anyway, back to Stroupe: I mentioned after Steel City that his first moto second-place finish was the best professional motocross debut we had ever seen, and I got several emails challenging that assertion. So let me break a few things down here:
When James Stewart won the Glen Helen in '02, he already had a full 125 West SX season under his belt. Regardless, his win was HUGE.
Kevin Windham's first national was not High Point '94, where he ran second in the first moto to Doug Henry, but rather back at Gainesville that year, where he didn't do so hot.
Marty Tripes won the '72 Superbowl of Motocross at age 16 years, 10 days, but it wasn't a national (or a supercross) and he also had ridden pro before, albeit illegally.
Robbie Reynard's win at the Steel City National in '93 (with a 7-1) was not his first pro national—he rode High Point that year as well.
Grant Langston, Sebastien Tortelli and Jean-Michel Bayle all won the first nationals they entered (like Stewart), but they were all Grand Prix champions before even coming here.
And finally, there's this letter from Racer X reader Jim Myerson:
"Regarding our recent exchange pertaining to the best MX national debut by a rider, this missive should make the facts clear. When Marty Smith won the 125cc class at the 1973 Hangtown event, it's true that there was no AMA sanction (for the 125 class race). But one year later, when 17 year-old Smith swept the 125cc national class again, there was an AMA sanction. It was Smith's very first national (he swept both motos, I think) and he won in dominating fashion (again). Therefore, along with James Stewart's 2002 Glen Helen victory (he didn't win both motos, right?), Smith's national debut is still the most impressive. Credit where credit is due!"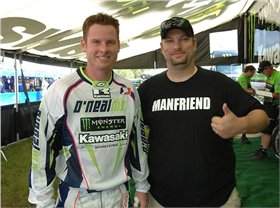 Tim Ferry's title hopes have been slipping in recent motos
photo: Carl Stone
In last week's Motosport Outlet Bench Racing Ammo, we were discussing how this year will be the first time we'll see a new AMA Motocross champion since 1999. We also asked our readers a little trivia: Name all the riders who won overalls in the 250cc class that same year. The answer is
Greg Albertyn
,
Kevin Windham
,
Mike LaRocco
,
Ezra Lusk
,
Jimmy Button
,
Doug Henry
and
Sebastien Tortelli
. We hooked up the first five correct entrants with a free Racer X Digital Subscription. The winners are:
Ryan Doyle
,
Joseph Hartson
,
Brent Martin
,
Darin House
, and
Marc Morris
.
Looks like a new Kawasaki Lites team is coming on board. Details are still sketchy, but we're hearing it will include Tommy Hahn, Andrew McFarlane and Kyle Chisholm. Pro Circuit will be involved. Stay tuned.
Let me have Ping take over here:
It looks like the Rockstar Energy Drink curse has struck again. In two years, two teams have started and failed that were backed by the drink maker. While Suzuki has retained the services of Michael Byrne (who has not been assigned to a team yet) the rest of the guys are looking for jobs.
Who will run Suzuki's new support program? I got word this week from the guys at Richardson's RV that they will be Suzuki's West Coast supercross effort this year with Michael LaPaglia, Adam Chatfield and possibly Tarah Gieger. The WMA star would compete in the women's series and possibly even a few AMA national motocross rounds. The new team would be backed by Jayco Trailers, Suzuki, Answer/Yoshimura and ECC. There will be another dealer-based team running Suzuki's support on the east coast. Richardson's is still undecided if they will go to the outdoor nationals or not.
The Honda dealer convention was this week in Anaheim. The 2008 model line was introduced and features some pretty cool new products. The new motocrossers have a list of improvements including a steering damper, lighter brake rotors, different ignition mapping and substantial engine changes.
Click here
for the specs on the new bikes.
One of the biggest announcements was the introduction of a side-by-side vehicle dubbed Big Red which is similar to the Yamaha Rhino. Daniel Reardon was also there wearing his Samsung/No Fear Honda shirt for the first time. The newest Australian to land here said he has been on the bike about a week and he is loving it.
"I've been to about four different tracks here so far," he told us. "Man, the tracks are heaps better than what we have back at home. I've been having a lot of fun. The bike is also a good deal better than what I'm used to racing. I'm really excited to race the thing."
Reardon will be on hand at Glen Helen this weekend watching the action but will not compete until the U.S. Open in October.
Reardon's thick "Down Under" accent got me thinking about something and, in a nod to my pal with the oversized ankles, Steve Mathes—read his in-depth Texas Observations here—I want to make a few observations of my own…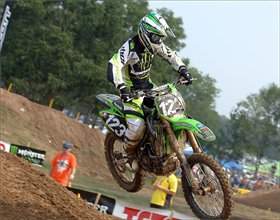 Brett lets his riding do the talking
photo: Carl Stone
For starters, what the heck happened to
Brett Metcalfe
's accent? He is from Australia, right? The last couple rounds he has been killing it on the track but on the podium he sounds like he was born and raised in Utah. Not that there's anything wrong with folks from Utah, it's just that, you know, they don't have an accent. No wonder they didn't put him on the MXoN team. Sure, he's kicking McFarlane's ass on a regular basis, but he's lost his twang. Come on, Brett, watch some Outback Steakhouse commercials and get your Ozzy mojo going again!
Just as curious is the disappearance of Zach Osborne's belly roll. He used to be called Snac Pak but that nickname just doesn't work anymore. He's a svelte version of his former self, and that can't hurt things in the holeshot department or in the pick-up-chicks-at-the-beach department. Nice work, Zach.

Another thing that has disappeared is the first moto in the AMA Toyota Motocross national broadcast. What the eff? It's never been a problem to show both motos in the past, so I'm a little confused by the change. There are still 25 points up for grabs in the first moto and that makes it just as important.
That's it from "four-in-row" Pingree.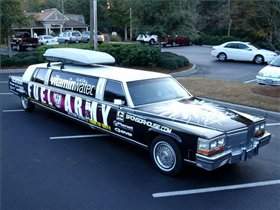 Someone gets to drive the Fuel Limo home after the Mini Os
We gotta give some serious credit here to Shane Gould of Fuel. He has decided to raffle off what he accurately calls "the world's most recognized action sport limo," the Fuel Limo, in order to benefit a pair of fallen riders:
Jordan DeLaurier
and
Travis Tollett
. Raffle tickets are $10 each, and the raffle starts today and runs through Thanksgiving Day (November 22). The drawing will take place at the Mini Os MX race in Gainesville, FL, but you do not have to be there to win—your name and phone number is all you need to include with your cash or check to Fuel.
Fuel's Great Limo Give Away
118 Arrow Rd.
Hilton Head, SC 29928
The winner can either drive the Fuel Limo home or pick it up later on. Either way, count us in Shane for ten tickets—we could use a new ride to the races for Fubar!
A couple weeks ago, we posted a note about Factory Effex's new installation demo videos, and inadvertently linked Chris Williams back with the company. Chris sent us a note letting us know he recently started his own company, Entity Media, and Factory Effex is just one of the new company's clients. Entity Media is a full-service video production and marketing company, focused on helping companies in the MX industry improve their websites.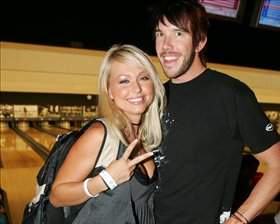 Miss Cline sends out a wishful "shocker" to her #1 fan Hammertime while Li'l D runs a faux Blue Steel look
photo: TFS
There are a lot of class acts in motocross, and three-time 500cc World Champion
David Thorpe
has always been one.
EJ
forwarded us a short note that No Fear got from the British MX legend after they set him up with some cool new gear for the Donington Park World Vets Championships last week. Somehow, I can't see a lot of today's supercross stars writing a letter and thanking someone for a cool set of gear.
Some props to the very nice and extremely fast Cody Cooper—our Racer X Rider of the Week. I caught up to Cody before he made his AMA Motocross debut for this short interview. He's a quiet, super-nice guy and really, really fast!
And what the hell is going on with all of the track cutting? By that, I mean guys using those yellow Acerbis markers as "suggestions" rather than actual, official course markers. Josh Hill was riding a different track (literally) in one corner, and everyone from Villopoto to Trey Canard was skipping off the side of some of the big jumps. Time for a new rule on this … or maybe just a rule?
Finally, anyone who knows Al Cordner knows what a sweet guy the New England moto enthusiast is. He has long been instrumental in working with that area's best riders through Manchester Honda, and he also had a big hand in Damon Bradshaw's last AMA National win back in 1997 at High Point.
Cordner is now in the battle of his life. Earlier this week, while riding a street bike, a moose walked out in front of him. He nearly died in the resulting accident, and he's still in a coma as I write this. Please think of Al—a motocross man through and through—in your thought and prayers this weekend.
Thanks for reading Racerhead, see you at the races.