Flying across the plains states on the way home from Colorado, I was working my way through the crowded cabin of United Flight #270 to Pittsburgh when I had a revelation of sorts. There was this guy sprawled out in a seat—13C on the aisle—asleep on his elbow with the back of the seat in front of him pushed against him. His red hair was messed up and his legs were crumpled up under his serving tray. The man next to him in 13B was working on his computer; 13A was reading USA Today. A family of four was jammed into three seats of the row behind him. Of course, the baby was crying. It was Monday afternoon, and Broc Hepler's week was starting worse than his weekend at Thunder Valley, where bad starts relegated him to tenth overall. And to think he had to turn around and do this again three days later, only then he would be flying to Washougal, which is a much longer trip because it requires a connection.

Cross-country travel has become such a burden that it's no wonder guys are getting burned out by the end of each season. America is the "land of the free," but it's not as easy to travel freely as it used to be, and it's even less fun. This isn't one of those columns where I dig into my personal catalog of travel nightmares and make fun of the fat man next to me; this is about wasted hours: parking-lot buses, ticket lines, security lines, canceled flights, missing baggage, and just being away from home for too long at a time.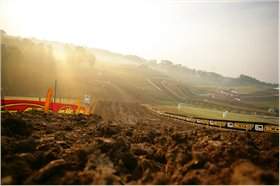 "Add up all the hours, and half of every week is spent away from home for a Sunday afternoon race. No wonder Stewart skips Saturday practice now."
photo: Simon Cudby
When you make the decision to race pro motocross for a living, you pretty much sign up for the little inconveniences of travel. But as the years go by, the travel becomes less an adventure than a downright chore—especially when you start bringing the little ones along. And since 9/11, that chore has grown increasingly difficult. It's one of the things we lost that terrible day six years ago: the right to travel with relative ease (and travel anywhere in this country must be even harder for arider or mechanic carrying a passport from any country other than the U.S.).
The people at Live Nation realized this early on. That's why they ditched the overseas rounds of the World Supercross tour and settled on the closer comforts of Canada instead. They also stopped holding practice sessions on Friday, which gave the riders another day at home. Now almost everyone travels on Friday and returns home on Sunday morning. Plus, with so many SX races in and around Southern California, where most guys base themselves in the winter, they often avoid airports altogether. And some of the ones who don't—
Ricky Carmichael
and
James Stewart
, for example—have taken to leasing private jets, at a cost much higher than the purse money they take home for winning a main event.
So what was the revelation? The "weekend" schedule for the AMA Toyota Motocross Championship needs another look. The riders, mechanics, and industry personnel often have to leave home early Friday morning, travel all day to make it to the closest city, then spend all day Saturday at the track for two timed practice sessions, followed by two more timed practice sessions on Sunday, and finally the two motos that count. Then it's back to the airport Monday morning (the races end too late to fly Sunday nights) for another afternoon of travel. Add up all the hours, and half of every week is spent away from home for a Sunday afternoon race. No wonder Stewart skips Saturday practice now.
My suggestion is this: Let's get rid of Saturday practices, streamline Sunday's program, and give everyone more time at home. The timed-practice thing has pretty much killed Saturday's crowds—there could not have been 500 spectators on Saturday watching timed training at
Thunder Valley
(and do we really need four different timed practices?).
Why not turn Saturdays into some kind of motocross festival—make them fun again and give fans more reasons to show up early. The WMA could be part of the whole tour and not just an afterthought, and there could be, say, minicycle or 125cc two-stroke races for younger riders, or some freestyle motocross or pit-bike events. Or what about an invitational Pro ATVA race? Then, late in the day, have an optional free practice, then a timed practice to qualify riders outside the top twenty-five. The guys in the points can spend the day traveling and can get there in plenty of time for supper. Come Sunday morning, have one open practice session for each class where the guys can build some alternate lines—something that doesn't happen as much with all these timed practices—and then start the clock and get the field down to forty for the main event.
The difficulties of cross-country travel are not going to change any time soon. Many of the riders I've spoken to about this—
Kevin Windham
, Kyle Lewis,
Nick Wey
, David Vuillemin,
Tim Ferry
, and
Ricky Carmichael
—would prefer a shorter schedule. I would ask
Broc Hepler
his opinion, but he's still asleep in 13C.