Racer X/Toyota Power Rankings
The battle for motocross supremacy rages on as we head into the final round of the 2007 AMA Toyota Motocross Championship presented by FMF. In this week's Racer X/Toyota Power Rankings, Lites points leader Ryan Villopoto still maintains the number one spot over AMA Motocross leader Grant Langston, with seven first-place votes to GL's four. Maintaining third place is RV's teammate, Ben Townley, who lost even more ground in his Lites championship quest this past weekend in Texas.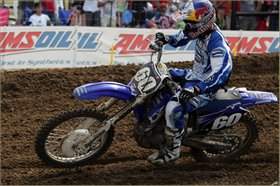 Broc Hepler broke into the top 10 after his second overall in Texas.
photo: Steve Bruhn
Red Bull KTM's
Mike Alessi
moved up a spot to fourth, with the idle
Ricky Carmichael
sliding to fifth. RC still enjoys a lions share of the first-place votes with 13.
Beyond that, Yamaha's Broc Hepler improved four positions to number 9 after another solid performance in Texas, and Freestone's AMA Motocross first moto winner Andrew Short improved one spot to sixth. Out of the rookies, Austin Stroupe leads the pack in 14th, followed by Canard in 15th and Izzi in 18th. New to the poll this week is Josh Hill, Broc Tickle and New Zealand's Cody Cooper, who comes in 25th.

| | | | | | |
| --- | --- | --- | --- | --- | --- |
| | | PTS | # | RIDER | SPONSOR |
| 1. | | 574 | 1 | Villopoto Ryan (7) | Monster Energy/Pro Circuit Kawasaki |
| 2. | | 559 | 8 | Langston Grant (4) | Factory Yamaha |
| 3. | | 523 | 101 | Townley Ben | Monster Energy Pro Circuit Kawasaki |
| 4. | +1 | 494 | 800 | Alessi Mike | Red Bull KTM |
| 5. | -1 | 486 | 4 | Carmichael Ricky (13) | Makita Suzuki |
| 6. | +1 | 472 | 29 | Short Andrew | Factory Honda |
| 7. | -1 | 461 | 15 | Ferry Tim | Monster Energy Kawasaki |
| 8. | | 356 | 14 | Windham Kevin | Sobe No Fear/Samsung Mobile Honda |
| 9. | +4 | 351 | 60 | Hepler Broc | Factory Yamaha |
| 10. | -1 | 346 | 7 | Stewart James | Monster Energy Kawasaki |
| 11. | -1 | 341 | 123 | Metcalfe Brett | Monster Energy/Pro Circuit Kawasaki |
| 12. | -1 | 265 | 9 | Tedesco Ivan | Makita Suzuki |
| 13. | -1 | 263 | 24 | Grant Josh | Sobe No Fear/Samsung Mobile Honda |
| 14. | +1 | 255 | 981 | Stroupe Austin | Monster Energy/Pro Circuit Kawasaki |
| 15. | +4 | 238 | 140 | Canard Trey | SoBe No Fear/Samsung Mobile Honda |
| 16. | -2 | 206 | 273 | Gracyk Gavin | Honda |
| 17. | | 203 | 577 | Davalos Martin | Red Bull KTM |
| 18. | | 141 | 341 | Izzi Nico | Makita Suzuki |
| 19. | -3 | 138 | 62 | Dungey Ryan | Makita Suzuki |
| 20. | +1 | 136 | 26 | Byrne Michael | Rockstar Suzuki |
| 21. | new | 105 | 58 | Hill Joshua | Factory Yamaha |
| 22. | -2 | 104 | 338 | Lawrence Jason | Yamaha of Troy Yamaha |
| 23. | | 102 | 118 | Millsaps Davi | Factory Honda |
| 24. | new | 83 | 75 | Tickle Broc | Star Racing Yamaha |
| 25. | new | 81 | 902 | Cooper Cody | No Fear Honda |
Total number of votes 24