Privateer Profile: Clayton Miller
Clayton Miller isn't a household name. The Spring, Texas, native has some pretty deep roots in the sport though. Most recently, his father hosted round eleven of the AMA Toyota Motocross Championship in Wortham, just south of Dallas. The event itself was a success, by all standards, and it even worked out well for Clayton as he qualified for the Lites motos. We called up Clayton to find out how his weekend went on his home track. Oh, and be sure to show Clayton and his sponsors some support by visiting www.claytonmiller.com.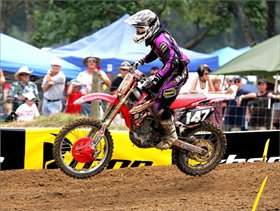 Clayton qualified in the Lites class at Freestone.

Racer X: Good job getting into the program this weekend. Was that the first national you qualified for this year?
Clayton Miller: No, I made it in at Millville too.
It had to feel good making it in at the national that your father is promoting.
Yeah, it was good to make it in but it was a bad weekend for me. I was really sick with asthma all weekend and I couldn't ride worth a s*&t. There's two times every year where the weather just gets me. It usually happens right around now and right around Thanksgiving every year. I don't have problems the rest of the year until those two times and then it tears me up.
Did you go to the hospital?
No, I was in the Asterisk rig the whole weekend though. Dr. Bodner told me that I should be in the hospital but I wasn't leaving the race. I was way better on Sunday than I was Saturday but I still struggled. I could only go for about fifteen minutes and I was done. I just didn't have any air in my lungs after that.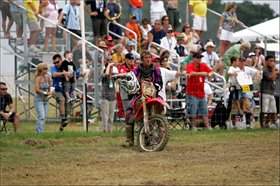 Miller had a tough time coping with his asthma over the weekend.

Have you been racing the whole series?
Yeah, I have. Millville and this one are the only two I've made it.
Did you get much time on the track in Freestone before the race?
No, I really didn't. It has been raining so much we couldn't ride here. There was stuff we wanted to do around the facility that we couldn't do because of the weather. I've been traveling or injured for the last two years so I honestly haven't been able to ride there much at all. I got maybe three weeks this summer up here and that's about it. I was just lucky to get in with my lungs acting up.
Is your dad happy with the way the race went?
There are always things we could improve but we didn't have any major complaints. The biggest thing is that we want to keep trying to make it better for the spectators. It's hard to see all of a national track from one place so we want to make it as good as we can. I spoke with a lot of the riders and they all seemed to like the place. They thought it was the roughest track they had all season and that created more lines than a lot of them had seen all season. Villopoto said before the race that it was going to be one-lined no matter what because of the way they do qualifying. The promoters can't put out hay bales or anything to force people to make new lines so everyone sticks to the one fast line to get a good time. The problem is that no other lines get worked in and that isn't good for the racing. We need to get a free practice at the beginning of the day so riders can work different lines. Hopefully the AMA will be receptive to that idea.
I noticed you have Claytonmiller.com on the side of your bike as your main sponsor. What is your website about?
That's just my own website where I represent my sponsors and the folks who help me out. I put that on the bike because nobody is paying me money for what I do. Besides my dad helping me with my finances and travel and all that, I have some really good sponsors that help out with product and whatever they can. So, I try to get them exposure through my website, claytonmiller.com.
How has the rest of you year been going?
Well, I'm not the greatest rider in practice. I do better in a race because I pick up intensity as the race gets going. I've been trying some different sprinting techniques that Ivan Tedesco's trainer helped me with and since then things have been going better for me. I made it in Minnesota and I think I would have in Steel City but I crashed out. Hopefully I'll get in at Glen Helen and I can show people that I've been doing the work during the week.
You have to feel good about next season with this late-season surge.
Yeah, I do. I know I'm not a top guy but I think I can do a lot better than I've showed. I'm looking forward to it.
You've been working with Shift for a long time.
Yeah, I've been with the company since they began. I started riding in 1996 and they started up in 1997. They've been great to work with. Actually, I've been pretty loyal to all of my sponsors.
Where is Spring?
It's just north of Houston.
Is it a good place for a rider to live?
Yeah, we have a lot of tracks in the area. We have Freestone County which is the best night track in Texas. We have the national track and we have Lake Whitney, Tyler, Oak Hill and all the other little tracks. It's a good place to ride.
Good luck this weekend in California.
Thanks. Hopefully I'll feel better by the weekend.