Welcome to the Shift Number Cruncher. Another week has gone by and yet another number has risen above the dust cloud and established itself as the pick of the litter. This number is as close as you can get to greatness without actually standing on top of the mountain. How does the saying go? "Second sucks?" Ah, but it's arguably the strongest number of all. A wise man once said something like, "you have to feel the pain of coming in second before you can fully appreciate being first." What actually prompted this week's number was the results of this past weekend's Can-Am GNCC event where Barry Hawk and Chris Borich took the #2 to victory. Couple that with the fact that only two motos remain for the boys outdoors, the second-place finish of #2 Brandon Currie in the Supermoto Lites class last weekend and, well, it was time to throw out the deuce. Enjoy.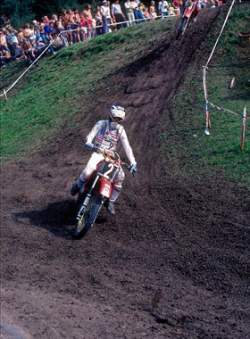 Johnny O'Mara
photo: Dick Miller Archives
Ok, the Motocross of Nations are right around the corner so let's run some of that action to start off. Check out this gorgeous shot of
Johnny O'Mara
wearing the two at the 1982 Trophee Des Nations. Performances such as the ones Johnny O', plus Bailey, and Wardy, and Hannah, and Johnson, and Emig, and Carmichael and so many more produced are a big part of why this race is very, very important. Buy your
tickets
now!
Ryan Villopoto
has been straight crushing it. He'll carry the #2 for the red white and blue for the second time in two consecutive MxoN appearances. The smart money indicates that will be his only connection to the digit when the race is over with—unless he picks #2 as a permanent number, which Jeremy McGrath has already stated would be fine by him. Here RV1 is featured on the cover of this very cool 2008 calendar which features beautiful photography from Simon Cudby. Get yours now at
www.motorbooks.com
.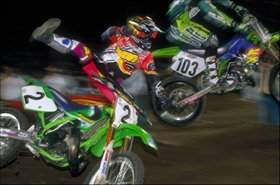 Jeff Emig
photo: Fran Kuhn
Jeff Emig
made a big move from Yamaha to Kawasaki in 1996 and raced Jeremy McGrath into the last moto of the outdoor season at
Steel City
. Fro nailed the holeshot and rode himself into the history books. Remember how cool this helmet was? Chrome was huge in the mid 90's and nobody had a cooler chrome lid than Mr. Emig. I chose this #2 because like Emig's title, the one that will be decided this weekend at
Glen Helen
could be very similar. Also, transversely,
Grant Langston
just switched from Kawasaki to Yamaha and has a chance to win the title wearing #8 – Jeff Emig also won a title wearing #8 on a Yamaha.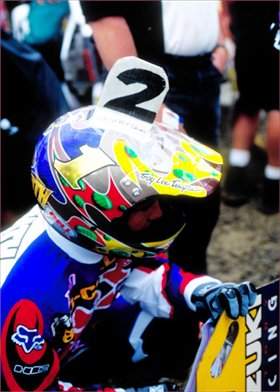 Jeremy McGrath
photo: Jim Sanderson
This is a rare picture of
Jeremy McGrath
racing with #2 in 1997. The number on his Junior Motorsports late model is #72 which he says stands for his seven supercross titles, and his ownership of AMA permanent #2.
We leaned on resident GNCC guru, Jason Wiegandt, for these next two cats.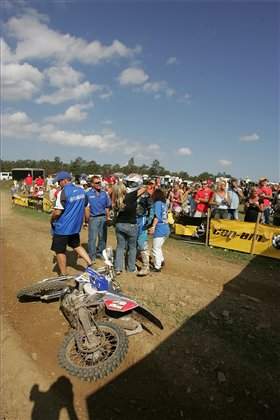 Barry Hawk
photo: Jason Hooper
Smithfield, PA's
Barry Hawk
, riding with #2, nailed down win #2 on the Can-Am GNCC season last weekend. In addition to this, he was runner up in 2005 and 2006, and is currently in the process of chasing down David Knight for his second title. Barry lives about eight miles from the office and is kind of a local legend. He has 19 career wins and can get around
High Point
faster than most of the local pros. You know you're the man when Carrie Jo has your sticker on the back of her Tahoe.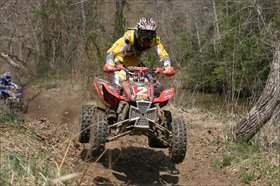 Chris Borich

photo: Jason Hooper

Chris Borich wears #2 in the XC1 Pro class and is the toughest competitor ever to Bill Ballance, who has won seven-straight GNCC ATV titles and would break Barry Hawk's (yes, he raced quads before moto) all-time ATV title total with eight this year. But Borich, who has finished as #2 three times, is making it tough on him. Chris' recent win carried him into the points lead.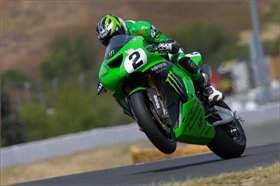 Jamie Hacking
photo: Andrew Wheeler
Throwing some love to our brothers and sisters at
Road Racer X
, here's a shot of current AMA Supersport and Superstock champion, #2 Jamie Hacking.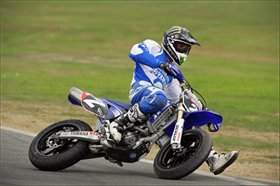 Brandon Currie
photo: Paul Buckley
I'm telling you, #2 is everywhere this week! Our own David Pingree had to outlast Anaheim's
Brandon Currie
for the victory last weekend in Nashville. Brandon runs the two, finished second in the race and currently sits 2nd in series points.
That's all, folks. We realize there are literally dozens of other famous #2s that we didn't cover. These are just a few of my favorites and some that correlate to current times. Send me some of your favorites to andy@racerxill.com and we'll try to post them up in the Redux.