Tuesday Conversation: Grant Langston
September 4, 2007 12:16pm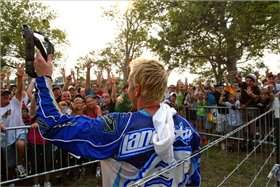 "OK people, I will toss the goggles, but it's South Africa, not Australia, South Af-Ri-Ca.."

Grant Langston may be excused for being openly confident at this point in the AMA Toyota Motocross Championship presented by FMF with one round to go. He now goes into the final round with an eight-point advantage over Andrew Short, and a track record for doing well under pressure. He does so well under pressure in fact, he seems to like it.

Langston has an impressive list of accomplishments already, and he wants to add this outdoor title next weekend, which would just leave one more to go: supercross. He's already thinking about it and letting that keep him motivated.

Langston started testing a 2008 Yamaha that suited him better about halfway through this season, and his development work is showing results. The ultimate result, an AMA Championship in 450s, is waiting for him next weekend at Glen Helen.

Racer X: Grant, so now you have won two nationals in a row. How do you feel about your program right now?

Grant Langston
: I honestly feel right now that I should be the fastest guy, or the guy that can win, and that it is in my hands. We have had Ricky and James who are always fast. Ricky is almost unbeatable at times. James is fast but makes mistakes. I am riding pretty good, pretty consistent, pretty solid.
I worked out a lot of my kinks and my goal was to win these last three races for sure. It's two down and I am looking forward to
Glen Helen
. I have had a lot of success there. It's not my most enjoyable, favorite, or funnest track, but I get good results there and it always works out good for me. I have good memories there and I am really looking forward to going back there to finish off the season.
You mentioned the Ricky and James thing; has that energized everyone else at your level?

I think everyone has stepped it up in some way, yes. Even Andrew admitted, his season was nothing special, but he was consistent. All off a sudden he was two points out of the lead coming into today. In that first moto I honestly thought he rode like a guy that wants this championship. Everyone has had their day. Right now I feel I am peaking at the right time and really getting a handle on that bike. We have won two in a row and prior to that I had two second places so I have consistently been getting better all year.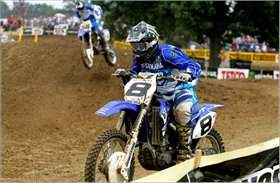 Making the right moves. Grant switched to a 2008 bike to use the newer frame, and Josh Hill moved into the 450 class to get in the way of Grant's competition. It's working.

How many races do you have on your 2008 bike now?

Colorado was the first race but we had a lot of engine trouble so I feel like that was not a good showing.
Washougal
was kind of our first time, then the X Games,
Millville
and last weekend and here.
So must be thinking about that title during the week. When you do, what do you think about?

I have thought about anything from getting that bonus check, to holding up the number plate, to what is going into the record books, to where am I going to park the championship winning bike in my new house, to how much bonus money do I split up amongst everyone--just anything and everything. Honestly, there are so many reasons you want to win. You have arrived when you have won a big bike championship. I think this is a golden opportunity for all of us and I want this really bad.
You mentioned an outdoor title in MX is a key goal in racing, but what about winning the SX class?

That's a tough one too. I do believe that obviously James is the fastest guy. As the same time, it is racing and anything can happen. Next year I will have a season under my belt and expect to come in fit and strong. I am going to go in there and give it everything I got. That would obviously be the ultimate, to win that supercross championship. If I win this year, it will be the only thing I haven't won in my career. It would be a huge accomplishment.
In fact, I don't think anyone has one all of the major AMA championships. Ricky won an east coast 125 but not a west.

And no one else has won supermoto! James has won everything but an outdoor 450 title.
Are you going to be the strongest and fastest guy at Glen Helen?

I hope so. I believe I can. Everyone has put in a good performance at some stage but I fell like it's the kind of track that I normally do well at. I am confident that I will handle it fine.
You are in for Budds Creek two weeks after that right?

Yeah. I am riding for team South Africa. I had people saying "Australia is going to be tough to beat with you and Reed," and some funny comments. No, I am riding for South Africa, not Australia (pauses) South Africa! We don't have the best team but it's a great event and we are just going to go there and have some fun.