450 Words: Freestone
September 3, 2007 10:36am
When Tiger Woods sat out first round of the Fed-Ex Cup golf playoff last week, few of his competitors were upset, and the fans and the media embraced the idea of seeing a more competitive match. Of course we've encountered a similar situation in the AMA Toyota Motocross Championship, where Ricky Carmichael made good on his pledge to ride half the races and then make his exit, and James Stewart was a no-go after dislocating his knee at Washougal. Fans were disappointed that they would not see the two best motocross riders on the planet, but they were also looking forward to seeing a title battle between new participants.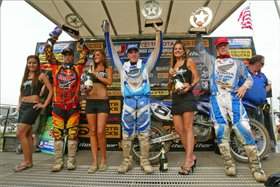 Langston is in the driver's seat after his Freestone victory.
Now we've got one, and it's made the absence of #4 and #7 not such a bitter pill to swallow. Honda's
Andrew Short
, Yamaha's
Grant Langston
, Kawasaki's
Tim Ferry
and KTM's
Mike Alessi
have been jostling for position to take RC's vacated crown ever since that second moto at
Washougal
. Their teams and their respective followings have been trying to make the most of this mostly unexpected gift, and what has followed has been some extremely entertaining motocross contests.
Yesterday at
Freestone
County Raceway in Texas, a new generation of Lone Star State MX fans saw what an AMA National looks like when it's run in their backyard (well, Tony Miller's backyard anyway). They were there early, and they stayed all day. They saw an adopted local favorite—Colorado transplant Short—enjoy the thrill of victory and the agony of giving away the second moto and the points lead with an unscripted crash. They saw
Tim Ferry
continue to struggle with his starts (and if they looked deep enough in the pack, they saw
Kevin Windham
continue to struggle with staying inspired out there). The veteran Ferry could only muster 4-3 moto scores (and the veteran Windham suffered the indignity of being passed by visiting New Zealander Cody Cooper at the end of both motos).
Mike Alessi
did his best to hold on to his title hopes, though he may have held on too hard—his hands were blistered and bloody after this one.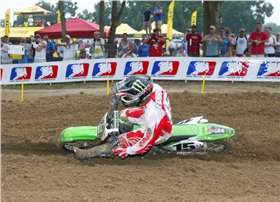 Ferry's starts hurt him again in Texas.
It all left
Grant Langston
in charge of the championship, and it figures—he's the only one out of the four left standing (and still trying) with championship credentials. We all used to make light of his Lites' prowess (Grant has won a 125 world title, an AMA national title, and two regional 125 SX titles) but now we're seeing what he can really do in the men's division. In three solid weeks he's gone from what, sixth? to first in the championship standings, with a solid ride at
Millville
and a pair of wins at
Steel City
and now Texas. He knows how to close a deal, and now he knows where to do it:
Glen Helen
Raceway. If he rides just like he did throughout August, September's going to feel like Christmas for the Langstons.