It was a beautiful Friday in Morgantown—cool breeze, blue skies, great weekend forecast. Who knew mother nature could be so cruel? The problem is that this is the weekend we usually have the Steel City National, but due to some schedule changes on the AMA Toyota Motocross circuit, the race got moved ahead a week. It rained on and off for nine straight days, wiping out amateur day and a lot of the track changes we had planned at Steel City.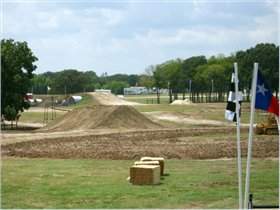 Freestone Raceway should be ready to go tomorrow.
photo: John Ayers
Now it's gorgeous, and we are on a jet plane headed for Texas. Here's hoping that the Texas motocross fans—seeing their first Lone Star National since 1988—get much better weather than we did last week.
But while the weather wreaked havoc on the crowd—it took a real commitment to even get parked on the side of the valley Steel City rests in—the racing was downright excellent. Starting with Austin Stroupe's amazing run to second in the first moto, with an even more amazing Ryan Villopoto almost passing him at the end after Stroupe clipped his front wheel off the start and caused a chain reaction pileup, to the frantic three-way in both 450 motos between Grant Langston, Mike Alessi and Kevin Windham, it was an amazing weekend inside the banners.
With
Tim Ferry
having a terrible time getting out of the first turn (again) and
Andrew Short
not having podium speed, Langston and Yamaha jumped at the chance to get a long overdue win. It was Yamaha's first AMA Motocross triumph going all the way back to the time Ferry won at
Glen Helen
when he was riding for Big Blue (no,
Chad Reed
never won an overall outdoors other than his one 125 win back at
High Point
'02 when
James Stewart
's KX125 blew up).
Langston did have "a moment" out there with the resurgent Windham that caused a little controversy. In case you missed it on the Racer X Motocross Show on Motocross.com, GL got some wheelspin after splashing through a puddle before a big double and floated over almost on top of Windham in mid-air. When they landed, Windham went off the track (he was on the outside) while Windham kept going straight off into the infield, then jumped back on through the banners ahead of Langston and waited for him. Then he shook his index finger "no" not once but twice at Grant (who would later apologize and K-Dub would accept). Anyway, I made a mistake on the webcast and said I thought it was the middle finger, which it wasn't. For that I am sorry, and I also apologize to Kevin and his team.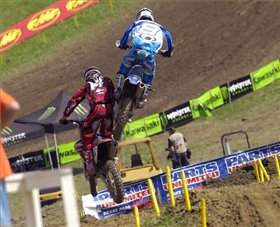 How close is that?!
photo: Trevor Hawk
Langston would fall, lose the spot again, get back up, and have to go by Windham again, but by then Alessi was gone with KTM's first moto win in the premier class of AMA Toyota Motocross.
The second moto, I really think Alessi made a mistake in staying behind Windham too long. He's still feeling the pressure from the mistakes he made at Glen Helen two years ago with Ivan Tedesco, and I think he was a little trigger-shy. Either way, Langston came through, took off and got that overall win. Now four guys—Langston, Short, Ferry and Alessi—are within 10 points of each other with four motos left. A lot of people suddenly don't miss Ricky Carmichael as much!
And it turns out there was some truth to the rumor. While James Stewart finally gave up the ghost and submitted himself for knee surgery, Carmichael really was thinking about jetting up late Saturday night after his car race and sneaking out into Sunday morning practice—they even tech'd his bike—but then the car race got rained out, delayed to Sunday, and then finally wiped out all together.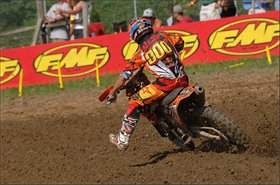 Mike Alessi got KTM its first AMA Motocross win in the premier class ever—that goes all the way back to 1972!
photo: Carl Stone
So how did RC spend his off-day? Listening to the Racer X Webcast on Motocross.com! Carmichael texted up to myself and
Jeff Stanton
in the press box a couple of times, mostly with jokes about him being the "world's greatest has-been of all time" but then he got serious when his friend and pupil
Ben Townley
was having trouble in the second moto. I couldn't repeat what RC's message was on the air, but I will tell you that BT101 was in for a long week down in the 850.
With Stewart out and Reed enjoying his summer vacation, RC did announce that he's doing the Rockstar U.S. Open after all, which I was really glad to hear. I don't think I was alone in finding it a little odd that ESPN kept making a big deal about the X Games being his last race when it wasn't even close to that. He raced Millville already, he's doing the Motocross of Nations at Budds Creek and also the Paris-Bercy SX. Everyone thought his last Live Nation race was that brilliant Orlando race back in March where he and Bubba battled like warriors, then this X Games race popped up, he signed up, and they played it up for all it was worth. Now he's going to do one more in Vegas, one more for Live Nation, and it just seems more appropriate to me. (And no, he's not coming to Texas. Carmichael is on his way to the Bahamas for wife Ursula's 30th birthday.)
Back to Steel City: Austin Stroupe's first-moto effort—in his first pro race—was astonishing. Sure, a lot of guys were left in his wake in the first turn, including RV1, BT101, and fellow rookies Trey Canard and Nico Izzi—but he rode the wheels off the #981.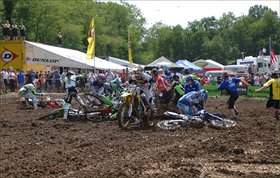 Nico Izzi (341) was in the pileup with a quarter of the rest of the field.
photo: Carl Stone
Was it the best debut ever? His fourth overall matches
Damon Bradshaw
's fourth back at
Millville
'88, and his second in the first moto matches Stewart's second at Anaheim 1 in '02 (his first pro race). That's some pretty good company to be in!
Lost in Stroupe's solid day (2-12 for fourth) was the impressive effort of Nico Izzi, who overcame that first-turn crash to race all the way back up to seventh, and Trey Canard, who came from deep in the pack for fifth in the second moto. At one point, all five SoBe No Fear/Samsung Honda riders were together—Josh Grant, Billy Laninovich, Jake Weimer, Ryan Sipes and Canard—and the kid out-motored them all and rode up through the pack in his first visit to Steel City. All three of these kids are good—really, really good!
And BBMX/DNA's Kyle Keylon put on quite a performance in the 450 class for a solid set of motos. Keylon got off to a rocky pro start at Millville with a first-lap crash in the whoops, but he's been digging, clawing, and scratching for positions ever since. He is the best prospect yet that the BBMX team has signed.
So now Villopoto is back in the lead, and with Ryan Dungey breaking his collarbone in practice on Saturday, and Brett Metcalfe and Hepler not quite as fast as #1 and #101, Townley has his work cut out for himself these last four motos. Like the 450 class, this one's going down to the wire!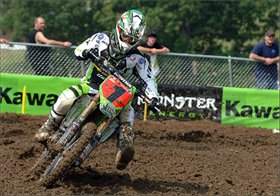 Ryan Villopoto is the new Lites' point leader. Again!
photo: Carl Stone
Check out moto on TV this weekend and next:
September 2 MX - Steel City 8:30 PM EST
September 4 MX Lites - Steel City 3:00 PM EST
September 9 MX - Freestone 6:00 PM EST
September 11 MX Lites - Freestone 3:00 PM EST
And don't forget to watch tomorrow night's Racer X Motocross Show on Motocross.com for a glimpse at practice from the brand new Freestone Raceway. We will also have the live Racer X Webcast on Sunday, which starts at 1 p.m. local time (2 p.m. EDT … I think). And then of course Monday morning's Wrap-Up Show will have all of the highlights from the weekend.
Also, did you check out this Photo Report from Sunday's WMA season finale?
I mentioned that there was a lot of talk about RC maybe showing up after all—some of the contenders were buzzing about it—but when he didn't, it led Tony Alessi to place this note in Alessi Weekly:
"I don't know quite how to say this, but the four riders (Mike, Langston, Ferry, Short), I am sure know and realize that Ricky Carmichael is letting us all race to win this title; if Ricky Carmichael chose to finish this series (and I think he could have) he would be the clear cut winner. I respect someone like that who keeps his word (and does what he says he's going to do), with the lure and temptation of a championship, money ,and other things. It says a lot about the character of the man."
You may have heard us mention it on Monday's Racer X Motocross Show on Motocross.com, but Gavin Gracyk is sick of people thinking he is running a cheater bike. To prove it, he will make a $5,000 bet with anyone who wants to protest him. Protest at Freestone or Glen Helen, and if you win the protest, Gavin will donate $5,000 to charity. Lose the protest and you donate $5,000. Gavin says he doesn't even have $5,000 to donate, but he says that doesn't matter since he won't lose. He has picked his charities, though: $2,500 to research for ALS (Lou Gehrig's Disease) and $2,500 to Road to Recovery.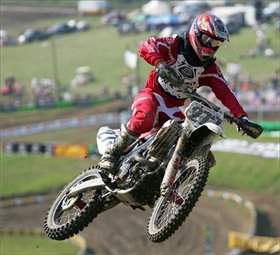 The privateer of the year.
photo: Steve Bruhn
Out on the infield, I happened to bring up Gracyk's options to a team manager, and he told me that the word in the pits was that he might be cheating, and that the rumor worried him about how good the kid really was—even as Gracyk came blasting
down
a hill into a ruthless section of ruts, holding the throttle on longer than any of the title contenders in the 450 class. It was loud out there, we were both too busy to have the conversation I wish I would have had with him, which should have gone something like this:
"Um, look way over there—all the way across the track to the outside of the first turn. See that black Cycra E-Z Up? Gavin's dad is underneath it, watching his boy race for probably the last time. Mr. Gracyk has Lou Gehrig's disease, which might the cruelest disease of all. It's a degenerative nerve disorder which slowly robs a person of their ability to move their muscles. Their motor skills go first, then their ability to walk goes away, then to stand. Eventually, they can't even breathe…. Another shitty part of the whole process is the fact that the mind remains sharp, until it too is finally overcome….
"Mr. Gracyk is in the late stages of the irreversible, incurable disease. That's why he was in a motorized wheelchair, with a portable respirator breathing for him. He just wanted to see Gavin race one last time. Maybe that's why he gave it every thing he had to try to get those holeshots and ride his ass off all day long."
But I didn't, and now I really wish I had.
Here's a good place to turn it over to TFS right here with a Silly Season update. Unbelievably, Gracyk's name is not in here: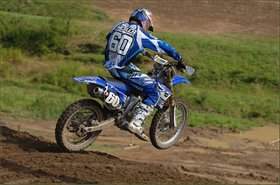 Broc got Yamaha their first Lites moto win since, what, Chad Reed in '02?
photo: Carl Stone
Red Bull Honda
Davi Millsaps, Andrew Short, Ben Townley, Ivan Tedesco
Monster Energy Kawasaki
Makita Suzuki
David Vuillemin, Mike Alessi, Nico Izzi, Ryan Dungey
Team Yamaha
Grant Langston, Broc Hepler, Josh Hill
L&M Racing
SoBe/NoFear/Samsung Mobile
Jake Weimer, Josh Grant, Daniel Reardon, Trey Canard in the Lites class, and Travis Preston (likely SX-only) and nothing signed yet but very likely with Kevin Windham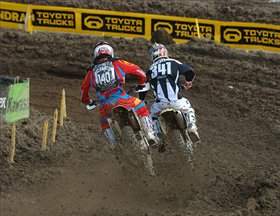 Trey Canard looked great in the second moto.
photo: Carl Stone
Monster/Pro Circuit Kawasaki
Ryan Villopoto, Brett Metcalfe, Christophe Pourcel, Austin Stroupe
MDK/KTM Factory Team
Nick Wey 450, Martin Davalos 250F. Maybe one other 450 guy
MDK/KTM Lites Team
Justin Brayton, Ryan Sipes, Matt Goerke, Billy Laninovich.
Yamaha of Troy
Jason Lawrence, Ryan Morais, possibly Tommy Hahn, and one more
Star Racing/Lucas Oil Yamaha
Matt Lemoine, Broc Tickle, Jake Moss, Wil Hahn
Gibbs Racing Yamaha
Troy Lee Designs Honda
Chris Gosselaar (SX and Supermoto), one more
Wonder Warthog (unconfirmed)
Sean Collier, Heath Voss, plus "Hog Haven"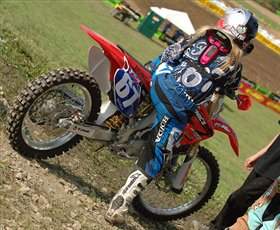 Ashley finally made her pro debut, but the mud got the best of her.
photo: Carl Stone
Solitaire/MB1
Ryan Clark, Jiri Dostal, Bobby Kiniry
Team Atomic
Paul and Jack Carpenter
Rockstar Suzuki
Not sure of 2008 plans yet, but they have retained Michael Byrne
Bloodshot/Rockstar Suzuki
Tyler Evans
Butler Brothers MX (two semis)
450 team: Jason Thomas, Bryan Johnson, Brandon Butler
Lites team: Shaun Skinner in the West, Kyle Keylon in the East, plus two more riders
Moto XXX is unknown - they plan in December. And so is everyone else at this point.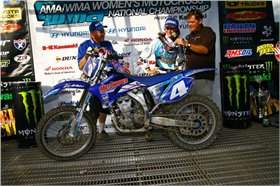 A quick shout-out to the Steel City winner.
photo: Steve Bonnau
So what the hell happened to
Tyler Bowers
? Not real sure. But
Jason Weigandt
has a lot more on that—and more—from
Steel City
in this week's "Observations" column on
www.racerxcanada.com
Check it out.)
From Ping:
There was some great motorcycle racing going on back east last weekend. If you made it to Steel City, you got to see four amazing motos of motocross; if you came out to the AMA Supermoto series in Stafford, Connecticut, you also some incredible racing. The Stafford race was Round 5 of the series bringing us to the halfway point. Mark Burkhart was leading the 450 class over Jeff Ward by just a few points and seemed to be on a roll after winning the X Games gold medal. In the main event, however, the doo-doo really started hitting the fan.
First, Burkhart clipped the back wheel of Ward going into turn one. Mark went flying off his bike while his Yamaha got sucked into the back wheel of Ward. The top two title contenders spent about 15 seconds pulling their bikes apart as the rest of the field raced off.
The early leader was Aprilia's Ben Carlson, but it wouldn't last long. He threw it away in fast right-hand sweeper, handing the lead to Troy Herfoss of the HMC/KTM team.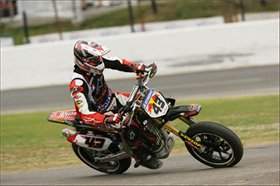 Micky Dymond earned a big win this weekend.
photo: Paul Buckley
Several laps later, Herfoss went off the track in the dirt section and hit a concrete barrier wall. He was up and okay eventually, but the lead now belonged to
Steve Drew
. Drew held the lead until former two-time AMA 125 National Champ
Micky Dymond
made his way past and into the lead.
Meanwhile, Wardy and Burkhart had been cutting their way through the field with Ward leading the charge. By the end of the race, Ward had made it up to second place behind Dymond while Burkhart could only make it to sixth. That gave Micky his first win in the premier Supermoto class and it placed the points lead back in Ward's hands by a scant three points. It was one of the best races I've seen in a really long time.
The Unlimited class was won by KTM boss Kurt Nicoll, who is racing on a part-time basis this year, and I won the Lites class, taking a three point lead in that series. Can you believe that DC joked, "It's a good thing Shae Bentley isn't racing Supermoto." What a jerk.
While I'm on my supermoto soap-box, check out this clip from a race in Bulgaria.
Go ahead and turn your volume down if you don't understand Bulgarian, but check out the track. Asphalt whoops, tabletops and berms are what our tracks here in the U.S. are missing. The final round of the series, held here in Southern California on November 10 and 11, is going to have some of these same features, according to promoter Troy Lee.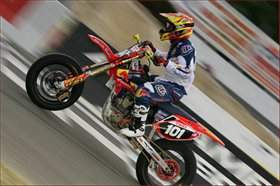 Our man Ping also got a win in Connecticut.
photo: Paul Buckley
"The Morongo Casino has been awesome to work with and since we have a three year contract with them they said we can build a permanent asphalt section," said Lee. "We are going to get creative and make a track that will blow people away."
If you are in the Nashville area this Saturday night, be sure to check out round six of the AMA Supermoto series. Go to www.amaproracing.com for details.
As usual, this Wednesday was a who's who of pro riders at Perris Raceway. Josh Hill was working the bugs out on his factory Yamaha 450 with the help of his team. Team manager Jimmy Perry said this of Hill's decision to move up: "He's a big kid. And he is in kind of a slump right now so we're just trying something to get some momentum going for him."
Josh looked much more comfortable on the 450 and was turning lap times that should easily put him in the top ten this weekend.
Chad "The Chad" Reed was also putting in some laps. No doubt the Yamaha rider is up off the couch and prepping for the upcoming Motocross of Nations, which is now less than a month away. Reedy looked fast on the rutted Perris circuit.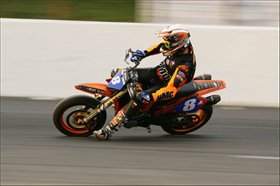 And rounding the Supermoto winners' roll call, Kurt Nicoll.
photo: Paul Buckley
I spoke with the trainer of top amateur prospect
Michael Hall
about a wrist injury that has nagging at him. Hall just underwent surgery to fix a cracked scaphoid bone in his wrist. The surgery went well and he should be back on the bike in time to be ready for the Mini O's in Florida this fall.
That's it from Ping. Good luck in Nashville—he and Brandon Currie are as close in their Supermoto Lites battle as Ward and Burkhart are in theirs.
A Michigan Mafia member was spotted at I-96 for the AMA Flat Track races last weekend: Nick Wey. "I just live down the road [in Dewitt, about 40 miles from Lake Odessa], and I've been a big fan of flat track growing up," Wey told us. "With my busy schedule, I've never gotten a chance to go over here to my home flat track race." Wey brought a group of friends to his first-ever half-mile flat track race. "I actually rode a little bit of motocross here growing up, back when they had a little track. I definitely respect what these guys are doing. It looks like a heck of a time to come out here and try this sometime." If Wey really decides to give flat trackin' a go someday, let's hope he fares better than Travis Pastrana did in Daytona last year!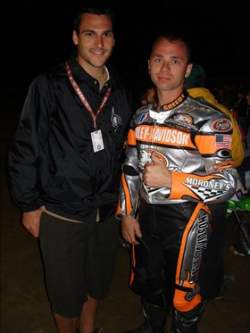 Wey with fellow Mafia member Bryan Smith, who finished 4th at Lake Odessa.
photo: Miriam Deitcher
Need someplace to ride Thursday, September 6? Look no further: Competitive Edge MX Park will be open for practice from 8 a.m. to 2 p.m. on the #2 National, #3 Hillside, Adult Pit Bike and Pee Wee Tracks. Cost is $25 per rider – more details go to
www.ridecemx.com
.
Even though Ryan Villopoto was blowing minds with his speed at Steel City, Broc Hepler had battled his way into position to win the overall for the third year in a row when he got by Brett Metcalfe and Tommy Hahn for second place. Then Townley got into third, and he was four seconds in back of Hepler at the 17-minute mark in the race. Would Broc be able to hold off the other half of the Pro Circuit 1-2 punch and win the overall? We'll never know, because Broc slammed a berm too hard and went down.
"I endoed in a corner!" said Broc after the race. "Looks like the reign is over." Hepler knew he was in for a long moto, because Townley was going to mount one heck of a charge to get him, but I'm sure he was bummed that he didn't have a chance to stop him. A few laps later, Hepler was coming back from seventh and his bike stalled and could not be restarted for several minutes—it was the same thing that happened to him in practice on Saturday.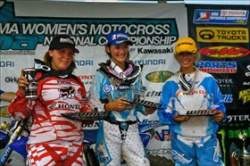 Whitmore got the race win at Steel City, but JP$ got herself another title.
photo: Steve Bonnau
Check out
this video
of
Steven Clarke
hauling ass around Matterly Basin as part of the British Champs' two-stroke race.
And here's a cool Loretta Lynn's video (Quicktime) from an aspiring shooter named Matt Miller.
My bad on something else on the webcast!
"In reference to your discussion about the Keylon's and father and son national winners in the first moto of the 450 class at Steel City. Gary Bailey did win a national, two in fact on a Bultaco. In 1972 Gary Bailey won at Washington, Indiana on June 11 and at Talladega, Alabama on September 2."
That's from Reese L Dengler and he's exactly right.
With Josh Coppins's season quickly making a turn for the worse, Ben Townley is taking it on himself to make sure New Zealand puts in a great performance at the Red Bull Motocross of Nations at Budds Creek. Cody Cooper has been selected as the third member of the team again (Cooper also raced alongside Townley and Coppins last year, posting 17-13 moto scores) and Townley is bringing him up to speed right now. Cooper is now riding with Townley in Florida, and plans on racing Freestone and Glen Helen with some help from Mitch Payton. "You've all heard of Dan Reardon," said Townley at Steel City. "Well, Cody battles with him back at home. He goes good and I think he's going to surprise people at the next two races."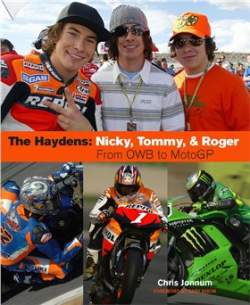 On sale now!

Road Racer X editor Chris Jonnum's first book is in stock now. The Haydens: Nicky, Tommy, & Roger, From OWB to MotoGP is a biography on the racing Hayden family, including reigning MotoGP world champion Nicky Hayden. It's a nice-looking tome, with old-school photos from the Hayden family's personal collection, plus more current stuff from the best photographers in road racing. Yes, the Haydens are road racers, but they've also got serious skills on motocross bikes. Check out CJ's interview over on the RRX site, and get the book at www.bullpublishing.com.
Freestone County Raceway is proud to announce that Steve Wise will be attending the Monster Energy Freestone Motocross National. The greatest treat for the patrons will come when Steve Wise will also be giving the Sunday morning church service. Church services will be held at 8 a.m. on Sunday morning. The location for the services will be on the spectator hill of the amateur track. "I tell it like it is" said Wise in the press release, speaking of how he delivers his message. "It's an honor to be a part of the Freestone National."
For more info, go to www.FreestoneMX.com or www.SteveWise.com.
Matt Ware got an email from Andy McGechan this morning, who I've been in contact with for MXoN team New Zealand photos, and he left this note:

"Are you aware that it's now highly unlikely that Coppins will race for NZ (with Hurley to replace him .... I'm chasing confirmation of that today) and that Christophe Pourcel is out of the French team and Strijbos is out of the Belgian team?" Seems like the MXoN injury list keeps growing.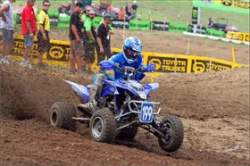 Pat Brown won the first-ever ATV Open Invitational at Steel City on Saturday morning.
photo: Zak Lowery
This from
Weege
:
After two months off with their traditional summer break, the boys and girls of the Can-Am GNCC Series are back this weekend in Pennsylvania. It's a new track at the Mountain Ridge ATV Resort in Somerset, PA, and it's supposed to be very, very rocky. That will only aid series leader David Knight, who is a master of super-technical stuff like that. Knight won the last two races heading into the break, and after some struggles early in the season, seems to be hitting his stride.

Who can steal his momentum? Am-Pro Yamaha will send three chargers into the ring. Barry Hawk is always a contender on rocks and will be especially tough since this is his home state race - and Barry probably has more fans in the GNCC woods than anyone. Charlie Mullins admits he's not the best rock racer, but he's so darned talented you can count on him running up front anyway. And the big surprise may come from Jason Raines, the oft-injured star who appeared ready to take this series over a few years ago. Raines has come back time and time again from a series of broken legs, and he'll make his first run in the GNCC XC1 pro class in over two years. Word is that Jason is going faster than ever right now, and conditioning is never even an issue with him.

Oh, and check out this very cool Racer X Film from last Saturday's ATV Pro Open at Steel City, which was a hit!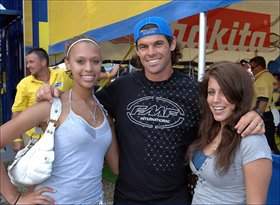 Ryan Hughes was on hand with two aspiring WMA riders from MTV's Made.
photo: Carl Stone
If you decided to make a week of it after
Steel City
and you're still hanging out in Western PA, check out the GNCC--all the info you need is located at
www.gnccracing.com
.
That's it. The plane has landed in Dallas. Look for a little sneak-preview video on Racer X Films and Motocross.com later tonight from Freestone.

Thanks for reading Racerhead. See you at the races.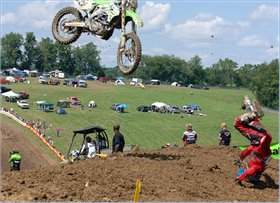 Ryan Mills' afternoon at Steel City ended here.
photo: Carl Stone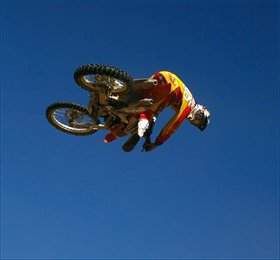 Who says WMA riders can't whip it? That's Meika Cornelius laying it over.
photo: Steve Bonnau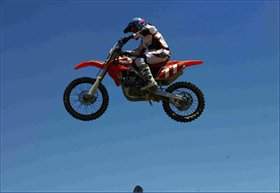 Miki Keller's signature trick, the "everything."
photo: Joey Boisineau