Rode down the highway
Broke the limit, we hit the town
Went through to Texas, yeah Texas
And we had some fun
You've been - thunderstruck!


Hello, everyone, and welcome to the Rev Up. I have to tell you, coming up with something catchy every single week isn't easy. Although my stack of Bowyerisms is pretty deep, the proverbial well runs dry now and again. Ah, but this week's theme came in a fun way. It hit me last night at Gibbie's while I was screaming my head off "singing" karaoke. If Brian Johnson ever puts down the mic, I think I could be the second coming of Bon Scott. AC/DC is super hot right now and if there has ever been a song that got me in the mood to kick some butt, Thunderstruck does the job.

Ironically, it is actually thundering outside as I write. So, we're going to Texas – oh, boy. I tell you, that place is truly a whole other world compared to the other 49 states in the union. The folks indigenous to this region carry an attitude and world view all their own - and they're proud of it. My perspective of the Lone Star State is based off of the motocross friends I raced and traveled with growing up. My opinion has been formed based on my encounters with personalities like Billy Whitley, Billy Akers, Grayson Goodman, Michelle Falls (Stephenson), Charley Bogard, Brad Woolsey, and Mike Kidd. They're all wild Texans, but really good people and it was fun to spend time with them. The people are just the beginning. Everything down there is weird. People pull over on the shoulder of the road when you pass them, the cops wear cowboy hats, and the state has the most unpredictable weather on the entire planet. With this in mind, it makes perfect sense to me that we arrive at the inaugural Freestone Outdoor national. Like Hunter said, "when the going gets weird, the weird turn pro." This has been a summer to remember. Madness has followed every round and each week I sat down to write the Rev Up my right foot wouldn't stop bouncing until I stopped typing. If you have Thunderstruck on your iTunes, put it on right now.
Lites
Ryan and Ben have been on a collision course for
Glen Helen
since the drop of the gate at
Hangtown
. As it stands, RV Park has managed to gut out a six-point lead over the killer Kiwi. Ben can close up that gap with a simple 1-1 performance, and I think he is pissed off enough after last week to do just that. This group will be a blast to watch because behind the battle for the title belt comes a freight train of talent that knows which side the throttle is on.
Brett Metcalfe
was carrying the mail last weekend and his new teammate
Austin Stroupe
was just scary fast. Be that as it may, ya'll better look the hell out for
Trey Canard
. He came form the back twice last weekend and he is riding hard all the way to the checkered flag.
Nico Izzi
was a guy I overlooked in the race report on Monday. He went down in that burly first turn pileup and came from dead last to seventh.
Although I want to send out a big shout to the local boys that will be taking a little extra around the track with them.
Tommy Hahn
, although once a Kansas resident, now calls Decatur, Texas home and he needs a win. His little brother, Wilbur, will be making his debut on his brand new Star Racing ride. He's a solid holeshot pick.
Kyle Cunningham
is another local Texan that has the speed to send the t-shirts swinging if he grabs a good start. And last but not least, let's get it up for #147
Clayton Miller
. Clayton is a good dude, and it would be sweet to see him grab some points in his own backyard. Get'em boy.
Motocross
What do we do here, man? It's up and gone old school on us and now it's time to get nasty. The title is four motos away for four riders that all want it really, really badly. Timmy Ferry had an absolutely dreadful weekend at Steel City and needs to get back on the stick so he can finish making Mike Fisher look like the best recruiter since Roy Williams. Andrew Short quietly gave up the points lead last week as well, but he is still very much in the running. He's been a couple seconds off the pace though and needs to get mean if he wants to hoist the big trophy in two weeks. But these next two guys are the ones I think have the best shot.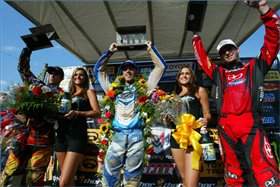 All of these guys are thinking about the championship.
When
Mike Alessi
said he, "wasn't thinking about the title" on the podium last weekend he could not have been more full of crap. Oh, he was thinking about it. Mike is arguably the smartest rider on the track. He watches everything and knows what is going on every second of the race. The Alessi's break down their racing into a mathematics equation in almost every aspect. He doesn't look it, talk it, or act it, but #800 is tough. We all know he will do anything to win, and you have to respect his determination. He'll need all of it and more if he wants to stare Langston down. Ain't nobody meaner than Grant. It's a foregone conclusion that he and Mike will lock bars before these four motos are through.
So, the hell with it, let's go to Texas. I really want all of you to be pumped up for this race. These are great days we're living, folks. Those of you with a true passion for this sport know exactly what I'm talking about. Watching Ryan charge through the pack last weekend was amazing. Then that second 450 moto literally stood the hair on my arms straight up. I live for this stuff. Those guys are all so gnarly it's not even explainable. Motocross, man. It's pure competition and glory and right now it's peaking like never before. Sound off the guns. The beating in your heart. Hopefully you'll be Thunderstruck in Texas.
Thanks for reading, see you next week.