Privateer Profile: Chris Blose
Chris Blose comes from a family of racers. He and his brother, Michael, are carrying the family flag now and last weekend at Steel City Chris had a breakthrough ride finishing 13th overall in the 450 class. We tracked him down in the scorching Arizona desert for this week's Sponsorhouse.com Privateer Profile.
Racer X: Great job last weekend, Chris! Take us through the motos.
Chris Blose: The first moto went really good; I finished sixteenth. I got a mid-pack start and I was just kind of staying there. Some people started crashing and a couple people passed me so I was kind of going back and forth. But it was a good moto for me. Then, the second moto, I got a top-five start and I ran in the top ten for a while. It felt good to run up there with those guys. Then I made a little mistake and fell over. Luckily, I kept the bike going and only a couple people got by me. Towards the end of the race Ryan Clark was ahead of me and I caught up to him but I couldn't get by him for 13th.
Do you ride with Ryan quite a bit since you both live in Phoenix?
I've never actually ridden with Ryan. I know that's strange because he only lives like an hour from me but we just never ride together.
Are you going to the races as a total privateer or is someone helping you out?
I'm a full on privateer. My grandparents and my family are helping me out a lot. Michelin has been awesome to me, too. They have been hauling my bike around to the races and I just fly in and do my thing on the weekends. It makes it so much easier for me. They have been amazing. I have my other sponsors that help me out a ton.
How many of the nationals have you done?
I've done all of them since Unadilla and I'm doing all the rest. It's nice to be able to fly home on the weekends and ride and do my normal routine. That has been a big help.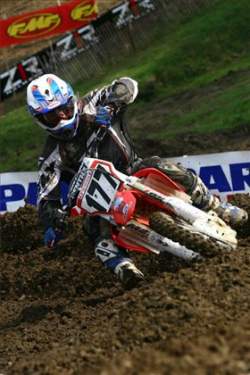 Chris is the younger brother of Michael Blose.

photo: Matt Ware

Last weekend had to help your confidence.
I think my conditioning could be better and I think it's good that I know that. I'm just riding hard and trying to get better. It's paying off because my starts are better, my fitness keeps getting better and I'm finishing better. Each weekend I can run with the top ten guys a little longer.
What's going on with your brother, Michael?
He actually got hurt in arenacross. He tore his ACL pretty bad. He just got released last week to start racing again. He's going to race Glen Helen so that will be interesting to see how he does.
Will he ride Lites?
No, he will ride a Suzuki 450.
It should be fun to battle with your brother a little bit, right?
Yeah it will be fun. We went riding last night at a local track and he still goes really fast. We just battle and have fun the whole time. It will be fun at Glen Helen.
Does your dad still come to all the races with you?
Yeah, he was at Steel City with me. We have family in Kittanning. I think that's where Hepler is from. People are really nice back there so we come in early and hang out there. We do some fishing and stuff like that that you can't do here in Phoenix.
You can't even go outside right now in Phoenix.
Yeah, it's, like, 112 out right now.
When I lived there I had to ride at six in the morning and be done by nine. Is that what you guys do still?
Yeah, we go really early or late at night if there are lights.
How is the Arizona MX scene?
There have been some tracks closed but we have a couple new ones, too. So, its okay I guess.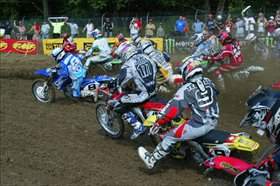 Chris got a top 10 start in the second moto

photo: Steve Bruhn

Not many people know this but your uncle, Chappy Blose, used to be a factory rider. What can you tell us about him?
Yeah, he was a factory Kawasaki rider in the seventies or eighties or something. I'm not sure when it was but it was a long time ago. He was pretty good, I guess.
Does he ride with you guys or coach you much?
I don't think he rides much anymore. He hands out with us though. He was back in Pennsylvania with us and went to the race and stuff.
What sponsors do you want to thank, Chris?
Michelin has helped me a lot this year so thanks to them. My grandparents, my mom and dad and all my family have helped a lot financially this year. Also, Fly, Scott, Boyesen, Bell, UFO, Leo Vince, PR2 and everyone that has helped me out this year.