Monday Conversation: Grant Langston
Both AMA Motocross motos at Steel City's Monster/Kawasaki Triple Cown of Motocross yesterday featured non-stop action. In the first moto Grant Langston started out third and pressured KW for second, and then made a mistake that caused them to collide in the air, sending an angry KW off the track. In moto 2, Langston, KW and Mike Alessi traded places (and the potential overall) back and forth, time and again. The battle for the overall came down to the last lap, and Langston won it, going 2-1 for his first-ever AMA Motocross class win (and ninth total in his career). We spoke to the South African who is the new AMA Motocross points leader with two rounds left in the series.

Racer X: Grant, congratulations on your first win in the MX class. How does it feel?

Grant Langston
: It's awesome! I believe it was a matter of time before it happened.
Washougal
was close.
Millville
—besides Ricky, I was good good that day. He kind of makes everyone look kind of dumb sometimes. I have been getting a little bit stronger each week. We have the 2008 bike working pretty well. I think today it could have gone so many ways. In the first moto I fell when I felt like I was making a charge. In the second moto I made a mistake and went off the track. At any point it could have gone my way, Alessi's way or Windham's way. I wanted it really, really bad and I gave it everything I had. We were all just pushing real hard. I wanted to win really bad. That last lap was like a lifetime for sure. If I went down the track in the middle, I could hear a bike in my right eardrum and a bike in my left eardrum pinning it. I was just thinking 'don't make a mistake.' I looked over my shoulder with like three turns to go and I could see there was a little gap and I thought "OK great, I don't have to pin it in all these ruts." It was a really fun race, good for the points standings and good for the fans, the ones here and the ones that see it on TV.
What were your thoughts about one lap into the first moto, when Mike Alessi was in the lead and KW was second?

I was just thinking just try and stick with these guys, and if you are all over them about halfway, I know I can pick it up in the second half. They started to pull way, and I just rode tight. I made some mistakes. I went off the track. KW and I accidentally collided. It was my fault and I apologized to him. I wasn't paying attention too much on which finger was pointed at me, but I knew at the time, we are racing, and I get heated when I ride. I have gotten in people's faces afterward, or yelled and screamed, and then you calm down and talk about it afterwards and everything is cool. It is part of racing. He knew afterwards it wasn't intentional.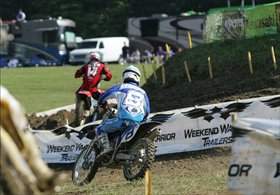 Langston got pushed off the track in moto 2

You spoke right after the checkered. What was said?

I said, "Hey, I hope you know I wouldn't intentionally jump right into you in midair." No one would jump into someone. Kevin and I get along great. He is a great guy. No one would try that. It's risky for anyone. I wheelied through a little patch of mud and I was almost along side of him on the right hand side. I went up the jump and my rear wheel slipped. I started jumping across to the left side of the track where he was. It was like slow motion in the air and I was just praying that we both would save it. He went off the track and looked over his shoulder thinking 'WHAT are you doing?' I knew he was probably heated at the time. I couldn't stop and explain what happened in the middle of the race. I put my hand up and tried to signal I was sorry. I fell later—kind of a bonehead move, I don't know. I just lost my concentration. Either way, no harm, no foul. We have spoken about it.
In the second moto, how did you start?

I don't know, maybe 5th or 6th. I had a tough time getting around
Gavin Gracyk
. The track was tough to pass on. I don't really remember the details. At one time I was in second, trying to get around KW. I tried to square a turn up and did like a road race swap, right off the track. I just told myself, stay calm, don't get flustered and be cool. Then all of a sudden we all started bunching up again.
I wanted to win so bad. We gave it everything we had. I thought someone would get tired or make a mistake but everyone just hung it out all the way to the end. It was a stressful but exciting race.
You obviously have to be thinking championship at this point. You now have the points lead.

At the time, I didn't really know who was where or what the points were. I knew I was making points on the other guys, but I just wanted to win more than anything. To win an overall helps the championship as well. I've wanted to get that monkey off my back. I have had a bunch of seconds and a couple thirds. To get a win, it feels really good.
When it's all over and if you come out on top, will it matter if people say "Yeah, but Ricky stepped out, and James didn't finish." Does stuff like that matter?

Well, there is nothing I can do about it. I never told anyone to retire. Ricky did what Ricky wanted to do. People are always going to remember him as the greatest and no one is disputing that. If he was here, sure, it would be different. James, well I have lost championships because I wasn't there at the end. If you make a mistake, you can't blame anyone for that—you can only blame yourself. With Ricky, I think for a lot of us we were a little unfortunate to be born in the same era of the greatest rider of all time! There are probably about 10 guys out there that could have had a championship in the bag if were not for Ricky. It is what it is. I wish him all the best of luck in car racing. I am hoping to go watch him down in Florida one of these days. That would give me a reason to go root for stock car racing again.
I am thankful that he did step down. He's opened the door. Just look at the championship battle. It's quite amazing. Unfortunately Ricky was so good, he made it boring. Now there are four riders that might win and it will come down to the last moto.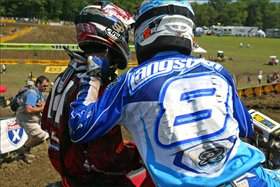 Langston apologizes to Windham

What is going on with Monster right now?

I had been with Monster before for a while. At the beginning of the year we couldn't do anything because of another contract. A few things have changed and opened the door up. Monster has wanted to be involved for a while, and they have. They are a great company. Look what they did for Ricky. You might think it is something to stick on your helmet, but they support him in car racing. It is always great to have great sponsors behind you. Those are the kind of guys that will take care of you, and hopefully be with you for a long time. Look at a good friend of mine, Greg Albertyn: He is still part of the Parts Unlimited family. I think nowadays in the sport people don't have a lot of loyalty. I think that is great to see. It's just a big circle. You help them, they help you.