Okay, let's get right to the Ricky Carmichael rumors. I have heard from several different people—ten that I can count off the top of my head—who heard or know someone who knows someone who knows that Ricky is coming back out for Steel City this weekend. Someone overheard Mel Harris, who overhead Roger DeCoster, who asked Ricky to reconsider…. You get the picture.
It reached fever pitch when Mike Gosselaar wheeled RC's #4 bike out in the parking lot at the Pittsburgh area hotel to start preppin' it … for the Motocross of Nations, not the Monster Triple Crown at Steel City!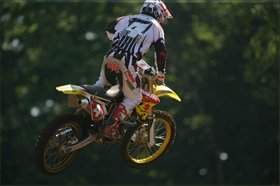 Is he or isn't he?
photo: Paul Buckley
For the record, I have heard nothing from either Carmichael himself or
Scott Taylor
, and if he is coming, I will be shocked and surprised. I'm not counting on it.
Nor do I think James Stewart will be able to go. We got the official FIM entry list for the 2007 Red Bull/Fox FIM Motocross of Nations, and Tim Ferry's name was inked in for Team USA, along with RC and Ryan Villopoto.
Having watched the tape a few times, I still cringe when I see how James buckled that knee at Washougal and basically threw the whole AMA Toyota Motocross Championship up in the air. James obviously wants to race, and that's probably why there hasn't been much coming in the way of official information: He is likely not giving up hope until it's absolutely over. I sure hope he can get back out there and stay in this championship.
And I will bet anyone here $200 that
Chad Reed
's not coming either.
The Steel City track looked like the Augusta National golf course about a week ago. Then it started raining. And raining. And raining. And right when it stopped, and started looking like amateur day was going to be perfect, it HAILED. It was raining toads too—like, a biblical rain.
So we canceled amateur day and now we're waiting to see if it's finally done and we can stop building that ark, because that's as much rain as I have ever seen in the state of Pennsylvania in one week.
How's the weather look right now? Follow this link.
Before we get too much into the AMA stuff, here's wish all the best for Josh Coppins as he returns to Motocross GP for a last-ditch effort to hold on to the title he's been waiting a decade to win. Josh busted his shoulder up in the Czech Republic a month ago, pretty much throwing away a two-race lead. He's sat two races out, and now sits just a handful of points ahead of Steve Ramon with two rounds to go. Hang in there, Josh!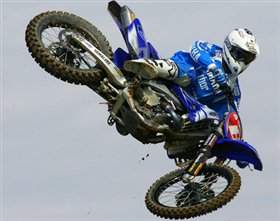 Here's hoping Coppins still pulls it off
photo: Geoff Meyer
Joining Coppins in the Yamaha hauler over there will be newly crowned MX2 World Champion
Tony Cairoli
, who wrapped up his title last weekend in Northern Ireland. Cairoli is the wild card in this championship fight, and now he's racing a YZ450F in a major race for the first time. Our friends at Motocross.com actually caught up with Cairoli last weekend in Northern Ireland for a quick video interview.
Check it out
.
Meanwhile, four guys—Tim Ferry, Andrew Short, Grant Langston and Mike Alessi—will definitely be at Steel City fighting for that championship, while the Lites class is almost a dead heat between Villopoto and Ben Townley. Racer X will have all of the action from Steel City, beginning with Saturday night's Racer X Motocross Show on Motocross.com, followed by Sunday's live webcast, starting at about 12:30 p.m. EDT. And on Monday morning, we will give you exclusive race coverage, interviews and more when the Racer X Motocross Show returns on Motocross.com.
Scott Taylor did get back to us with some Carmichael news: RC filmed with Rob and Big last week for an upcoming episode on MTV. Pretty funny stuff. Rob and Big on scooters riding SX with RC on his 450!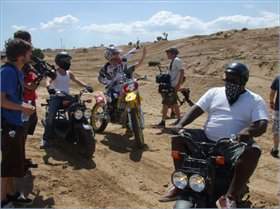 Rob and Big Show
photo: Scott Taylor
Word online is that
Tyler Bowers
is making his pro debut this weekend at
Steel City
. This was posted by
Jeff Kardas
on Mototalk: "Third hand info here, but I trust both of the hands up to this point. Tim Bowers → Rupert → Me → World. Ty is in for
Steel City
. Blue bike, big boy class, no other details were given nor implied." That's as official as it gets!
Austin Stroupe is also joining the pro ranks this weekend as a member of Monster Energy/Pro Circuit Kawasaki. That means he will have a front-row seat to the RV-BT battle, and he will certainly learn a thing or two from Brett Metcalfe and Christopher Gosselaar as well. And he's being reunited with his old amateur rivals Trey Canard and Nico Izzi…Whatever happened to those guys?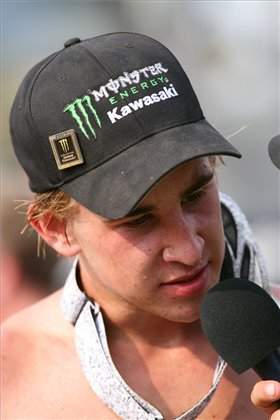 Here comes another blazing rookie in Austin Stroupe
photo: Simon Cudby
There are rumors that another fast amateur from North Carolina is going to join Stroupe on the starting line this weekend for his first pro national. Serious Racewear's
Mike McDade
, formerly of New Brighton, PA, is slated to make his pro debut this weekend. McDade won an expert title at the Mini Os last November, and his Loretta Lynn's results didn't reflect his capability. Keep an eye on McDade this weekend as he knows the
Steel City
track very well.
Tyler Wharton will make his debut at Freestone on the 450. "I've never even been to an outdoor national—never—and I just wanted to see how it was done. The program, the times thing, everything. I want to be #516 but we'll have to see." His little brother Blake is probably a year away, though it might be two.
And finally, Ashley Fiolek is joining the WMA this weekend! Ashley has been working toward this moment for years, and she and her father even drove by Steel City last weekend just to check it out. I think she will make a wonderful addition to Miki Keller's series, which I think is getting ready to really take off.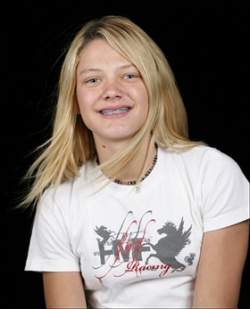 Ashley will not only watch boyfriend Trey ride this weekend, she will be racing herself.
photo: Courtesy of Dunlop
What ever happened to
Juss Laansoo
? Remember the 2005 AMA Rookie of the Year, the Estonian who rode a privateer Honda CRF450 to top-ten finishes week after week in the AMA Motocross Championship? Yeah, well, he got a ride with Moto XXX in 2006 and tried some supercrossing, and he ended up breaking his wrist. He tried to gut out the '06 outdoor campaign but never healed, so his American coach,
Jim "Hollywood" Holley
, told him the best plan was to go back to Estonia and not come back until he was finally healed. A year later, Juss is back on the bike, and he wants to come back to the U.S. to give it another shot. So "Hollywood" made a deal with him. Juss has to go to the MX3 (Open Class) GP in Denmark on August 26. Jim says if he finishes in the top five of both motos at that GP, he'll get him back to the States and on a bike so he can race
Glen Helen
and hopefully run in the top ten.
Here's some stuff from David "Good as Bronze" Pingree:
The 2007 Oakley/Boost Mobile Surfercross is in the books, and this year's big winners were "Factory" Phil Lawrence and pro surfer Kai Pattison. The duo stomped everyone on the motocross day at Starwest Motocross Park and followed that up with a solid day at the beach. That was enough to clinch the win ahead of fellow motocross riders Josh Hansen, Mike Sleeter, Jeff Emig and Eric Sorby. Phil has been surfing on a weekly basis all summer, and his extra hours in the Pacific paid off for him. Too bad the board he won is only six feet long, as thin as a newspaper, and completely useless to a guy of his size and ability. Sell that thing on eBay, Phil.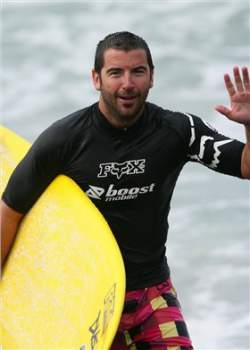 Dano Legere at SurferCross
photo: Simon Cudby
Every picture I've seen of
Ricky Carmichael
in a race car is either a shot of him slamming into a wall or another driver or stepping out of a wrecked machine. That just goes to show you that there is a lot more to driving those things than you think. Still, if things don't pan out for RC behind the wheel of a car, he always has his credibility in this sport to fall back on. I have a feeling he can do anything he wants—and do it well.
The Troy Lee Designs/Red Bull Honda team has already signed Chris Gosselaar for the 2008 season in the Supercross Lites and Supermoto Lites classes. Things apparently fell apart with Eric Sorby since he doesn't have Lites-class eligibility, so they are looking for one more rider. Who are they talking to? Well, there are plenty of riders looking for a good ride right now but one of the guys they are considering is Jeff Alessi.
I'm headed to Hartford, Connecticut, this weekend for round five of the AMA Supermoto championship. There is a Doug Henry benefit dinner this Saturday night to raise money for the injured rider. Racing is Sunday and then Monday morning is a benefit ride through the trails of Connecticut. Again, all proceeds go to help Doug. Check out www.amaproracing.com for more details.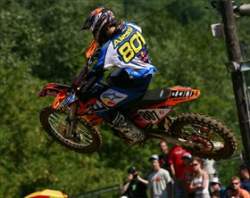 Jeff on a Honda? It could happen
photo: Simon Cudby
Wait, one more thing: I bumped into
Josh Hill
in the airport. He said that this weekend is
Steel City
is his last race on a 250F in the Lites class, as he will be on the 2008 YZ450F at Texas and
Glen Helen
. Obviously, he's been struggling a bit on his 250F, so this should be interesting.
From reader Ryan Kuna:
"Did you know that in the mid-seventies Roger DeCoster had a Mongoose BMX bike with his signature on it? Just thought you guys might find this interesting."
If you want to see more from the 9th Annual Oakley/Fox Surfercross, Simon Cudby was there shooting the action with his video camera for Racer X Films. He's got pros like Jeff Emig and Josh Hansen looking fast on their motorcycles (Hansen is on a Yamaha for the first time since '04) and looking hopeless on the waves (well, Davey Castillo looks all right on a board). Go to www.racerxfilms.com.
Apparently, Hansen raised some speculation as to what gear he and his Gibbs Racing teammates were wearing in 2008 when he showed up to the Surfercross running
Fox Racing
riding gear. After a quick phone call it was discovered that Li'l Hanny purchased the gear himself at a local dealership.
And speaking of Emig, here's a funny story Racer X Europe contributor Matt Allard sent us this morning:
"So I was driving up to The British GP at Castle Donington this morning, and for some reason I was thinking about the piece I wrote for you yesterday on the British team at the MXoN for the souvenir program. I don't know why, but I suddenly started panicking about the year the Brits last won the Nations, and even managed to convince myself I might have got it wrong. I dated it as 1994, but I had this nagging doubt it might have been '93.
"Knowing you were on deadline today and very busy yourselves, I put my foot down in an effort to get to the press room as quickly as possible to check the details in case I needed to get an early morning e-mail out to you (not that you would have missed it). I parked up, jumped out the car and got my laptop bag out. As I walked across a deserted car park towards the main gate, a car pulled up alongside me, and I recognized the driver. It was the first sign of life I'd seen since arriving.
"'Mate,' I said as we shook hands, 'I'm having a mind-blank, when on earth was the Nations at Roggenburg?'
"He laughed, and replied, '1994... September 11, 1994, in fact."
It was Paul Malin.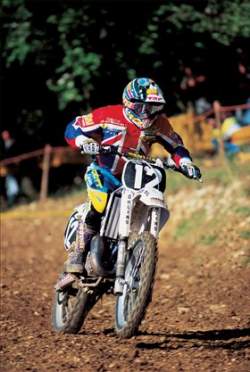 The hero of 1994, Paul Malin
photo: DC
More news from Europe:
Xavier Auduoard
, the promoter of the Paris-Bercy SX, dropped us a line to let us know that he got
Keith McCarty
's permission for
Grant Langston
and has also just about finalized with
Andrew Short
and Honda for "Bercy 25." Wrote Xavier, "So I guess we have two chances out of four to present not only the GOAT, but also the new U.S. National Champion!"
On a sadder note, Xavier told us that Christophe Pourcel's injury seems serious (fractured sacrum /S1).
Here's a note from Racer X Canada's Danny Brault:
"After racing to podium finishes in the Motocross and Motocross Lites A-Pro Sport classes, Honda's Phillip Nicoletti drove up to Walton, Ontario, to race the MX2 East-West Shootout. Nicoletti impressed right away, winning the first moto over Tucker Hibbert and Michael Willard. Apparently, he broke his collarbone a few weeks ago and the pain caused him to retire in the second moto. Check out this link for a few notes and photos from the final round of the Canadian Nationals."
Nicoletti joins a list that includes Nick Wey, Josh Woods, Gavin Gracyk, Justin Keeney and Scott Simon who made appearances at Walton following Loretta Lynn's.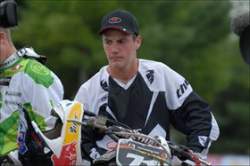 photo: James Lissimore
Congratulations to the winners of our
Carey Hart
/DVS contest. These four lucky winners received various pieces from The Hart Group, Carey's new clothing collection from DVS. The collection was hand-selected by Hart himself and developed with his input and inspiration and features Carey's tattoo art.
Grand Prize winner: Billy Morgan, Grantsville, Utah
First Prize winner: Jason Clift, Round Rock, Texas
Second Prize winner: Eric Saver, Holmen, Wisconsin
Third Prize winner: Kris Kertzman, Del Mar, California
All they did to qualify for these cool prizes was subscribe to Racer X! Do you want to be the next winner? Check out the minibike we are giving away from Virtual Bikez here. Every paid order gets a free Virtual Bikez sticker kit!
Congratulations to the winner of a new Kicker car stereo system – Brian Sartain from Ladd, Illinois. Brian took part in our online reader survey and won a new system for his Jeep.
Keep your eyes open for our new contests. Everyone really does have a chance to win!
Team Solitaire's Jesse Black told us that Jiri Dostal is returning for the team this weekend, after being out all summer with an injury.
Looking for a good track to ride on—and for a great cause? Check this out.

Here's a link to Racer X Canada's Frid'EH update.
We got this sad note from Jason Partridge:

While riding at Glen Helen today with my brother (Kyle Partridge) Brett Klein crashed and was unconscious. He was airlifted to Arrowhead Hospital nearby. After further evaluation by the doctors, it has been determined that Brett is in a coma and has bleeding on the brain. My brother said (and this is obviously second hand information) but they are saying its a really good chance that if and when he wakes up he will have permanent brain damage. I am in the process of setting up a Paypal account to help his family out in this time of need. Again, this has just happened within the past few hours so I will continue to update as I receive information from my brother. Please, once I get the Paypal account set up, any donations will be greatly appreciated. The doctor bills I'm sure will be very high, so thank you ahead of time for your donations. Also, while we are at it let's all say a prayer for Brett and his family. Brett is a good kid with a good family and hopefully he'll pull through this and be OK, but our help and prayers are only the beginning of a very difficult time ahead of all of them, so please say a prayer and keep them all in your thoughts. The email it is set up under in Paypal is brettkleinfund@hotmail.com.
God Bless.
If you're not at Steel City this weekend (and even if you are) here's when you can watch in on TV:
September 2 MX - Steel City 8:30 PM EST
September 4 MX Lites - Steel City 3:00 PM EST

Oh damn, someone stole Moto Clown's bike! What is this world coming to?
And finally, in the biggest news of all, West Virginia University has returned to the top of the Princeton's Review's top party schools.
The news spread through town like the smoke of a couch ablaze. It brought a tear to our collective eyes—especially when the
Girls Gone Wild
tour bus showed up on High Street last night to let everyone know a good party town when they see it. We've been off that list before, but we never gave up, not even once. We never rested on being #2, or #5, or tied for #6, or even almost out of it in 9th (though we should have demanded a recount). We knew in our hearts and in our livers that this day would come—this return to greatness—and we would know that we had earned it. They can take away our couches and our student seating, but they can't take away our $.50 drafts. So on behalf of all of the students, the waitresses and bartenders, the bouncers and the bouncees, the next round's on
Carrie Jo
.
Just kidding. See you at Steel City. Thanks for reading Racerhead.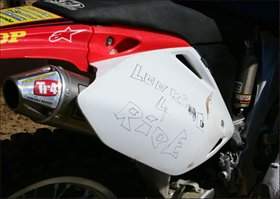 Sorby needs a ride.
photo: Shannon Cudby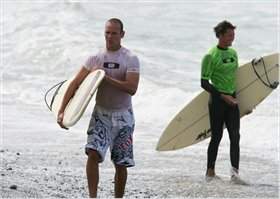 Factory Phil
photo: Simon Cudby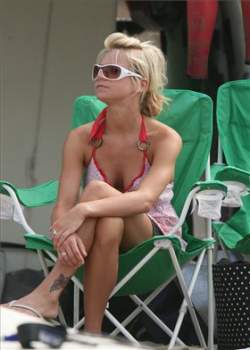 See you at the races!
photo: Simon Cudby