Welcome to the Shift Number Cruncher. As we sit blanketed with the drama of one of the most incredible summers of motocross ever, we arrive at round 10 of the Toyota AMA Outdoor Motocross Nationals presented by FMF. I don't know about you guys, but I'm really pumped up for this one! And it is in this race's honor that we dedicate this week's column, for this is the 20th running of the Steel City National and this should be the biggest one ever. That's two decades of racing history around the Delmont, PA facility. 20 is a pretty solid racing number and some of the biggest motocross names ever have raced and won with it. It's the number of heavy set two-time Nextel Cup winner, Tony Stewart, BMX competitors in the X Games compete on 20-inch bicycles, and about ten years ago everyone and their dog was putting 20 inch wheels (dubs) on their trucks. In addition, a slew of famous stick-and-ball athletes like the NFL's Ronde Barber, as well as MLB's Mike Schmidt and Frank Robinson claim the two zero. Ah, but there is a posse of motocrossers of the #20 brethren that we shall take the closest look at.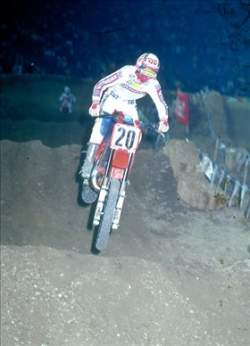 Darrel Shultz
photo: Dick Miller Archives
Let's get rolling with some old school, shall we? Here we have
Darrell Shultz
running #20 in 1982. This was a banner year for the Trinidad, CA resident as he won four AMA Pro races including the Daytona Supercross and three 500cc outdoor nationals on his way to the 1982 500cc title. The AMA record book also shows him winning at Sonoma on a Maico in 1978.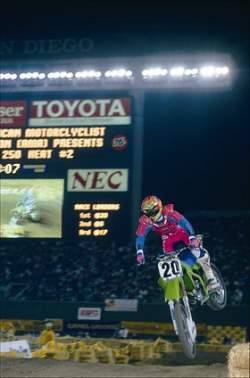 Jeff Matiasevich

photo: Courtesy of Moto Verte

Jeff "Chicken" Matiasevich won his lone supercross victory this year at the Las Vegas supercross running the twenty. This year he and Damon Bradshaw completely went at it during the opening moments of the 1990 SX season. After Bradshaw broke his ankle at San Diego it looked like the title was going to be Chicken's. It was not to be. Jeff retired with 14 professional victories, two division titles, and the worst Honda Gold Wing crash ever caught on tape while listening to Purple Rain. He also won the 125 class at Steel City in 1989.
Buddy Antunez won the 85 (14-15) class in 1988 and two years later won three 125 west coast SX rounds. He ran #20 in 1991 and was looking like the west coast title would soon be his. Unfortunately, Jeremy McGrath wore #125 and won the 1991 and '92 titles.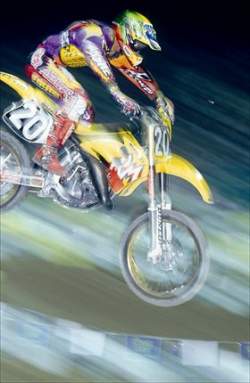 Damon Huffman
photo: Courtesy of Moto Verte
Damon Huffman
is one of the most underrated riders in modern history in my opinion. Damon was a bad, bad man on an RM125 and won 12 supercrosses from 1993 thru '95. He wore #20 to $100,000 at the inaugural US Open of Supercross in 1998, and won the 1997 Atlanta SX. Unfortunately "Huff-Diddy" ran into a rash of injuries and quietly closed out his career after the end of the 2004 season riding a Moto XXX Honda wearing #20.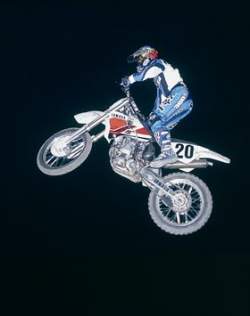 Doug Henry
photo: Courtesy of Moto Verte
This is the night and the number that changed everything.
Doug Henry
had already won supercrosses this year riding a blue YZ250, but this win at the 1997 Las Vegas Supercross was huge. The first win for a four-stroke machine and he won it by a mile. A decade later, the two strokes were gone.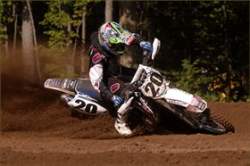 Kyle Beaton
photo: Allison Kennedy
And from our boy, Danny Brault, up north: "Yamaha Canada's
Kyle Beaton
ran the big 2-0 this summer at the Monster Energy Motocross Nationals in Canada. Beaton put together his best MX2 series yet, finishing on the podium in Calgary and winning his very first moto and overall at The Wastelands in Nanaimo, British Columbia."
When we put out the office APB on #20, Laurel C. Allen must have had her antennae up because she peaked around the corner and said, "Don't forget
Aaron Yates
." The Michael Jordan Suzuki-sponsored AMA Superbike ace has had a stellar season and posted the first two podium finishes of his career, including a special one at Laguna that had his royal airness smiling really big.
Notable 20s
1998 – Casey Johnson (Splitfire Pro Circuit Kawasaki)
1996 – Timmy Ferry (Factory Suzuki)
1993 – Cliff Palmer (KTM)
1992 – Erik Kehoe (Honda of Troy)
1989 – Johnny O'Mara (Factory Suzuki)
1988 – Jeff Hicks (Team HRP)
1986 -- Rick Ryan - (Daytona Supercross winner)
1984 – Mike "Too Tall" Bell (1980 SX champ)
1983 – George Holland (almond farmer, 1988 125 National champion)
1977 – John Savitski (famous track builder)
THE #20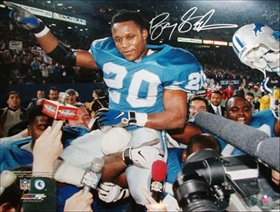 Barry Sanders
There are a ton of cool associations to the number 20 and for all of us in the office it definitely stands for the 20th running of our race. But above and beyond all connection to this great number stands one
Barry Sanders
. After winning the 1988 Heisman trophy, Barry left the grid iron during the prime of his career at 30 years of age with 15,269 rushing yards, 2,921 receiving yards, 118 kickoff return yards, and 109 touchdowns (99 rushing and 10 receiving). He was actually born and raised in Wichita, KS, which lies a scant 70 miles from my hometown. I still remember my high school football coaches talking about the day Barry Sanders from Wichita North High showed up in Emporia and racked up 400 yards on them. He was 5'8", weighted 200 pounds, and never went down from just one tackler.