Millville started out muddy. Really muddy. Storms that blew in Friday night and Saturday night wreaked havoc on John Martin's racetrack and left the poor guys that were first out each time struggling to get around.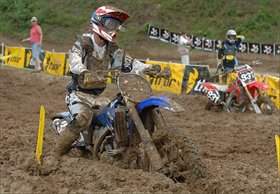 The first practice, 3 p.m., last Saturday afternoon
photo: Carl Stone
But while Martin may be an old-school mudder himself—he was a factory Can-Am off-roader for years—he also knows what a good motocross track means for the riders, the teams and the fans. He put his crew to work, got the water off the track and turned Spring Creek into a superb track for last Sunday's ninth round of the 2007 AMA Toyota Motocross Championship presented by FMF.
In other words, what you saw on Speed TV's same-day coverage (and Racer X/Motocross.com's live internet coverage) was a far cry from what the riders saw early Sunday morning (let alone Saturday!).
As expected, Monster Energy/Pro Circuit Kawasaki's Ryan Villopoto and Ben Townley went 1-2 in the Lites class, though the addition of Brett Metcalfe to the podium made for a rare sweep of the box by one brand. More on that later.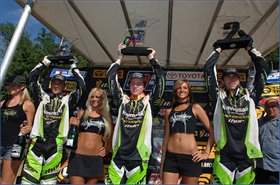 Three nations represented on the Millville box, but one team
photo: Carl Stone
In the 450 class,
Ricky Carmichael
rode off into the sunset—again—with an absolute manhandling of the 39 other guys out there with him. Carmichael was just on his A game, and if that's really the last time we ever see him on an AMA motocross track, he left us with a simple reminder: He is the best there ever was, and likely the best there will ever be at motocross.
Of course, RC's job was made a little easier by the problems that have haunted James Stewart all summer long. Stewart had to relinquish the points lead in the AMA Motocross class when he scratched from Millville with that dislocated knee from the second moto at Washougal. Is his season over? I really hope it isn't, because not only does he still have a shot at this championship, a lot of fans are hoping to see him at the 2007 Motocross of Nations at Budds Creek. Regardless, here's a get-well-soon, James, from everyone at Racer X.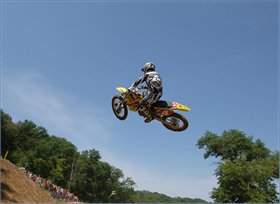 This man is superbad!
photo: Carl Stone
Behind Carmichael, it was a free-for-all. While Kawasaki's
Tim Ferry
could not buy a good start—not once in three tries!—and Honda's
Andrew Short
struggled to keep moving forward at the end, Yamaha's
Grant Langston
and KTM's
Mike Alessi
continued to chip away at the points. There are now six guys (including RC and Stewart) within 21 points of one another!
AMA Motocross Standings
1.) Tim Ferry 311
2.) Andrew Short 311
3.) Grant Langston 300
4.) Mike Alessi 292
5.) Ricky Carmichael 291
6.) James Stewart 290
Wow, those last three names on that list reminded me of how much different things are in the Alessi camp now. A year ago, the headline on Alessi Weekly would have likely said "mike's a head of Rc and James by 1 point!!! ;-)" even if those guys had missed a bunch of motos. But this week it was a huge nod to Ricky himself and a salute to the GOAT. I think the family is really starting to get it all figured out.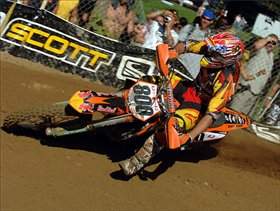 Mike picked up another podium at Millville
photo: Carl Stone
The other man coming on strong is Langston, who would tell anyone who was listening that his Yamaha did not turn well and that as soon as he got his hands on the '08 YZ450F, things would be a lot different.
Well, he's got the bike, and he's right! A lot of people are now pointing at the championship-savvy Langston—he's won a bunch of them in the 125/Lites/MX2 class—as the man in the driver's seat as the series takes a week off before going into the stretch run. With RC parking it, his 2-2 was almost as good as a 1-1 and boosted him to within 11 points of the shared lead.
Who do you think is going to win this championship? That's the question for this week's Troy Lee Designs/Racer X Online Poll. Vote for your guy right here.
Funny thing about Langston: He has yet to win an overall this year, but he still has three chances. But look back to 2003: Langston won the AMA 125 National MX Championship without winning a single race. It can happen—and it could happen for Short and Alessi too!
The man Langston beat for that '03 title, Ryan Hughes, found out a little bit about the power of the internet. He flew to Delaware yesterday to do some filming for MTV's Made show that involved teaching a couple of girls how to ride dirt bikes. But when he got there, he realized that the bike the network had lined up for him was not what he expected. So he called here to get Jeff Cernic's number, just in case the East Coast overlord of amateur motocross might have one of Travis Pastrana's bikes handy.
At the same time, he called Racer X and asked us to put the word out. Within an hour of my post on Mototalk, Hughes had three different offers from fellow RM-Z450 riders in New Jersey, Pennsylvania, and Maryland. Not sure which one he settled on, but I'm sure that the loaner will be getting some sweet gear from El Ryno.
As far as the 250F class goes, that's a two-horse race—and they're on the same horse!
Ryan Villopoto
turned the tables on
Ben Townley
by taking the second-moto win this time and the overall, and the two kept their championship duel to a two-point cushion—virtually a draw! Of the three tracks left, Villopoto has not won
Steel City
in his previous two visits, while Townley has never been. As far as Texas goes, no one has been on that track. But at
Glen Helen
, RV1 is very, very fast.
What does all that mean? That Townley may want to be six points ahead of #1 by the time he gets to the final round, because Ryan will be tough to beat there, and Ben would likely win on a tie in final points, based on most overall wins. This one is truly going down to the wire!
Team Makita Suzuki's Ryan Dungey was hoping for a huge weekend at his hometown race—and what was basically his one-year anniversary since turning pro. But he crashed in the whoops, DNF'd the first moto, and struggled after a crash in the second. Regardless, you can't knock the smile off this kid's face, and after the race he was throwing the football around behind the Suzuki truck with his little brother and a cousin and a couple of moto-journalists. He also had one of the coolest butt patches we've ever seen, courtesy of Big E. and the gang at Answer.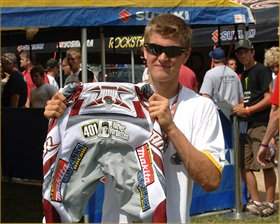 #62's nod to the late, great Donny Schmit
photo: Carl Stone
For more on
Millville
, plus a
Steel City
preview, make sure you check out the Racer X Motocross Show on Motocross.com, which
Wes Williams
should have posted tomorrow afternoon on Motocross.com
Carl Stone, who sent us a lot of the pics here on Racerhead, sent along a note about the mud on Saturday. He was impressed that even as bad as it was, and with James Stewart not there, Ricky Carmichael would go out and take his muddy licks like everyone else.… Well, everyone but Tim Ferry and Mike Alessi. And Kevin Windham. And…
"Did RC need to go out and practice in that muck?" wrote CStone. "Of course not. It was going to be his last race before retirement and his main competitor was out. But RC just did what he always did—rode practice anyways. And the next day did what he always seemed to do—win. When the checkered flag waved late on Sunday afternoon it was the end of an era."
Carl also told us, "After the Lites podium and the champagne was about to pop, Mitch Payton's wife jumped out of the mule and tried to get away, but Townley grabbed her and pushed her back next to Mitch, where he and his teammates proceeded to give them a bubbly shower!"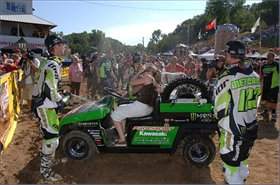 She tried to run, but she couldn't hide
photo: Carl Stone
I ran into
Jason Lawrence
right before the start of the second Lites moto. He was in his street clothes, and he looked miserable. His weekend started bad—he went to Rochester, NY, instead of Rochester, MN, just like
Jeremy McGrath
back in his Honda heyday—and got worse with food poisoning. On the bright side, the word is that he re-signed with Yamaha of Troy for a nice chunk of change. Guess the weekend was a push. But at least he tried to race, sick as a dog.
Also, Team Honda factory racer Davi Millsaps is probably in surgery as you read this. Davi is undergoing surgery to repair a puncture in his inner ear. Honda says that because four weeks are required to recover from this surgery, Millsaps will miss the remaining three rounds of the AMA Motocross series. So during the time off, Millsaps will have another surgery to remove the rod from the femur he broke last fall while testing. He hopes to be back on the bike by the end of September.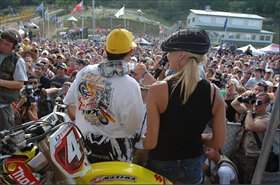 Get the t-shirts while they're hot
photo: Carl Stone
After RC clinched #150,
Scott Taylor
was handing out these really cool commemorative T-shirts. We were too far away to grab one, so we were stoked to see that Moto Tees is now offering them for sale. The limited edition "RC 150" can now at
www.mototees.com
.
Wait, another note from Carl Stone:
"I was asleep in a motorhome Friday night at the track when I was awakened by flashing lights at around 4 a.m. That turned out to be lighting, but I got up and went outside anyway. It was awesome out but weird because the sky kept lighting up but no thunder, wind or rain. So I sat down in a chair to watch it. Well, the calm soon changed. Slowly the wind started to pick up then drops of rain. Within a matter of minutes the wind went from zero to gusts that felt like 50 and it was pouring rain. Everyone in the pits was up now running around trying to roll up their awnings before the tore off. I was helping roll up the awning on the RV I was staying at when all of a sudden I heard a loud noise. I turned around only to see the whole complete awning of the Bridgestone semi—poles and all—completely flipping over the top of the trailer. It landed on a motorhome that was parked along next to it, and that motorhome belonged to none other then Pro Circuit rider Brett Metcalfe!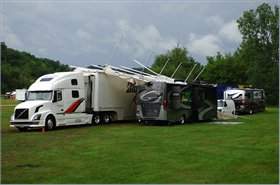 The Bridgestone awning was wild to watch at Millvile
photo: Carl Stone
"Long story short, the damage to his bus was minimal—some minor roof damage. Very lucky. Not so lucky was the motorhome parked across the field belonging to
Marshal Plumb
of Dunlop! One of the concrete buckets that was used as a weighted tie down flew over the top of the Bridgestone trailer when they lost the awning in the wind and went through the roof of his bus! Good thing he was outside when it happened….
"Also, Kawasaki driver
Big B
. and
Brett Metcalfe
's mechanic
Kyle Bentley
are having their own little 'Biggest Loser' contest, so to speak. They had the 'official' weigh-in Sunday morning. Kyle weighed in at a mere 300 lbs. and Big B. followed with a svelte 338 lbs. The bet is to see who can lose the most weight by the U.S. Open in Vegas come October. I believe there is over $500 to the winner, er, biggest loser. After the race, when Kyle was helping pack up the trailer, Big B. came walking over. Kyle looked at him and said, 'I think I lost like 7 pounds today in this heat.' Brian said, 'Well here, get a spoon and have some of this cheese cake. It will make ya feel better.' When Brian walked away Kyle looked at us and said, 'Wait till he goes and opens the door of his truck: I lined the floorboard of his rig with donuts!' Let the games begin!"
Quick PR: The Road 2 Recovery teamed up with
Dr. Steve Augustine
and the Action Sports Medicine Foundation (ASMF) at Loretta Lynn's this month where the Amateur Medical Mobile Unit was debuted. The medical unit provided on-site sports medicine services from taping and stretching to evaluation and medical treatment of injuries not requiring emergency room transport, similar to what the pros have at the races already. Utilizing two physicians, one physician's assistant, and three certified athletic trainers, the unit brought a new level and understanding of the importance of safety and health issues by providing information to the athletes on things like Safety Equipment, Dehydration and Concussions, just to name a few. The medical unit treated approximately 250 riders throughout the week long event. With riders having access to onsite care for injuries such as setting broken wrists, the number of riders transported to the hospital was significantly reduced.
Steve Matthes told us earlier this week via an interview with the subject that Josh Summey had signed with the Gibbs Racing team. We also learned that Spencer Bloomer, who has been with Kawasaki's R&D department for 14 years, is currently in the process of moving to North Carolina to work for Joe Gibbs MX to do the R&D testing for the new MX team that is managed by Jeremy Albrecht and already includes Josh Hansen.
Who is
Coy Gibbs
and how will he change the landscape of American motocross? We went to North Carolina to meet Coy, his father,
Joe
, and the entire Gibbs Racing Motocross Team. Want to read this feature right now?
Click here
to order your digital subscription to
Racer X Illustrated
. The cost is only $14.98 for 12 issues, and you'll no longer have to worry about delays, missing issues or torn up covers. Or maybe you want to test it out first. If so, you can do that for free by clicking
here
.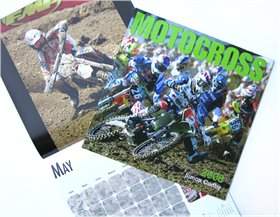 Gear up for 2008 with this sweet calendar
Motorbooks has teamed up with our own
Simon Cudby
to produce a 2008 motocross calendar. Available now from
www.motorbooks.com
, the calendar features lots of outdoor images of the sport we all love.
Anyone with a pro license can practice at High Voltage MX Park and Switchback Raceway this week before the Steel City National. For more information everyone can go to www.highvoltagemxpark.com and www.switchbackmx.com or call the track line 724-478-3634. Switchback is open Tuesday thru Friday and weekends; High Voltage is open Tuesday and possibly Wednesday, so keep and eye on the websites and daily updates on the track line. (And thanks to both tracks for offering this to traveling privateers.)
Matt Wozney of Motoxposure is putting together a video shoot this weekend at a superb private track here in West Virginia. Here is a link to a bunch of pics of the Horseshoe Valley MX facility.
If you want to be part of the video shoot, here are the details.
Here's the new Aleve "motocross" commercial, starring a rider named Chris Iby.
"It's not just a job, it's a lifestyle," says Iby, with a bunch of trophies (some quad trophies) behind him in what appears to be an announcer's tower. No offense to Chris, but after watching him ride, he can't possibly be talking about motocross as a job.
Let me turn this over to Ping right here:
First things first: The annual Surfercross is next Tuesday and Wednesday (August 21 and 22) at Starwest and San Onofre. If you are a pro rider, a pro surfer or an industry member that wants to join in on the best event of the summer, call
Jeremy Albrecht
. If you don't have the number or don't know someone that does, you probably shouldn't be calling anyway.
I wasn't sure if J-Bone was going to be able to make it happen this year with his new team manager duties and all, but he said that Coy and the guys at JGR were super cool about it and allowed him to carry on the tradition. Wahoo's is back to serve grub, Moto Brew is sending cases of beer out and a good time will be had by all. Well, as long as nobody crashes hard or drowns in the process.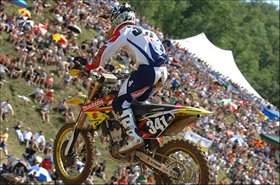 Nico Izzi finished 10th overall
photo: Carl Stone
My favorite part of
Millville
is watching the rookies make the jump to pro racing. I used to hate it when I was racing and they would show up and beat me (that means you,
Robbie Reynard
,
Kevin Windham
,
Ricky Carmichael
,
James Stewart
, etc., etc.) but now I enjoy it. And I really like
Nico Izzi
and
Trey Canard
(I don't know
Kyle Keylon
that well). I think they are both really cool guys that are going to fit right in and do well. Trey took a big digger in the first moto, banging up his shoulder, and still gutted out a fourth in moto 2. I think that speaks volumes about his talent and his determination and SoBe No Fear/Samsung Honda has to be stoked. And Izzi worked his butt off both motos to earn a top-ten finish in his first national. We spent some time with Izzi this past week at Perris for a
Racer X Film
. While you're at it, check out the films on
Grant Langston
and
Trey Canard
, who was our Racer X Rider of the Week.
Next week at Steel City we get to see what Austin Stroupe has under the hood. That track has an uphill start and he is riding a PC bike. My guess is that he'll do just fine.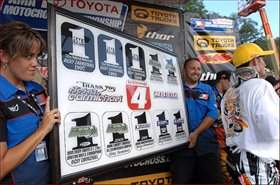 That's very cool
photo: Carl Stone
Not making their pro debut at
Millville
or
Steel City
is KTM's
Tyler Wharton
, who is coming off of a Four-Stroke title at Loretta's. Wharton is actually planning on making his pro debut in his home state of Texas, at
Freestone
County Raceway. DC did talk to him at Loretta Lynn's and when asked how he thought Izzi and Canard would do at
Millville
, he replied, "Top 10s are reasonable for both." He was spot on. So how does he think he'll do in his pro debut? The older Wharton replied with a smile, "I'm hoping to be in the top 10."
I've been reading Steve Matthes' Observations column on Racer X Canada for most of the summer and I can't help but wonder what the dollar figure is that Kawasaki would save if they weren't feeding him every weekend. By this point in the season his grocery bill has to be in the thousands, right? I've seen him drink over $2,700 worth of Java Monster at the three rounds I've been to alone. Hey, Big B., do me a favor and scratch out some numbers this week. Then hand Steve-O a bill at Glen Helen. That would be funny.
(By the way, congrats and good luck to Big B. and his wife, Megan, as they expect their second child this weekend. Nice planning there, B.)
Finally, one of the coolest things I've seen in a long time comes courtesy of Oakley. Their property sits on an entire city block in Foothill Ranch, California. They spent millions landscaping the property with art rock formations, plants and tree groves back when they moved in. Now, they are making a landscape change by adding a motocross track around the entire property!
Marc Peters (www.petersbuilttracks.com) has been sculpting the course and as of right now it looks about halfway complete. But what is done looks amazing. The track is reportedly for employees and their families, Oakley riders, and hopefully their media friends here at Racer X Illustrated. The dirt is absolutely perfect and they are planning on having an irrigation system around the entire course. Simon Cudby drove about two blocks from his house to shoot these photos.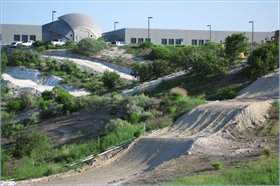 Now that is one exclusive track!
photo: Simon Cudby
Thanks, Ping.
Got a note from an old friend: Bader Manneh! He's the "40-Year-Old Veteran" from our May '07 issue who rode the West Region SX Series with the white lid on the KTM. The expat still lives in Italy and recently finished sixth overall in the Italian SX Championships. He's also been teaching a bunch, and he just wanted to drop us a line to tell us how cool it was to see Blake Wharton with the FIM Junior World Cup last weekend in Bulgaria. "That's so nice he can come over and do that," wrote Bader. "Respect."
Dennis Jonon, one of the internet's favorite riders, has a new clothing company that he's just started up called Golden Clothing. "I have four different designs printed now and two more going into print soon," Dennis wrote us. To see how you can support this new endeavor for a top privateer motocrosser, check the website: www.livegolden.com.
By the way, one of Jonon's team members is none other Ryan Villopoto!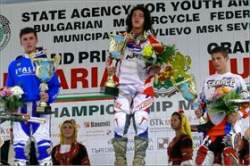 Blake Wharton can add an FIM Junior World Championship to his Loretta Lynn's AMA and Ponca City NMA titles
photo: Mario Marini
Factory Effex has posted some very helpful videos on FactoryEffex.com. "For years we've heard our customers complain that graphics were one of the most difficult things to install,"
Chris Williams
told me this morning. "We've heard every weird kind of technique for installation out there. We decided it was time to take advantage of our website, and offer up some installation videos at FactoryEffex.com. Our resident expert
Mike Tomlinson
takes you through three separate installation videos; graphics, seat cover, and finally those dreaded number plate backgrounds." Check out
www.factoryeffex.com
to view the videos.
Ever want to take a lap around the legendary Citadelle track at Namur, Belgium? It's pretty much impossible, unless you're a Grand Prix rider—past or present—or a fan of the once-a-year race who knows where the track goes. If not, Jeffrey Beersdan put together a pretty cool photo collection of his lap around on foot.
A tip of the visor to Transworld MX's Josh Allen, a fellow race reporter and all-around good guy. Josh is leaving the motocross industry for a gig in the medical field, but he will be at the races every now and then because he'll always be a fan. It was a pleasure working the races with you, Josh, and good luck with the new job.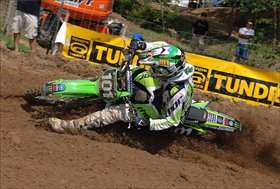 Watch that RV and BT battle on SPEED
photo: Carl Stone
Here are some TV times to watch RC's
Millville
massacre, plus another great RV1 vs. BT101 battle on Speed TV:
AMA Toyota Motocross Championship presented by FMF, Spring Creek MX Park, Millville, Minnesota – AMA Motocross Lites Championship – Tuesday, August 21, 3 pm (SPEED)
AMA Toyota Motocross Championship presented by FMF, Spring Creek MX Park, Millville, Minnesota – AMA Motocross Championship – Tuesday, August 21, 9 pm (SPEED)
AMA Toyota Motocross Championship presented by FMF, Spring Creek MX Park, Millville, Minnesota – AMA Motocross Lites Championship – Tuesday, August 21, 10 pm (SPEED)
AMA Toyota Motocross Championship presented by FMF, Spring Creek MX Park, Millville, Minnesota – AMA Motocross Championship – Thursday, August 23, 3 am (SPEED)
AMA Toyota Motocross Championship presented by FMF, Spring Creek MX Park, Millville, Minnesota – AMA Motocross Lites Championship – Thursday, August 23, 4 am (SPEED)

12 Minutes: That's how close the Speed TV crew came to having to go into full-on live mode for the last 450 moto at Millville. Speed TV would've had to go live if they waited much longer after the red flag before the start of the second moto. They gave Windham almost 20 mintues to fix his bike after the first-turn crash, and with the race starting at 6:00 p.m. on Speed, Chris Bond, B.J. Smith, Jack Carbonne, Mike McCune and crew were all set to go live, but they finally started the moto again. So, would've they been ready? Sure they would've. Trust me folks, were getting closer and closer to live TV.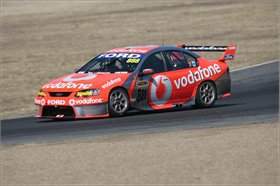 Chad dives into a turn in a Ford Falcon V8 Supercar
photo: Toby Lynch
Earlier this week
Chad Reed
was driving a racecar: a Ford 888 BF Falcon V8 Supercar. He was at Queensland Raceway in Ipswich, Australia, doing a full-on Driver Evaluation Day with the TeamVodafone outfit.
"I feel as though I got better and better each lap, it's just a matter of being receptive and getting the basics right," said Reed. "The learning curve in incredible. The opportunity has been fantastic, and to be able to spend a day with one of the best teams in the championship has just been amazing." The NASCAR of Australia, the V8 Supercar Championship is a big deal Down Under.

This just in from our Assistant Photographer, Matt Ware:

I had the opportunity to access the Nike world headquarters yesterday and today for their media intro for the 6.0 Division of the brand. It's been a great experience and we've seen so many "top secret" areas of the Nike facility. I met up with Moto X "Mentor" Chris Wheeler over lunch yesterday and he went on the afternoon tour with us. He has been here all week as all of the mentors and athletes got the same tour earlier in the week and then went camping just north of Portland. It seemed like a pretty busy week for them. Unfortunately Ryan Dungey had a very early flight out yesterday morning and I missed him but did get to meet youngster Landon Currier. I'm off this morning to meet back up with Chris and Landon and will be meeting 6.0 FMX rider Lance Coury as well later this morning, followed by a trip across town to check out the Dew Tour that is also in town this weekend. Here are some photos from the facility at Nike. Unfortunately some the "top secret" areas mentioned above were off limits for cameras.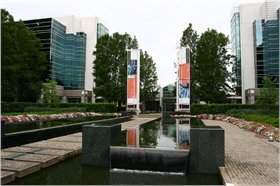 Welcome to Nike
photo: Matt Ware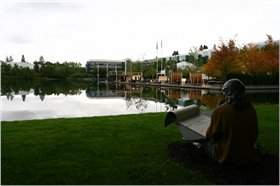 Nike's lake and skate park
photo: Matt Ware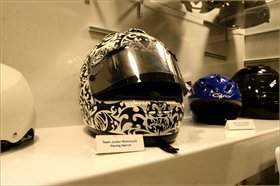 That's Michael Jordan's helmet, but where are his shoes?
photo: Matt Ware