Rev-Up: The Endless Summer
Hello, everyone, and welcome to the Rev Up. This week's column comes to you from Fox Racing in Morgan Hill, CA. I worked and lived here from 1998-2002 and met some amazing people and had some incredible times and I am here to visit some old pals, which I kind of want to talk about before we get rolling here on this beautiful Thursday afternoon.
We all meet friends and acquaintances throughout our lives but I think the people you spend time with during your 20-25 year-old age bracket typically end up being the best. My friends I met out here out here are my true pals. During that five-year span we rode motocross at Hollister Hills, wake boarded at Anderson Lake, hit up MTB trails in Santa Cruz, and railed BMX trails in San Jose. In between times we took turns driving each other to the hospital and basically finished growing up together. Well, almost.
Anyways, I just want to stress how important pals are and how grateful I am to have mine. In this day and era of "man friends," make sure to keep your real bros close and respect that bond. Being here in Norcal gets me really stoked because I never would have seen any of this place or met any of these people if it weren't for motocross. And Wow, is motocross on fire right now! Can you believe this summer? I've been saying it for weeks; this is the best outdoor series ever. Alas, we arrive with three rounds to go with both classes locked up in a tight points battle. Let's get Revved Up on both divisions and get ready for the s**t to really hit the fan next week at Steel City!
Lites
We knew this one was going to be a scorcher, but who would have imagined that there would only be two points separating Ben Townley and Ryan Villopoto with three rounds to go? The rest of the gang has been digging all summer but Josh Grant, Ryan Dungey, and J-Law just seem to be up against an unbreakable wall in the two-headed Monster Pro Circuit power house. Now that Brett Metcalfe has come back, it looks like the remaining three rounds could see a whole lot of green and black.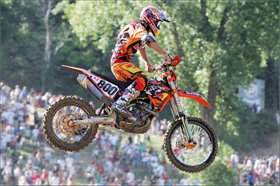 Can Mike Alessi give the boys in orange a premier-class title before going yellow?
Ah, but there are some "atta boys" out there that need to be addressed. For instance, guys like
Broc Tickle
and
Kyle Chisholm
just won't go away. They're on good--but not on the best--stuff and they've buried themselves in the top ten and are just waiting on that breakout day. They better run, because the next generation is a comin' folks!
How about those rookies? There's been some chatter among insiders for the past couple years or so about the next chapter of American motocross, or the post Carmichael era, if you will. We've all been crying for parity for years and let me tell you, it's almost here guys. I really think that the glory of the early 80s are ready to come full circle and the sport will grab that extra gear we have been looking for and finally reach its potential. You need only to take a gander at the top 20 of last week's Lites class for validation.

Motocross
The story of this group's summer is grand on so many different levels. First off, the saga of Carmichael vs. Stewart had the fans running fence line to fence line at each meeting. Actually, that is one of the coolest things I can account for during the course of the summer. No other motorsport allows you to run amuck in the infield and hang over the fences swinging your t-shirt over your head, literally three inches from your favorite rider. The fans have had a lot to get excited about and they've been really good this year. And guess what? It's about to get even better for them as we stare down these last three races of the series. How about it, folks, we have five, count'em, five riders with a shot at the title as the series reaches its waning moments!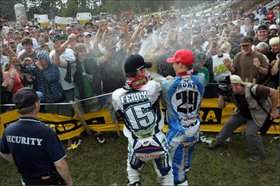 Can you believe these two guys are tied?
Honda's
Andrew Short
and Monster Kawasaki's
Timmy Ferry
are tied for the points lead while
Grant Langston
has become a house of fire and is breathing down their necks! We haven't been in this situation since the early 1980s and man does it feel good to be a motocross fan right now. Who do you like with this group?
Andrew Short
came in like a lamb but is now roaring like a lion with aspirations of having his first professional title clenched tightly in his jaws. Honda could use a little boost and you can bet they're all rallying behind their young rider.
Then we have
Timmy Ferry
and his Cinderella story. Come on guys,
Red Dog
's been there and done that. He's been around the block. He has the bike, he's riding better than he has in his entire career and he could put the icing on the cake this summer as the most sentimental champion we've perhaps ever seen.
Although, those two better not look behind, because
Grant Langston
is peaking with three rounds to go. There's something about that guy. When he sees blood he really, really charges. Team Yamaha is in the same boat as Honda and could really use a title. Zulu just might get it done.
Mike Alessi
has had a solid summer and he still has a chance of winning it all.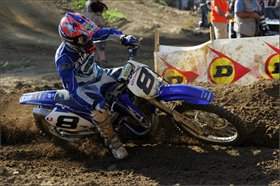 Zulu is coming on strong!
All of this leaves us with a simple question: What about
Bubba
? All we hear is crickets when we put an ear to the status on his knee. All I know is if he can make it to the starting line, he'll probably save his summer and win the title. With this championship and the MXoN right around the corner, it's a tough time for the Stewart camp.
So here we go, ladies and gentlemen. The summer almost over. It seems like just yesterday that we were all stoked about Hangtown and now we're almost finished. But not yet! With about a month to go, the endless summer is just about to hit full song. These last three races are going to be absolutely epic, then we have the MxoN coming here to the land of the free, home of the brave. Bring it on. There is so much cool stuff going on right now. You can just feel it.
Before I sign off I want to wish everyone a great weekend. Enjoy the time off with your friends and family and be safe.
Thanks for reading, see you next week.