Privateer Profile: Kyle Keylon
Students of the sport probably recognize this kid's last name; and you should. His father was Kenny Keylon, the 1981 Rookie of the Year and winner of the 1982 St. Petersburg national. He was the first Floridian to win a national motocross event. His son, Kyle, is now coming into his own. After strong rides at Loretta's, Kyle rode his first national last weekend in Millville with the Butler Brothers Motocross Team. By all accounts it was a successful debut.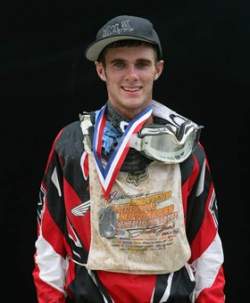 Kyle Keylon

Racer X: Kyle, you raced your first national ever last weekend and walked out with a top twenty. That's pretty good!
Kyle Keylon: Yeah, I got 20th overall. I went down pretty hard in the first moto on the first lap in the whoops. I got a bad start and was trying to come through the pack and I swapped out pretty big and crashed. I didn't have any gloves or goggles so I had to stop and get new ones. I ended up 29th in the first moto. The second moto I got a better start; about tenth. I faded back because I was having some goggle problems again. I went back to sixteenth and then got a second wind and came back to thirteenth. That gave me twentieth overall.
That's a great finish for your first race. Did you win a title at Loretta's?
Nope. I had some bad starts and ended up third in the MX Pro Sport and sixth in the MX A class. They were decent finishes.
Do you live in Florida with the Butler Brothers?
Well, I live in Florida but they live a lot further south than I do. I'm in the center of the state in Brooksville.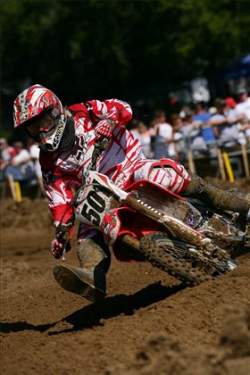 Kyle finished 13th in the second MX moto at Millville

How big of a role has your dad played in your riding?
Well, he got me into racing. He was a great rider back in his time. He helps me a lot with line choice and little things like that. It's just good to have him around helping me.
Are you going to stay with the BBMX team for the rest of the nationals?
I actually signed a Lites contract with them for 2008. I am going to ride the east coast SX series and the nationals with those guys.
Have you ridden much supercross?
I have a track at my house. It's pretty gnarly. I just wanted to start getting ready for supercross and it helps a lot. I think I'm going to get it rebuilt here soon because it's covered in weeds now.
Who do you ride with down there?
Tim Ferry lives ten minutes from me. Reed is close and so is Jason Thomas, Josh Grant, Grant Langston and a bunch of amateur guys.
What was the biggest race win for your dad?
In 1982 on May 2nd he won the St. Pete's national in the 250 class. He was the first rider from Florida to win a national ever.
Does he pull that out at parties a lot?
No, he doesn't talk about it too much. I think he's more proud of being rookie of the year the season before. He finished third in the series that year.
Does it add any pressure having a father that was successful in the sport?
No, I try not to think about that. He did what he did and now I'm doing my own thing. I want to do more than what he did so I just focus on that. I don't feel any pressure though.
Do you have any goals for these last few races?
I haven't set any specific goals for myself this year. I just want to do the best I can and see where I finish. I did qualify tenth on Saturday at Millville so I feel like I have the speed to get into the top ten. I'm not sure If I'm doing Glen Helen but I will for sure be at Steel City and Freestone.
I've heard they dumped a ton of sand on the track in Texas. That should suit you well, being from Florida.
Yeah, I was looking at pictures of the track just a few minutes ago. I ride the sand all the time down here so I hope the sand really is that deep. That would be great for me. I have a huge sand pit right across the street from my house.
What sponsors do you want to thank?
All the guys on the Butler Brothers team and also Fox Racing and Vortex are still helping me a lot.
Good job last weekend and good luck at the next rounds.
Thank you.