Bench Racing Ammo: 1-2-3 Podiums
How many times has a team gone 1-2-3 in a major AMA race? We bring that up, of course, because Monster Energy/Pro Circuit Kawasaki did it just last weekend at Millville. Ryan Villopoto, Ben Townley and Brett Metcalfe made for a green box at Spring Creek—the first time that's ever happened for Mitch's team in outdoor motocross. Earlier this year, way back at the Phoenix SX, Mitch Payton's team got its first SX 1-2-3 when Christophe Pourcel topped Villopoto and Chris Gosselaar.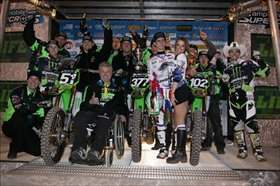 It's been a pretty good season for Mitch's team
photo: Steve Bruhn
Has this ever happened in the 250 class or any other nationals? That's what we decided to check out for this week's Bench Racing Ammo. While we don't have ALL of the results, we were able to track a few 1-2-3s down.
Back in 1989, Team Honda opened the AMA Camel Supercross Series with Rick Johnson topping Jeff Stanton and Guy Cooper at Anaheim Stadium. Ironically, fourth that night was Suzuki rider Erik Kehoe, who just so happens to be the current manager of Team Honda!
Honda did it again that season with a 1-2-3 at Joe Robbie Stadium in Miami, only this time it was RJ followed Jean-Michel Bayle and Stanton. Sadly, that was the last AMA Supercross race the great Rick Johnson would ever win.
In 1988, Honda took another 1-2-3 at Giants Stadium in Meadowlands, NJ (and you just know Jason Weigandt was there). Johnson won, followed George Holland and Jeff Leisk.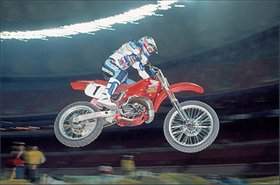 Rick Johnson helped Honda go 1-2-3 several times
photo: Courtesy of Moto Verte
At the 1986 Anaheim SX—arguably the most famous single race in supercross history—David Bailey beat RJ in a duel for the ages. Third was their close friend and teammate Johnny O'Mara. A couple months later, it was the same order on the box at the '86 Dallas SX.
Honda's '83 and '84 team was amazing. At the Kingdome in Seattle '83, it was Bob "Hurricane" Hannah topping Bailey and O'Mara, then Bob did it again at Daytona, this time leading Johnny O' and David. At Rich Stadium in Buffalo the following year, Johnny O' topped Bailey and Lechien for a 1-2-3, then Bailey topped Johnny O' and Hannah at Sacramento's AMA Supercross.
Not to be outdone, Honda '82 went 1-2-3 at the Kingdome: Donnie Hansen, Darrell Schultz and O'Mara. Then at Pontiac's Silverdome in Michigan, "Holeshot" Hansen beat Johnny O' and Jim Gibson.
Suzuki got a 1-2-3 in '81 at the Kingdome. Riding yellow that year, Schultz topped Mark "Bomber" Barnett and Kent Howerton.
Back in 1978, the lineup included Marty Tripes, Marty Smith and Jimmy Ellis. They would finish in that order at the Daytona SX.
That's all we got. Do you know of a 1-2-3 we may have missed? Say, from the 1990s? Hit us back—it's worth a free one-year Racer X Digital sub if you're the first to come up with one:
online@racerxill.com
.