Sign of the (Lap) Times: Millville
AMA Motocross
Not only did Ricky Carmichael say farewell to AMA Toyota Motocross by taking career win number 150, he also logged the fastest lap times of the day in the AMA Motocross class, cruising into retirement with 1-1 moto scores.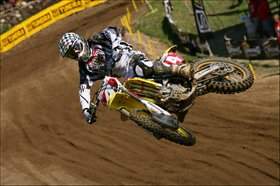 RC cruised to victory in Minnesota
In the first moto RC clocked a 2:18.144 as his fastest lap time, which was over two full seconds faster than the second fastest rider—Team Yamaha's
Grant Langston
.
It was much of the same in the second moto as well, but Team Honda's
Andrew Short
logged the second-fastest lap time of the moto early on, only to run out of steam at the end. Regardless, he is now tied for the points lead in the premier class with
Tim Ferry
.
Other riders posting solid lap times included Moto XXX Honda's
Josh Summey
and Japan's Yoshitaka Atsuta, who finished 12th overall. And here's a nod to BBMX's Kyle Keylon, who finished 20th overall in his professional debut. He did it the hard way: crashing hard in the whoops in the first moto, then bouncing back for 13th the second time out. Well done, Kyle!
Check out the top 20 fastest times from
Millville
in the AMA Motocross class:
| | | | | |
| --- | --- | --- | --- | --- |
| Pos. | Moto 1 | Moto 2 | Rider | Bike |
| 1 | 02:18.144 | 02:19.486 | | Suzuki |
| 2 | 02:20.636 | 02:22.499 | | Yamaha |
| 3 | 02:22.177 | 02:22.107 | | KTM |
| 4 | 02:21.224 | 02:21.763 | | Honda |
| 5 | 02:25.716 | 02:22.570 | | Suzuki |
| 6 | 02:25.339 | 02:24.921 | | Kawasaki |
| 7 | 02:25.740 | 02:27.916 | | Honda |
| 8 | 02:26.049 | 02:29.924 | | Suzuki |
| 9 | 02:28.770 | 02:28.987 | Kyle Lewis | Honda |
| 10 | 02:28.477 | 02:28.889 | | Honda |
| 11 | 02:21.512 | 02:28.009 | | Honda |
| 12 | 02:27.000 | 02:27.353 | Yoshitaka Atsuta | Honda |
| 13 | 02:27.966 | 02:29.386 | | Honda |
| 14 | 02:24.583 | N/A | David Vuillemin | Honda |
| 15 | 02:26.710 | 02:28.290 | | KTM |
| 16 | 02:45.880 | 02:28.693 | | Suzuki |
| 17 | 02:26.478 | 02:28.885 | | Honda |
| 18 | 02:28.050 | 02:29.191 | Michael LaPaglia | Yamaha |
| 19 | 02:28.422 | 02:29.267 | | Honda |
| 20 | 02:27.351 | 02:29.829 | Kyle Keylon | Honda |
AMA Motocross Lites
We're seeing a very interesting trend this year with the Lites class. For the past several races now, the Monster Energy/Pro Circuit Kawasaki tandem of Ryan Villopoto and Ben Townley have been the fastest riders on the track—in both classes! Even with Ricky Carmichael returning to the mix, both riders were able to record lap times faster than RC's. One could argue that Carmichael was only cruising around in the absence of James Stewart, but still, these 250F riders are flat out hauling! Ben Townley recorded the fastest lap time of the day in the first moto with a 02:17.437 on his way to the moto win, while RV1 took the honors in moto 2. Talk about a battle...

Take a look at these Lites lap times from Spring Creek:
| | | | | |
| --- | --- | --- | --- | --- |
| Pos. | Moto 1 | Moto 2 | Rider | Bike |
| 1 | 02:18.380 | 02:18.176 | | Kawasaki |
| 2 | 02:17.437 | 02:18.677 | Ben Townley | Kawasaki |
| 3 | 02:21.590 | 02:21.473 | | Kawasaki |
| 4 | 02:24.041 | 02:23.959 | | KTM |
| 5 | 02:22.104 | 02:24.493 | | Yamaha |
| 6 | 02:25.132 | 02:24.961 | | Honda |
| 7 | 02:21.643 | 02:26.354 | | Honda |
| 8 | 02:27.157 | 02:25.358 | | Yamaha |
| 9 | 02:25.469 | 02:26.961 | | Yamaha |
| 10 | 02:24.514 | 02:25.340 | | Suzuki |
| 11 | 02:21.751 | 02:22.429 | | Honda |
| 12 | 02:21.227 | 02:25.741 | | Honda |
| 13 | 02:26.786 | 02:26.643 | | Kawasaki |
| 14 | 02:25.765 | 02:27.080 | | Yamaha |
| 15 | 02:25.518 | 02:24.475 | | Suzuki |
| 16 | 02:26.276 | 02:27.662 | Joaquim Rodrigues | KTM |
| 17 | 02:26.829 | 02:27.547 | | Honda |
| 18 | 02:26.845 | 02:27.531 | | Yamaha |
| 19 | 02:28.143 | 02:28:054 | | Kawasaki |
| 20 | 02:25.083 | 02:27.148 | | Yamaha |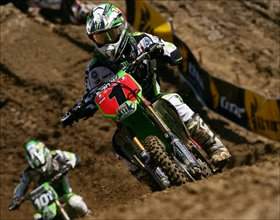 There isn't much seperating these two