Racer X Tested: 2008 Yamaha YZ450F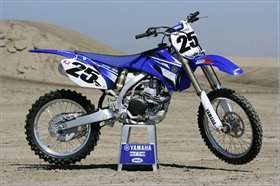 2008 Yamaha YZ450F
Yamaha has earned a bad reputation the last couple years with their 450. Most riders agreed that the bike doesn't want to turn. The frame has been too rigid and this caused a "push" in the front end when you tried to steer the bike. For 2008, Yamaha made some changes that they think are going to solve all the problems. And so far, it seems to be working.
Grant Langston
has not been having the year that he wanted and his biggest complaint was the steering characteristic of his bike. Aside from a great ride in the sand of
Southwick
, GL hadn't met his own expectations this summer. And then they switched to the 2008 chassis. Suddenly Grant wins his first outdoor motocross moto (and almost the overall) at
Washougal
, puts in an inspired ride at the X Games to score a silver medal behind
Ricky Carmichael
and then backs that up with solid 2-2 moto scores at
Millville
(again, behind Carmichael), putting himself in contention for the national championship. According to Yamaha, the change in the frame is what makes the difference. Material has been removed at the steering head pipe that allows for more flex. The steering head pipe has also been lowered. But those aren't the only changes to the 2008 YZ450F. Check out this list of refinements: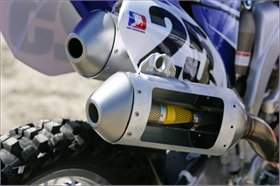 The new shorty exhaust has interesting internals
• Revised intake port shapes, and revised intake and exhaust cam profiles increase combustion efficiency for improved torque and throttle response in the low- to mid-rpm range.
• Micron-level adjustment of piston external diameter minimizes piston-to-cylinder clearance for reduced vibration and mechanical noise.
• Adjustment of gear backlash between clutch primary gears and balancer gears achieves further mechanical noise reduction.
• A new, larger-diameter titanium exhaust header with revised taper characteristics enhances exhaust efficiency.
• First "punched cone" muffler ever on a production bike allows 35 percent length reduction and 270-gram weight reduction while meeting AMA noise regulations.
• Matte black crankcase covers: light, strong and cool-looking.
• Steering head pipe and steering stem are 5mm shorter; lower forged triple steering clamp is lighter—for enhanced handling feel. Swingarm pivot stiffness is revised to complement front-end changes and further lighten and improve steering/handling.
• Changes to the shape of the outer fork tubes and revised internals result in improved damping and a smoother ride.
• Optimized linkage ratio provides a smoother ride and enhanced rear wheel traction.
• New, YZ250F-style, front-brake caliper (-220 grams) and a lighter disc remove unsprung weight and provide excellent stopping power. A new axle and collar remove additional weight.
• A 120/80-19 rear Dunlop D756 knobby replaces the 110/90-19 for even more traction. A D742FA replaces the D739FAL front tire.
• Wider footpegs provide excellent boot traction and rider comfort.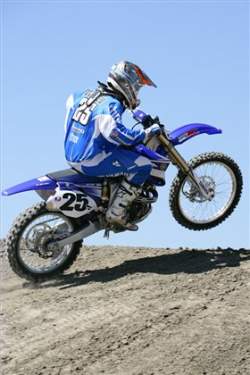 Nate liked the progressive new linkage for traction
Nathan Ramsey
was our rider for the day and gave us his impression of the new ride.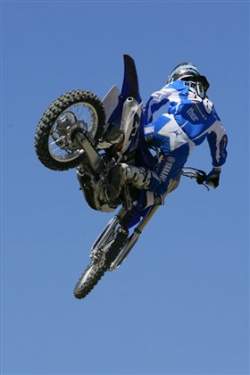 It's flickable.
"The biggest thing I noticed about the '08 model over the '07 is the steering. As soon as I got on it I could feel that it would follow a line around a turn better and turn much tighter and easier than last year's bike. It has a really light feeling in the air too. Also, the change in the linkage is really noticeable. It feels way more progressive than last year's bike. The tire stays on the ground when you are accelerating out of turns and hitting little chop. I can't wait to get one of these for myself!"
To see the bike in action and hear more from Nathan go to www.racerxfilms.com.
For a complete evaluation and comparison of the 2008 Yamaha 450, check back in for our annual Racer X Tested 450 Shootout coming soon.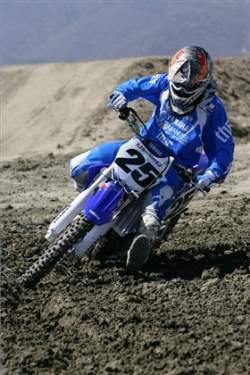 It finally turns!