Monday Conversation: Ricky Carmichael
So much has been said about Ricky Carmichael and his ten years of dominating outdoor motocross, it's hard to squeeze all that into a quick post-race conversation. He's won every outdoor title he raced for, raised the bar in training, balls, and determination, and after Millville, he leaves the AMA nationals with a total of 150 career wins, both SX and MX combined, a record that no one predicted and will probably never be matched. It's been said many times because it's true; RC is the greatest of all time.
RC was disappointed he didn't get to race James Stewart in his last race. He loves Millville and had a couple of typical outdoor motos, classic RC check-outs. After the second moto, he took an extra-long goodbye lap. Then he made his way to the Millville podium, which are already famous for their post-race crowds of fans, and greeted a huge assembly of fans friends and team members, past and present. After that, he did one more press conference, said nice things about his career, and made his way to the Suzuki semi to unwind and sign autographs, and that is where we stopped him to see what's on the Goat's mind.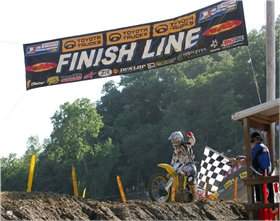 The end of an amazing career

Racer X: Ricky, how can you even approach a weekend like this? What's on your mind before and after?
Ricky Carmichael: It's pretty surreal, but I had a great time though. The track was awesome. I am really excited it turned out good. There is just so much going on. We are still testing and stuff like that. Everything has turned out the way we wanted it to turn out.
Is this the end of an era?
No, it's not the end of an era. I definitely gave it 100 percent all the time and I have no regrets with anything that I did. I am happy to say that. That is one thing I never wanted to do, and that is look back and say I wish I would have done this. It's not the end of an era because there are a couple more coming up and I am excited about it.
You mentioned how at the X Games the athletes come first. What do you mean by that?
They have communication between ESPN, the X Games, and the athletes and they tailor it to the athletes, and I think that is so important. That is what makes a good show or a good race track or ramps—athletes--and that is what they go by. Athletes first. That is why that event gets so much love, and obviously they have the TV time, so it's pretty cool.
You have mentioned you obligation with Suzuki runs through the next year; can you explain what that means?
It's the next two years. My obligation with Suzuki is through 2008 and 2009 and it's a lot of testing for supercross and stuff like that, pretty much setting up the bikes and mentoring the other riders and helping them. I have to do 30 days of testing for the next two years, 30 days in '08, 30 in '09 and attend some races. I have the option to so some races if I want to but I don't think that's happening.

I want to put you on the spot and ask you a last-race question and see if there were some training secrets you were holding out on that you can talk about now?
I can't to that to Aldon Baker! A lot of what I do is what Ben Townley does. You can see it working for him. Aldon is amazing, no doubt. He has been a great attribute and really has a solid program.

What's going on next weekend?
I am testing Suzuki's 2008 fuel injection system in California next week. I am excited about riding the '08 Suzukis. Then I fly in to Orlando Friday for a car race Friday night, then Saturday night, and a car race Wednesday night. We really have to put it in overdrive, especially after this team merger. It's been fun and I like it. It's time to amp it up. It's pretty busy.
Okay, one more question that might put you on the spot but here it is: What if you have to list some events or moments that really stand out from outdoor MX over these past 10 years, what would your list be?
There are so many things and so many memories, I can't pick just one. I remember big wins, crashes, great battles. I have had so many of them, I have done so many races and so many great battles and great wins I can't pinpoint any of them. That Orlando supercross was fantastic, my last supercross.
How about some outdoor where you were sure things were not going your way and you won anyway. Got any of those?
[Pauses] Honestly, I don't know. I would have to think and do a re-cap and really look back and think through the races that I did.

I guess that's it, and we better let you get back to celebrating. When do we see you next?
My next motorcycle race is the Motocross of Nations at Budds Creek. I am looking forward to it. That is one of the best events apart from Daytona and the X Games, so I am looking forward to it.