Monday Conversation: Ronnie Renner
So many great performances this weekend—33 champions crowned at Loretta Lynn's, RC in Moto X, Burkhart in X Games' Supermoto, the freestylers, the Grand Prix winners at Namur—but who to pick for a Monday Conversation?
A few months ago, Ronnie Renner was sitting in his garage in Southern California, wondering aloud what the future held for him in freestyle motocross. "I don't really want to flip and I'm pretty burned out on the contests," said Renner, sitting on one of his KTM motorcycles. "I'd love to do Step-Up in the X Games this summer, but I think they have the five riders picked and I'm not going to get in."
But then fate stepped in. Ricky Carmichael, who had been invited by the Summer X Games freestyle motocross committee to compete in the Moto X Step Up at Summer X Games 13, politely declined, deciding to rather concentrate on the new Moto X he would be competing in at Summer X. Renner got the call—he was in.
And he made the best of it. Before a sell-out crowd of nearly 14,000 fans in the Staples Center, Renner employed a KTM450 four-stroke, much to the astonishment of his two-stroke competition. What followed was a Doug Henry-like breakthrough for the thumper, as Renner blasted off for a leap of 33' to win the Moto X Step-Up Gold Medal over Brian Deegan, Matt Buyten, Tommy Clowers and Jeremy McGrath. This morning, while he was driving down the I-5 just north of San Diego, we talked to the dancing fool of freestyle motocross.

Racer X: Ronnie, a few months ago, Simon Cudby and I were hanging out with you on your ranch in Fallbrook. You mentioned that you really wanted to be invited to compete in the X Games' Step-Up contest, but it sounded as if you had been locked out…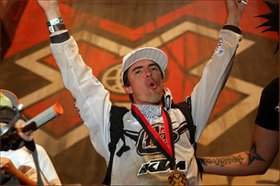 Ronnie celebrates a gold medal
Ronnie Renner: Yeah, I remember that. I know I had just got done doing the
Stunt Junkies
show where I broke the world record for step-up. I figured that would help me get a chance at being invited. But the X Games people were still sticking to their guys and staying with a five-man format. Three of the guys chosen for the X Games were proven gold medal winners (McGrath, Buyten and Clowers). And Brian Deegan had already proven himself and was a household name. I figured the last spot that was available would go to [Mike] Metzger, but he was down and out with a bad back. I figured that would be my spot, but then I heard rumors that
Ricky Carmichael
was going to do it and I'd be back to square one. I thought I was screwed because RC was way more popular than me. I was nervous I wasn't going to get in. I wanted it [the gold medal] bad. I had wanted it bad for years.
How did you finally end up in Summer X?
Paul Taublieb, who I had worked with on the Stunt Junkies show, is also an X Games organizer. He collaborated with Ron Semiao (founder of the X Games) and they worked on it. And obviously I was legitimate. I had won to bronze medals before. I guess for a time, though, that wasn't good enough.
When did you finally get the green light?
I believe it was in the middle to end of June that they confirmed I was in. I was super-pumped. I had no aspirations to compete in freestyle as I was over that. I have no desire to do that. I thought that if I ever had a chance to win a gold medal in the X Games, it would be in Step-Up.
Why are you over freestyle motocross?
I'm just over the contests. I love to put on a show—I've always been that way. I'm an entertainer not an innovator. I'm not interested in going for broke. In order top pull of a medal in freestyle now, you really have to go for broke and pull off killer tricks. I've always just had fun with freestyle and never put the physical work in. I rode to have fun. Now, these guys have to treat it like a full-time job. They have to take some really big chances. Not only at the contests, but in practice, too. To win, you have to have a solid run and you really have to have your runs figured out. You have to take a lot of chances. I don't bounce too good. In fact, I try not to bounce at all now.
You rode the KTM 450 in the Staples Center. When did you make the decision to do that?
That decision was officially made with five minutes left to go in practice! Before the practice started, I was 60/40 that I was going to be competing on the two-stroke. I even had the two-stroke bike stickered-up! But I decided to bring both bikes. If things didn't turn out I didn't want to be thinking, 'What if?' I knew the four-stroke had a little more power and it would be a killer deal for PR [public relations]. I could whip the bike like the 250 and get better exposure if I rode it; I figured the bike would raise some eyebrows. In practice I decided to ride five minutes on each bike, make my decision and then use the last five minutes of practice on the bike I chose.
Obviously, you settled on the 450.
Yeah, on the second jump of practice the 450 boosted me right up to 30 feet. When I came around after the landing, I could see the looks on everyone's faces. It was like, 'Oh shit!' I decided to stick with the 450. I was like, "This is the bike for me tonight."
In watching you practice, it was quite evident that your "whip style" was going to work out real well in Step-Up.
Yeah, it did. I had that same feeling two years ago — in 2005. I felt really good in practice and Metzger was doing the announcing and said he was putting his money on me. He had my back. But the in the second round, me, McGrath and Deegan all went out. That experience taught me to stay humble. This time I went into it a little worried and with some fears of what could go wrong. I experimented with making changes while riding the bike if I hit the bar on the way up or down. But it felt like my contest, for sure. Yes, I'm a factory KTM rider so it might sound a little cheesy to talk about it, but I had so much confidence in both my bikes. Both the two-stroke and the 450 were both big contenders. I was on the right color.
Once the contest got up and running, it was pretty easy to see you were the man to beat.
I don't know, man… I don't want to say I was arrogant, but I was a little cocky I could win. There was a buzz going around that I was the guy to beat that night. But once it really got going, Buyten and Clowers really started hucking it. McGrath went out super early and then all of a sudden we were at 33 feet and Buyten hit the bar and I won. I really thought Buyten and Clowers would be in it for the long haul.
Where did you think the bar was finally going to end up?
Up around 35 feet. I hoped it would get that high in a weird, psychotic way…
What went through your mind when you realized you had won?
I did not envision myself winning like I did. I thought I'd be the last guy to go over the bar and the crowd would go wild. But I did frickin' explode. I actually thought I was going to get emotional. Winning that medal was everything I wanted and everything I had worked hard for.
Okay, buddy, what's next?
Obviously, I hope to be back next year to defend the title. If I do I think there is a 50/50 chance I'll ride the two-stroke. It'll be funny to see what guys show up with now. For the future, I definitely will pull the plug on freestyle, at least on the contest level. I really want to focus on free-riding. I hope my sponsors continue to support me, but I'd like to do it snowboard-style where I'd do events and trips and videos. I also have some TV stuff I'm looking at. I'd like to slowly fade out from the high expectations of freestyle motocross, but stay around as a top free rider. That would be my goal.
It was great to see you on Saturday walking around the Home Depot Center with that gold medal, Ronnie.
Yeah, thanks, Eric. You guys have always had my back.