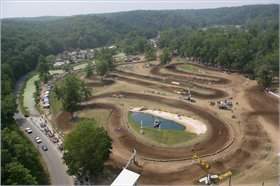 The weather has been hot but beautiful this year at Loretta Lynn's.
photo: Simon Cudby
It's been the best week. Loretta Lynn's Ranch is a special place for me and my family, and probably a whole bunch of other motocross families. The best amateur prospects in America are here, as well as many of the past amateur prospects--often standing over their own boys down on the starting gate as they start their own career paths.
Rick Johnson, Jeff Ward, Trampas Parker, Doug Dubach, RC, Travis Pastrana, Ivan Tedesco, Tim Ferry, Ryan Villopoto
... It's like a motocross reunion. Heck, even
Marty Tripes
came for the first time!
The event is a weeklong motocross festival with races all day, activities well into the night, and thousands and thousands of people. It makes one feel great about state of amateur motocross in America, even though it's not without its difficulties.
Nico Izzi has two seconds and two thirds in Lites-class racing so far.
photo: Simon Cudby
There are also injuries and crashes (though fortunately nothing too serious as I write this early Friday afternoon), controversies and petty crimes (why someone would vandalize a bathhouse and the front of a church is beyond me), and even deeper issues, like the professionalism of amateur racing: agents, education, family sacrifice.
As for the unfortunate controversy surrounding
Kevin Cozad
riding the Vet B/C class: After dominating his first moto by 30 seconds (he was 4.5 seconds a lap faster than second-place finisher
Allan Asseff
), Cozad crashed a few turns into the second moto and suffered a broken collarbone. It was an early end to a situation that had become problematic for the event and for Cozad himself.
It's difficult to pick a single highlight of the week:
Canard vs. Stroupe vs. Izzi
, Team USA, the beer tent,
Adam "Little Ricky" Ciancirulo
, the Red Bull skydivers,
Travis Pastrana
's monster truck,
Tarah Gieger
battling
Jessica Patterson
, the sound of a full gate of 125cc two-strokes, the camaraderie of it all....
But I have to give it up to
Kevin Walker
, the new all-time Loretta Lynn's champion. As I typed that last paragraph out, the Yamaha rider from Penhook stepped up onto the podium to accept his 12th AMA Air Nautiques Amateur National Motocross Championship. Walker is the essence of this race: A vet rider who had a brief, forgettable season as a pro, followed by years of working at the local shop. Every August he shows up here, against a field of competition that grows more and more competitive as he gets older and past pros chase after amateur glory, and yet he prevails, time and again.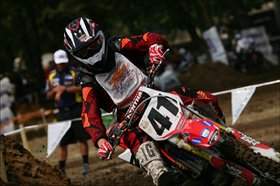 Trey Canard has won his last two motos and is looking extremely fast going into the final day of competition in Hurricane Mills.
photo: Simon Cudby
Kevin lost his mom last year, then he lost both his classes on what was supposed to be a big championship run for him to out-title
James Stewart
and
Mike Alessi
, tied with him at 11. He was a year late, but it was inevitable. He hugged his wife Tracie, he hugged his competitors, he hugged the announcer, and he thanked the Lord. Then he headed back to the pits to get ready for a run after title #13.
On another note, Mitch Payton showed up at Loretta Lynn's for the first time in a dozen years and spent a considerable amount of time on the infield gauging new talent. Of particular interest was his new signee, Austin Stroupe, who has been battling all week with Trey Cannard and Nico Izzi. While the AMA Horizon's Award was still up for grabs going into tomorrow's last day of competition, all three of those guys are set to make their pro motocross debuts at Millville next weekend. Who will do better? At this point, it's really too close to call.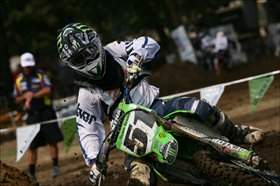 Not only is Austin Stroupe battling Canard and Izzi at Loretta's, but next week they'll all three race their first pro races, at Millville.
photo: Simon Cudby
So my week has to end here. After 10 days away, I have to get home and be a dad, be an editor, and be back in civilization (Loretta's is a pretty remote place; apparently the X Games have started?). It's impossible to sum this week up here, so go check out all of the video coverage with the MX SportsCenter at
live.motocross.com
. The shows show all of the action. If you're looking for results or the live transponder feed, head on over to
www.mxsports.com
.

So I'll turn it over to Ping, and then Eric Johnson, who are both on hand at the X Games in Los Angeles, for a quick report on how things are going there.
----
I spent the first two days of this week in Whistler, B.C., Canada riding downhill mountain bikes. Bicycling icons Brian Lopes, Hans Rey, Jay Miron, Fuzzy Hall and about ten other athletes from various action sports, including Billy Laninovich, Troy Lee and myself, bombed down the mountain and its many trails and wooden obstacles together. It was absolutely incredible and one of the coolest places I've ever been. Look for the whole story in an upcoming issue of Racer X Illustrated.

Now, I'm sitting in a hotel in Torrence, California, just two miles from the X Games 13 in the Home Depot Center. I checked out the facility today and walked the supermoto and Supercross tracks. I'm not sure who built the tracks, but they did a good job. Some of the SX lanes are little narrower than a typical Live Nation event, but the format is different here. In the X Games version, only groups of four riders will be on the track at the same time. Heats are only six laps, so the action will be quick and the racing will be tight.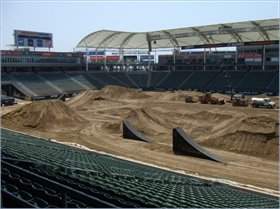 The inagural Moto X track at this year's X Games.
While Ricky Carmichael is all set to be the star of Moto X competition, he will certainly get a challenge from Chad Reed, who's back for this event and to get some time in on the 2008 Yamahas. But some motocross-series shakeups have this inagural event lacking the whallop ESPN hoped for when it was first announced. Stewart, Townley, Villopoto and Ferry all pulled out, as they're all vying for outdoor championships, which could potentially give Kawasaki a clean sweep on the nationals this summer. Tedesco is also out, as Suzuki decided not to support him in this endeavor. That's allowed riders like Mike Alessi, who will race a 450 in supercross for the first time, Jason Thomas and Ryan Clark to line up for this made-for-TV race. So who do you think will win? That's the topic of this week's Racer X Online poll -- be sure to vote!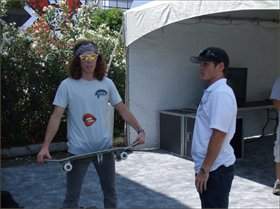 Skateboard/snowboard superstar Shaun White and RC chat before the big weekend.
The supermoto course is going to suit guys with a Supercross background. The asphalt is tight and slow, making it easier for guys with less asphalt experience, and the dirt section has a couple rhythms that will be very technical and could be difficult for a road race or dirt track guy. Keep an eye out for one of these guys to eject big-time. Thursday night was the Big Air Best Trick (see EJ's report below), Friday is Supermoto and Supercross practice as well as Step Up finals. Then, the Supermoto, Supercross and Freestyle finals are all on Saturday. Check out your local listings and be sure to record all the moto disciplines. (
Ed. note
: We just spoke to Ping and he qualified third for tomorrow's Supermoto race, behind Jeff Ward and Mark Burkhart, respectively. Attaboy, Ping!)
Red Bull had a dinner this week for all their athletes. Each rider was presented with a big black box before dinner. Inside was each rider's helmet for the X Games with a custom design, a solid white gold credential lanyard, a PSP with games, a Sony camera/camcorder, Red Bull swag, and a credit card that read, simply, "Anything, Any time, Anywhere." The card is good for all Red Bull athletes for the weekend, and
Eric Sorby
has already put the card to the test. The first day home he ordered some clothes, food, and he even tried to get a French Bulldog delivered to his house. Take it easy there, Sor-balls. The card was a pretty unique way for Red Bull to thank all of their athletes. The helmets that the riders wear this weekend will all be collected after the weekend and auctioned off to benefit
Heinz Kinigadner
's Wings For Life foundation, which aids in spinal cord injury research.
Have fun watching the X Games this weekend. Now I'll turn it over to
Eric Johnson
, who was on hand for X Games rookie
Kyle Loza
's big night last night.
--Ping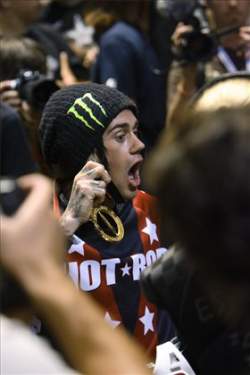 Kyle Loza and his hard-earned gold medal.
Thanks, Ping! Last night, nearly 300 local residents of Foothill Ranch, many of them members at nearby Saddleback Church (including
Pastor Rick Warren
), were riding along with Kyle Loza when he rolled down the ramp inside the oversold Staples Center to attempt his signature trick: the Volt. The second of ten riders to make their first attempt in the Moto X Best Trick at Summer X Games 13, Loza, who's covered in more than 100 tattoos and a number of piercings, was going for it right from the onset. And he pulled it off. His Volt maneuver — where he leaves the motorcycle completely, spins his body 360-degrees, fins his way back onto the bike, and nails the landing — worked to perfection and earned him a score of 94.20. The score was never topped.
"I've been working on the trick a very long time," said Loza earlier that afternoon in the tunnels below the Staples Center. "I feel real good about everything, and I'm confident." It showed, and Loza is leaving downtown Los Angeles with a big X Games gold medal around his neck.

Adam Jones
, of Mindon, Nevada, pulled the Bar Hop Flip from his quiver of tricks to earn the silver medal with a score of 91.0. Third overall on the night was
Todd Potter
of the Metal Mulisha family. Razor sharp in execution, the 21-year-old's Kamikaze Flip/Kiss of Death trick earned the X Games rookie a score of 91.0 and a bronze medal.
"I'm just glad to be here," said Potter on Thursday morning. I mean, just a year ago I was riding demos at county fairs. I just want to go out there and do my best. I have a great trick, so at least I won't be a bottom feeder." After winning a medal in his very first X Games, Potter was thrilled. "No more county fair demos," he mused.
Without a doubt, the most highly anticipated moment of the night was when
Scott Murray
rolled up on to the ramp and built up his courage in an attempt to complete the double backflip. Murray, who had to stage a fund-raiser in his hometown of Helps, Michigan, to earn gas money to get to Los Angeles, clicked his bike in gear, slowly idled down the drop-in, hit the ramp and made it one and three-quarters of the way around before coming up short and pummeling into the ground. He didn't make it, sure, but it was a very gallant effort and the crowd loved him for it. Murray, a complete unknown coming into L.A. but for a piece of video that surfaced online showing him complete the trick up in Michigan, did himself quite proud. "He was six inches from making it!" screamed Moto X Best Trick head judge
Andy "Regis" Harrington
. The judges scored Murray at 66.0. Nonetheless, he gets a 100 for heart and effort.
Don't miss the rest of the great motorcycle action at this year's X Games. For a complete schedule, check out
expn.com
.
Oh, one more quick note before we sign off:
If you love to ride minis, here's a great race for you to attend! It's the 4th Annual Texas Mini National, on September 15 at Buffalo Creek Motocross. $15,000 purse money for pros and lots of prizes for the amateurs. Go to
www.chpusa.net
for more details.