Sign of the (Lap) Times: Washougal
It was another wild weekend at Round 8 of the AMA Toyota Motocross Championships held in Washougal, WA. Although the overall results don't reflect it, both Monster Energy Kawasaki riders James Stewart and Ryan Villopoto were the fastest riders on the track. This is Villopoto's hometown track, and he once again set the fastest time of the day with a 2:21.720—which is almost a full two seconds faster than his teammate and current Lites points leader, Ben Townley.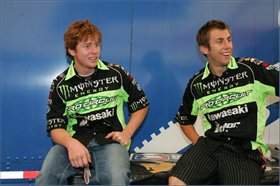 RV and BT are two of the fastest riders in the world right now
James Stewart
picked up the pace from Lakewood, and he set the fastest lap time in both AMA Motocross moto, but unfortunately a crash relegated him to eighth overall on the day. SoBe No Fear/Samsung Honda's
Kevin Windham
had the second fastest lap time in the premier class, followed by overall winner,
Tim Ferry
.
AMA Motocross
| | | | | |
| --- | --- | --- | --- | --- |
| Pos. | Moto 1 | Moto 2 | Rider | Bike |
| 1 | 02:25.796 | 02:28.103 | | Kawasaki |
| 2 | 02:26.526 | 02:26.962 | | Yamaha |
| 3 | 02:25.991 | 02:28.480 | | Honda |
| 4 | 02:25.580 | 02:27.446 | | Honda |
| 5 | 02:27.725 | 02:30.184 | | KTM |
| 6 | 02:28.556 | 02:30.583 | David Vuillemin | Honda |
| 7 | 02:28.509 | 02:28.837 | | Suzuki |
| 8 | 02:23.358 | 02:25.730 | | Kawasaki |
| 9 | 02:31.415 | 02:32.902 | Kyle Lewis | Honda |
| 10 | 02:30.616 | 02:31.305 | | Suzuki |
| 11 | 02:28.397 | 02:32.698 | | Suzuki |
| 12 | 02:31.513 | 02:32.227 | | Honda |
| 13 | 02:31.097 | 02:31.096 | Shaun Skinner | Honda |
| 14 | 02:27.805 | 02:28.895 | | Honda |
| 15 | 02:28.777 | 02:31.443 | | Honda |
| 16 | 02:30.703 | 02:32.931 | | Honda |
| 17 | 02:31.723 | 02:33.897 | | Honda |
| 18 | 02:31.409 | 02:34.975 | | Honda |
| 19 | 02:30.525 | 02:34.416 | | Kawasaki |
| 20 | 02:34.229 | 02:34.330 | | KTM |
AMA Motocross Lites
| | | | | |
| --- | --- | --- | --- | --- |
| Pos. | Moto 1 | Moto 2 | Rider | Bike |
| 1 | 02:23.623 | 02:27.111 | Ben Townley | Kawasaki |
| 2 | 02:21.720 | 02:24.354 | | Kawasaki |
| 3 | 02:24.447 | 02:27.008 | | Suzuki |
| 4 | 02:26.326 | 02:28.092 | | Honda |
| 5 | 02:26.425 | 02:29.386 | | Kawasaki |
| 6 | 02:28.158 | 02:30.186 | | KTM |
| 7 | 02:28.527 | 02:31.671 | | Yamaha |
| 8 | 02:29.354 | 02:30.648 | | Honda |
| 9 | 02:24.850 | 02:27.150 | | Yamaha |
| 10 | 02:28.426 | 02:31.474 | Joaquim Rodrigues | KTM |
| 11 | 02:28.965 | 02:30.759 | | Honda |
| 12 | 02:29.246 | 02:32.103 | | Kawasaki |
| 13 | 02:28.731 | 02:31.633 | | Yamaha |
| 14 | 02:29.259 | 02:30.855 | | Honda |
| 15 | 02:27.748 | 02:31.534 | | Yamaha |
| 16 | 02:28.478 | 02:30.883 | | Kawasaki |
| 17 | 02:28.381 | 02:32.184 | | Kawasaki |
| 18 | 02:30.040 | 02:30.992 | Branden Jesseman | Yamaha |
| 19 | 02:30.295 | 02:31.733 | | Kawasaki |
| 20 | 02:28.663 | 02:30.893 | | Yamaha |