Between the Motos: David Pingree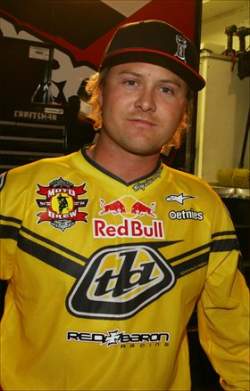 photo: Matt Ware

Seeing as how almost the entire Racer X staff is at Loretta Lynn's, I got an email from a staffer who shall go unnamed (Billy Ursic) asking me if I had any interviews for Between the Motos. I didn't have anything, but after talking to Bryan Stealey, we figured that something on the X Games would be appropriate. Almost instantly a person came to mind who would be able to tell us all about the action going on there this weekend: our very own extreme sports superstar, David Pingree! (Oh, and if any of my bosses at Parts Unlimited are reading this, it was conducted on my lunch hour ... honest!)

Racer X: Ping! What's up? Big race this weekend for you, huh?
Ping: Yeah, for sure. I'm pumped to try this out. I've never done this race before, so I will go down there and see what all this fuss is about.

You normally race the Supermoto Lites, and I'm not sure if you're awareof this, but this weekend you have to ride a 450. Have you spent much time on one?
I have done a couple of races on them. The first two Supermoto races I ever did, I pieced together a Yamaha 450 and went racing. Just kind of winged it on stock bikes for those.


As far as the Troy Lee Honda team, they are building me a 450 right now, and it should be done today and ready to break in. I rode my teammate Cassidy Anderson's 450 last week, and it was unbelievable. I felt pretty good and my times were good. I don't know, Matthes, we'll just go there and wing it.

Are you going to play it safe this weekend? You're tied for the lead in the AMA Supermoto Lites title, y'know.
Yeah, obviously that will be in my mind, and I want to win that title, but this is the X Games. It's also pretty big. I'll check out the track, see what it looks like, and go from there. I'm going to go for it. The dirt part is going to be the sketchiest part I think.

What about that ginormous step-up that the Euro guy cartwheeled down? That looks like the sketchiest part to me!
I don't think they're going to have that this year, we'll see. Obviously I don't want to get hurt, and I really don't want to talk about it anymore, Matthes.

Okay, sorry. Your teammate, 86-year-old Jeff Ward, won the event last year. What has he or anyone on your team told you about the event? What are you expecting?
We talked a little about the event, but mostly about hydration systems, and the pit stops and how that goes. It's an hour-long race, so we talked mostly about staying hydrated really. Most guys use camelbacks, but Wardy is talking about trying to figure something else out because those camelbacks full of water get pretty heavy. I think we'll know more about strategy and other things after qualifying, and then we'll see where everyone stands. I don't know any of these guys. Nobody really knows what to expect out of me, really. And really I don't even know where I stand with these guys on a 450.

After talking to you at Washougal and weighing everything out, I have you getting second.
Really? Well, I appreciate the vote of confidence there, Sausage Ankles, we'll see. It's a long race and you have pit stops and everything, so anything can happen.

Who will be the top guys in that event, besides yourself?
Well, obviously Wardy. He's the defending 450 Supermoto champ. And he won this event last year, so it's hard to sell him short. Mark Burkhart is riding really well this year, and he'll be fast. Also Cassidy Anderson and some guy named Jeremy McGrath.

And there's always a Euro guy who shows up and goes pretty fast.
Yeah, but I don't know those guys that well. I've never raced those guys and have no idea who's quick or not. It seems every year that one or two of those guys knocks himself out on the dirt section and takes a little nap.

From what you've told me, they're using three lanes of the X Games Supercross track. That should help you out a bit.
Yeah, according to the track map, we drop in and use three of the lanes. It's mostly rhythm sections. We don't use the triples or the whoops, which is probably a good idea with slicks on.

Stealey wanted me to ask you about the freestyle and the step-up contest as well. I don't know too much about those dudes, so talk about that.
Freestyle, I'm excited to see. Well, I'm excited to see all the moto disciplines. Last year I couldn't get a ticket even to watch. I tried to get a media credential and I was out of luck there. They didn't even respond back to me at all. I felt like Steve Matthes, really, it was humiliating.
Anyway, I like Nate Adams, Mat Rebeaud and Dani Torres in freestyle. I'm anxious to see those guys do their thing in person. I'm also a little worried; I heard there is this kid from the middle of nowhere who's entered in Best Trick. He made a foam pit and just practiced double backflips all day long. He's a total no-name, hasn't done any contests, I believe, and is entered in the X Games for Best Trick!

I dunno, man, that sounds scary. I don't think that's right, just sending him out there. For ESPN it's great, lots of ratings, but I don't want to see it go wrong, you know?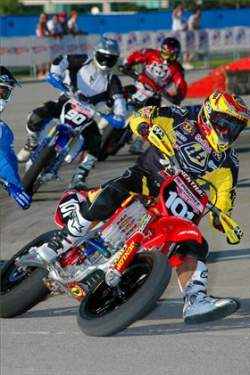 photo: Chris Hultner

Yes, I'll probably be watching you from the couch this weekend. Not so much luck in getting a pass. I'm putting all my hopes with Tim Ferry, but he might not be racing now, so....
Why not? What's wrong?

Something about him being in contention for a title or something, I don't know.
Well, anyway, let me finish the answer here. I don't really know what to think of Step Up. It looks kind of silly to me, really. Not that it's not difficult, but it just doesn't look exciting to me. I'm anxious to watch it in person--maybe I'll gain new respect for it when I'm there. Hey, by the way, what about you and the best day of your life last weekend?

Yeah, that was sweet. But we did win Summercross in 1999, beating the Step-Up champ, Jeremy McGrath, as well. That was a good day.
Yeah, I won the 125s that night.

Yes, you did. We are defending champions of that race forever, and nobody can take that away from us.
Anyway, back to me and my race this weekend.

Oh, yeah. You're currently tied for the AMA Supermoto Lites title with Brandon Currie. You might get that elusive AMA title yet.
I've had a couple chances at titles. For one, that 125 West Coast title I lost by a couple of points was ridiculous. I had a mechanical DNF that took me out of that one. Even in 2002, I had a really good run going; I was riding well and confident. Then we went to Phoenix and my bike broke in half. That really, really took the wind out of my sails, literally and figuratively.

It's exciting to be racing for a championship. I had kind of put that behind me. I accepted the fact that I was going to be a mini-moto champion and that was it. It's awesome because I can do it and still work on the Racer X stuff. Anytime you can win anything, it's a great feeling.

Yeah, I remember when I would win a fair race, it felt like A1!
Those fair races are cool to win, for sure. The people there didn' really know any better, and I could be King SX of SX Island and they would have no idea. I remember those days.

Do you ever get Wardy to tell some stories?
Wardy isn't a big talker. He's not one to brag about what he's done. You really have to pry it out of him with questions and stuff. Dude, he's unbelievable, he's been around for so long and is still just an animal. That's just amazing to me, really.

You know what was funny? We were at a dealership signing autographs not too long ago, and they had one of those old-school supercross videos playing that you always talk about. It was the Pontiac SX or something, and there was a huge double at the end of the stadium. You just come out of the corner and it's right there. He's watching it and then leans into me and says, "Next lap, I break my ankle right here." Sure enough, the next lap he slid up the face a bit, cased it, and you see him shaking his leg and then riding off the track.

It's just funny to me that I can't remember my wife's birthday but if you ask me about some race in 1995 that I did, I will tell you every little detail. He's the same way.

Where are you now? It sounds like you're in a Panzer tank?
I'm actually in a stall in a bathroom at the Vancouver airport. That's how much commitment I have to this interview. I was up here with Brian Lopes mountain biking. It's so awesome up here.

Of course it is, it's Canada!
Yes, I'm in the Great White North right now. Brian got everybody together for some good riding. We had Billy Laninovich, Troy Lee, Lopes, and some old-school BMX guys like Jay Miron up here. There were some pro skiers, pro BMXers ... a really cool group of eclectic athletes. We're going to try and do this every year. I'm writing a story for the magazine about it, so look for it soon.

Did you eat any ketchup chips?
No, I didn't do that, and they sound super gross. I don't know anything about them.

What about the Troy Lee Designs SX team? Is that a go?
Yeah, for sure. It's a West Coast Lites team. They've signed Eric Sorby to ride the 450 on the West Coast also. He's pointed out of the Lites class, I guess. They're talking to Gosselaar and some others. Supermoto goes from the end of May to September, so why not put some guys in the truck and go racing? Should be fun, and I might even race a couple if I feel into it.

Well, I look forward to watching you get that silver medal from my couch this weekend.
Yeah, hopefully you can get a pass. I will try to do a super-sick one-hander for you.

Do you mean that?
No.

Thanks, Ping!