Monday Conversation: Tim Ferry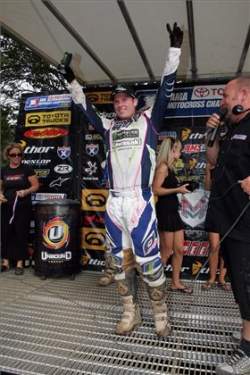 photo: Steve Bruhn

It's possible that no one in AMA motocross has been factory to privateer to factory again more times than Monster Energy Kawasaki's Tim Ferry. The 32-year-old veteran is having an awesome summer as James Stewart's teammate. Yesterday he was in the right place at the right time and won Washougal with a 2-2, his first win in six years.

Halfway through the second moto, Ferry was fourth behind Langston, Windham and Stewart, and not too many people at that point would bet have money on Ferry taking the overall. But, things happened so fast in his favor that he did win, and he wasn't even sure until he got to the podium. Stewart fell and hurt his knee with three laps to go, and when Windham got the white flag, he mistakenly thought it was checkered and he slowed down, then took off again and chased Ferry around one more lap.

Windham's error gave Ferry the overall, which would have gone to Langston with a 4-1. As they say in racing, when you get a gift, you take it any way you can get it.

Ferry celebrated his first overall win since 2001, the day at Glen Helen that RC went over the hill on lap one on his Kawasaki. Kawasaki couldn't believe its luck when Ferry topped the podium after Stewart crashed out – keeping the Greenies on top for one more weekend. Here is what Ferry had to say.

Racer X: Timmy, first of all, congratulations. Glen Helen in 2001 was your last win, right?
Overall, yeah. I want to say that was a 2-2 also, along with Mt. Morris in 1995 in the 125 class. I can win motos, but I guess with overalls, 2-2 is my lucky number.

How did you find out that you got the overall?
I thought I might have had it when I was coming across the finish. I was like, Don't get too excited. I was trying to do the math. I kept thinking that Grant finished behind me in the first moto, and I forgot I passed Short right there at the end. Kurt Rood, our test guy, came by and said, "Dude, you won!" I was like, "No way!" I came over to the podium and they were freaking out. I was in complete shock at that time. I couldn't believe my luck.

Let's step through your motos. How did the first one go?
The first was good. I got the start I was looking for. I came out third or fourth. James was going a little faster and I didn't want to get caught up chasing him. I saw Andrew was sprinting there in the beginning, there with Windham. It seems like I have been getting those guys at the end of the motos, and I wasn't planning on waiting that long. I finally found my groove at about the 20-minute mark. I got to a rhythm. You need that here; it is so slippery. I think that's why Windham does so good here.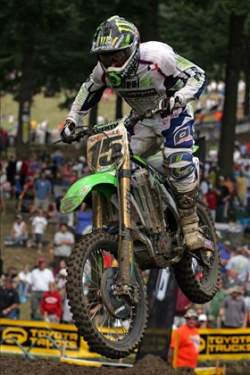 photo: Steve Bruhn

How about your second moto?
The second moto I didn't get such a good start. There were a lot of fast guys in front of me. Ivan was going good. I was frustrated. I was trying to figure out how to pass, what lines to use. Things just were not clicking and coming together for me. This track is always very hard for me. It's slippery and I'm more of a sand rider and better at rough tracks. I just didn't ride that well. I pulled it together at the end, but not with the speed to catch Windham or Grant.

What did you think when you went by Kevin after he stopped a lap early? What did you see?
I saw him and thought, "What is he doing?" Then I thought, Maybe I did just get the checkered. I'm just going to keep going just in case. I went three or four more turns and looked back and he was on my back wheel. I thought, Yeah, that was the white flag. I couldn't believe it. I thought maybe I did have the overall. I could hardly think right then. That was probably the hardest lap I put in the whole moto, just trying to get away from him.

What does it mean to you to win an overall at this point in your career?
It feels better than any of the other ones. I have worked harder for this one and those moto wins over the last two weeks, compared to what I had to do in the past. The competition is stiffer. I've had a few injuries that took a long time to overcome too. My wrist took almost two years. It's still not 100 percent, but everyone adapts and life goes on, and we are out here racing motorcycles. It's what we love to do.

Looking back just one year, you were on a privateer team – Moto XXX – and now we're two-thirds through the season and you're only seven points behind Stewart!
Last year I was finishing top five and I was totally pumped. Moto XXX was happy. All the sponsors were excited and I was having a good time just doing that. When this Kawasaki deal came along, it was a great opportunity to have factory equipment again. I knew the difference. Last year I struggled with racing the factory guys, because their bikes were so much better. It was an opportunity that I couldn't turn down. This is like my third career now, and this one is better than any of them.


Are you going to tell us what the win bonus is?
[Laughs] It's more than I feel like I even deserve, to tell you the truth.

We'll leave it at that. Thanks for the time.
Thanks, Steve.

(Ed. note: A little while later Windham was at the Kawasaki truck joking about his mistake that gave Ferry the win, and he was looking for his cut of that bonus!)