Kawasaki/Racer X Race Report: Washougal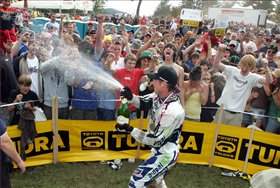 Tim Ferry shakes his first bottle of first-place champagne since Glen Helen in 2001--it has been that kind of year.

Just when you think things were about to settle down in the AMA/Toyota Motocross Championship, the series produces another dramatic weekend, blowing minds and breaking hearts as the championship picture in each class changes dramatically after each moto.
At first, the Unbound Energy National at Washougal, round eight of the series, looked like it would be a yawner. The first motos were simple, as Ryan Villopoto and James Stewart showed a big edge in speed over their competition and opened up big leads. They looked like the big men on the motocross campus for the weekend, but it didn't work out that way.
In the first Lites moto, Villopoto quickly passed Racer X Holeshot Award winner Ryan Dungey and started pulling away quickly. RV's Monster Energy/Pro Circuit/Kawasaki teammate Ben Townley moved into second quickly but had no answers for Villo, who had his home state fans cheering him as he went on to win by a whopping 18 seconds.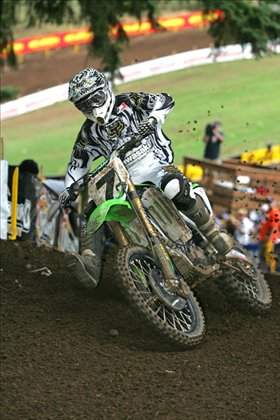 Stewart looked stronger than he did in Colorado, but he continues to be snake bit.

Stewart grabbed the MotoTees Holeshot in the first Motocross moto, but made it interesting when he fell in an ess-turn section on the first lap. He got up quickly in fourth place, and had to work his way past
Kevin Windham
,
Tim Ferry
and
Andrew Short
to get back into the lead. From there Stewart rode smart, pulling a gap of about eight seconds on Short and then just holding it to the end instead of pushing the pace.
t that point it was clear that Villopoto and Stewart had their competition covered and only a major disaster could keep them from the winner's circle. For Villopoto such a disaster came with a first turn crash in the second moto, as he got bottled up and stopped in turn one and then tipped over in the sand. Dungey had grabbed another holeshot but was quickly passed by Yamaha's Broc Hepler and Townley. Hepler looked strong in the lead holding off Townley, but BT101 got past him after a few laps, although Hepler and Dungey kept him honest for most of the race.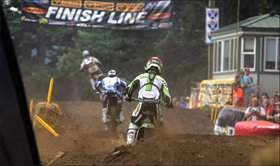 RV1's charge through the pack in the second moto was unreal, and he might have gone from worst to first if not for a second crash.

The battle up front was intense, but it paled in comparison to Villopoto's unbelievable charge from the back. He was well outside the top 35 after his fall, but was soon into the top ten and putting in laps three seconds faster than the leaders. Finally, amazingly, he caught the Dungey and Hepler battle for second and even passed Hepler, but then disaster struck again for RV when he swapped hard off of a downhill jump and crashed. It was a full yard sale crash that could have broken bikes and bones, but somehow Villopoto bounced right back up and even kept his bike running!Unhurt, RV got on the gas one more time. Hepler's Yamaha let go, ending his day, and then Villopoto caught Dungey on the last lap but could not make a pass. Still and all, it was one of the all-time great comeback rides.
Townley with a 2-1 won the overall, which edged out Villo's 1-3. It also breaks the tie on top of the standings and Townely now owns a two point gap over his teammate.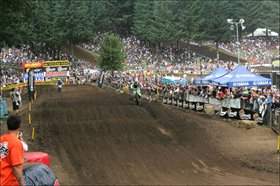 Townley controlled the second moto like he has for much of the year, and he's finally alone on top of the series standings.

"Of all the weekends this year, trying to learn new tracks, I think this one was the toughest," said Townley. "I think they did a great job with the track considering what they have to work with."
"I could see Ben after I got to Hepler and Dungey," said Villopoto. "I was thinking maybe I could catch him, but then I fell, so you'll never know." Indeed, Villopoto seemed to show a larger edge on speed on the same day when he lost the points lead. Stewart's story in moto two would be similar.
In fact, it started out almost exactly the same as Villopoto when Stewart crashed early and found himself way back. Windham had the early lead but was quickly passed by Grant Langston, who was absolutely flying on his 2008 YZ450F. Stewart put on a Villopoto-esque charge from the back, passing nearly 20 riders in the first lap (!) and then working his way all the way past his Monster Kawasaki teammate Tim Ferry to take third. That would have given Stewart a 1-3 overall win, topping Langston, who would have gone 4-1. Stewart has been through a lot lately and wisely seemed to back it down and not go after Langston or Windham. It was all set, until the very end of the race when all heck broke loose.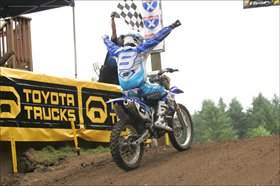 Langston has been asking for the '08 YZ450F, and he delivered a moto win in his first ride on it.

Stewart crashed in a routine corner, catching a rock and popping his knee out. He was trapped under his bike and in pain, unable to continue and suddenly seeing the championship picture grow very shaky.
With that, Langston was set to win the race with his 4-1, until even more crazy happenings on the last lap, when Windham somehow thought the moto was over and slowed down, allowing Ferry to slip past into second, giving him a 2-2 situation and enough points for the overall.
It was another wild and crazy day. For good measure, Langston even nailed himself in the face with the cork on his champagne bottle on the podium, giving himself a fat lip. "That was probably the second dumbest move of the day, after Kevin's mistake," joked Langston.

"I think Grant deserved the overall today," said Ferry. "But I threw it away at the last two races, so it looks like my luck has turned around."
For sure. Ferry now sits just seven points behind Stewart in the championship standings, and at this time Stewart's condition isn't fully known. Word is his knee went back in place and the pain subsided, but pending an MRI, anything can happen.
Now more than ever, that's the motto for this series.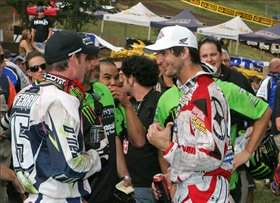 Windham accidentally handed Ferry the overall when he mistook the white flag for the checkered and slowed down.