I have spent the last two days in a sweltering field in Tennessee baling hay, putting it in Parts Unlimited and Thor bags, taping them up, and then tying them to trees, phone poles, flagger stands, and anything else that a wayward minicycle could slam into around a racetrack. I have been helping set those yellow Acerbis track markers into the ground and also hanging banners on fences away from the track. I have a sunburn, a touch of poison ivy, and I'm still tired from the drive to work—a 612-mile commute in a pickup truck pulling a trailer from Morgantown to Hurricane Mills.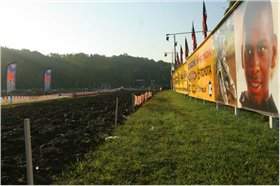 Here's what the Loretta Lynn's track will look like when it's done
photo: Matt Ware
This is one of my favorite weeks of all. I get to close my laptop, put on some Mechanix Wear gloves (my co-workers from the local 4-H club, my brother's regular work crew, and one local man on probation are
soooo
jealous) and help build the track at Loretta Lynn's. This is the 26
th
year my family has put this race on in Loretta's back yard, and it's a nice way to get back to my roots and help out a little. (And by the way, we threw some curves at the riders this time: the track is covered in sand, and the start hooks back into the woods).
So like a lot of you, I will be listening to Sunday's webcast of the Washougal National on Motocross.com (starts at 4 p.m. EDT) over the loudspeakers here at the ranch and also clicking on to the Racer X Motocross Show on Motocross.com on Saturday night for the pre-race show with all of the practice highlights and interviews—it's Weege and Ping hosting this week—and then again Monday morning to see all of the race action.
You can also keep up with the AMA's Live Timing and Scoring on both www.amamotocross.com as well as a convenient link right off of the new and much-improved www.motocross.com.
Last week's scorcher at
Thunder Valley
has been in the rearview mirror for five days and I still can't believe what a great race we saw. The second 450 moto was one of the best motocross races I have ever seen—it was right up there with the 1990 "Battle of Atlanta" SX—and no one left that place without a smile on their face. You absolutely have to see it to believe it, so tune in to SPEED on Tuesday, July 31, at 2:00 p.m.
What James Stewart managed to pull off was a man's win, as he overcame whiplash and a sore back from his Unadilla crash to gut out his first outdoor overall win since Glen Helen last year. He wore himself out in the first moto, but in the second moto he played it smart, let first-moto winner Davi Millsaps pace himself right into the ground, and then battled back and forth with Mike Alessi for the overall until he wore #800 out too.
But in the meantime there were six riders in that battle, with Tim Ferry probably the fastest and Ivan Tedesco certainly the unluckiest. He appeared to hit the back wheel of Alessi as he was making his charge at the lead, then his fuel boiled over. Needless to say, he was pissed.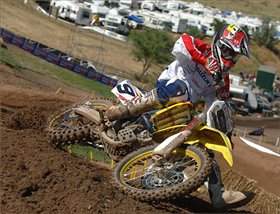 "Hot Sauce" had some hot fuel in Colorado
photo: Carl Stone
In the 250F class,
Ben Townley
had his whole family up from New Zealand—they drove this week from Colorado to Washington, his grandparents checking out the sights here in America for the first time—and he delivered them a nice "Welcome to America" present with his second straight AMA Toyota Motocross National win. But he's still tied in points with his Monster Energy/Pro Circuit Kawasaki teammate
Ryan Villopoto
, who somehow crashed twice in the same turn in the second moto.
So after seven races, and headed into RV1's home state, these two remain tied in the battle for the Lites championship. Who's fastest? Right now, on any given lap, Villopoto still looks fastest, but Townley has proven himself to be a little better in the second moto. In seven races, he's taken the second moto four times: Hangtown, High Point, Southwick, Thunder Valley. Villopoto has won the other three.

For more on Thunder Valley, go check out Racer X Canada's Steve "banned from Canada" Matthes' Observations column. It's a good read!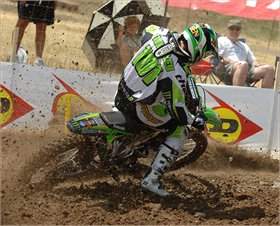 Ben has now won two in a row going into Washougal
photo: Carl Stone
As you probably saw on
Monday's Racer X Motocross Show on Motocross.com
, all four of the Monster Energy/Pro Circuit Kawasaki riders led at one point or another in the Lites race, and they ended up with 1-2-5-7 in the overall results. No wonder
Mitch Payton
has people beating the door down to get on the team next year!
With Townley headed to Honda with a 250F SX/450 outdoors deal, who's going to be on the team in 2008? Villopoto is the captain, of course, and then you have Brett Metcalfe coming back for sure, joined by Christophe Pourcel (incoming Frenchman). But what about the fourth man? Will it be Austin Stroupe? What about Canadian hero Darcy Lange?
I asked TFS for his silly season update, and he had nothing on the fourth man at Pro Circuit. But the word out of Canada is that Lange, last year's BooKoo Arenacross Champ and a surprise contender in the East Region SX Series, might have to sit out 2008 with some health issues. But TFS did have more: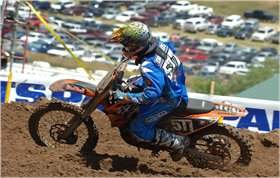 Martin Davalos had a quiet, excellent day with 6-6 finishes
photo: Carl Stone
Rockstar steps up its relationship with Suzuki, and Makita will stay. The new name might be Makita/Rockstar Suzuki, something like that. The 450 semi will have
David Vuillemin
, and if things proceed according to plan,
Mike Alessi
. The Suzuki Lites semi has
Ryan Dungey
and
Nico Izzi
.
The Rockstar semi stays and plans on having four Lites guys, but as of yet, the names are not confirmed. Suzuki still has a right of refusal to keep Michael Byrne as an option.
As we mentioned on the Weekend Window, KTM farms out its SX/MX racing to MDK, but stays very involved. The new racing effort for KTM looks like this: One semi for MDK/KTM factory team, Nick Wey on a 450, Matin Davalos on a factory Lites 250F. Maybe one other 450 guy if they can find one (Byrne?). One semi for MDK/KTM Lites team: Justin Brayton, Ryan Sipes, Matt Georke, and one more.… They will have KTM factory motors, but this is a support team, like Pro Circuit does with Kawasaki. The fourth guy here may be Billy Laninovich or Branden Jesseman.
Also, Red Bull is discontinuing with KTM and should be announcing another brand association soon. It's rumored to be Honda.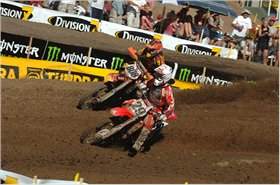 Will Andrew Short's team be "Red Bull Honda" in 2008?

photo: Carl Stone

Jason Lawrence stays put at Yamaha of Troy for 2008. It's been reported that Ryan Morais does too but that's not 100 percent. At for Lucas Oil/Star Racing, they are keeping Matt Lemoine and Broc Tickle, and will have two more. (And check out our Racer X Rider of the Week, Daniel Sani, right here.)
Butler Brothers MX is stepping things up and adding a second semi for Lites, with two guys in the West, two in the East.
Everyone keeps saying Michael Byrne may be going to Gibbs Racing with Josh Hansen, but as of Lakewood, it is not confirmed. There's also talk that Davi Millsaps may be headed to the San Manuel Yamaha team as Chad Reed's teammate—something that was whispered about Darcy Lange, but only if Nathan Ramsey retires.
And finally, Ivan Tedesco will ride a Honda. That's all.…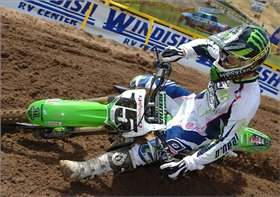 For the second race in a row, Tim Ferry should have won the overall, but the first moto killed him
photo: Carl Stone
Thanks, TFS!
If you want to see a whole different world of racing, check out the MXGP of Italy on the Outdoor channel this Friday at 10 p.m. EDT.
Speaking of Europe, the silly season over there is downright ridiculous. The latest Alessis-to-Europe rumor had Jeff going to the German Team Sturm, and according to Realmx.com, the team confirmed that "they recently found an agreement with US rider Jeff Alessi to race the MX1 GP series and the German MX-Masters in 2008."
No truth whatsoever, according to Fred Bramblett of OMS, the Alessis' manager. The report led Jeff to go the site to dismiss it.
One thing they did get right was this addition: "Jeff is the younger brother of Mike, who will announce his new Japanese team where he will replace a retired rider soon." Wonder who that could be?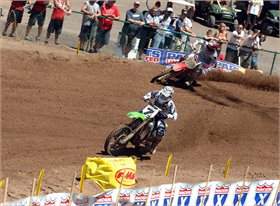 Is James headed to Northern Ireland? Um, no.
photo: Carl Stone
Then there's the
James Stewart
-to-Northern Ireland rumor:
"It was confirmed today that Kawasaki rider Bubba Stewart is in talks to appear at the FIM World Championship Motocross Grand Prix of Northern Ireland. The NI GP, which takes place on a brand new circuit at Moneyglass Demesne near Toomebridge on 18th and 19th August 2007 would be the ideal warm up for Bubba ahead of the Motocross of Nations at Budd's Creek. Roger Magee of Team Wulfsport Kawasaki said, 'We have approached Bubba through Kawasaki Europe and are hopeful that he will ride at Moneyglass in August. We've put a strong offer to him and he's considering his options. The calendar suits but should Stewart not be available we're already in talks with Ryan Villopoto as another option.'"
Here's betting the promoter of the race posted this one. James Stewart to Europe in August is as likely as Lindsay Lohan to Pakistan. And since Villopoto passed on the X Games to focus on the AMA Toyota Motocross Championships, it's pretty doubtful he would go to Northern Ireland on the off-weekend between Millville and Steel City.
Wrote DV12 on Mototalk: "It's like RC racing Namur on X-Games' weekend... Bubba turned down $200k to race a SX in Europe... I doubt he'd go to Ireland and I don't think he is a Cranberries' fan... "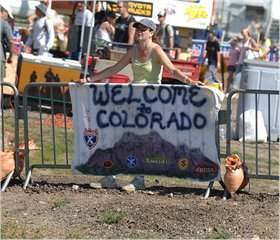 Stop painting those "Welcome to Ireland, Bubba" banners—he's not coming.
photo: Carl Stone
Changing gears, there was a Stem Cell Research Fundraiser this week that included
Ernesto Fonseca
and
David Bailey
at the UC-Irvine/Reeve Irvine Research Center.
The featured speaker was the energetic Dr. Hans Kiersted, who believes that a positive breakthrough is coming with a realistic time line for spinal injuries. My friend Tim DiNardis of Action North America was also on hand and said that both David and Ernesto talked about the urgency of moving forward with Dr. Hans' new treatment, and what needs to be done now. Only $1.5 million needs to be raised to take the next step in the labs, but it needs to come from private donations so it's unrestricted of any government restrictions. (The current administration has blocked stem-cell research on many levels.)
"The most emotional speech was from young Ricky James that left me a freakin' wreck," said DiNardis of the event, which was hosted by Jamie Little. We will have more on the event as soon as we track down some more info.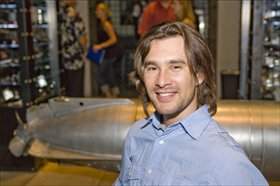 Ernesto Fonseca at the Stem Cell Research Fundraiser in California
photo: Fran Kuhn
Switching gears, here's a
Zach Osborne
update from Weege:
Zach Osborne showed up at Unadilla looking fit after taking six weeks off and losing around 20 pounds. But he never got a chance to show what he could do. Zach slipped a disc in his neck at Orlando, and then crashed in practice at Unadilla and aggravated the injury. KTM's not sure when he will be back yet, he has flights booked for the remaining rounds so it all comes down to how quickly he heals up.
And this is from DMXS' David Izer: As more is known about the severity of repeated concussions, more riders are taking the necessary time off. After consulting with a neurologist, Nick Wey will most likely be off the bike until October, which will still give him plenty of time to prepare for SX. With examples like Nick and Hepler leading the way, we hope more riders err on the side of caution when it comes to head injuries and concussions.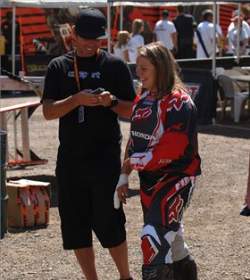 TWMX's Ryan Cooley and Jessica Patterson
photo: Carl Stone
Practically overlooked because of all the drama on Sunday was
Jessica Patterson
's iron-woman performance at
Thunder Valley
. She crashed and got her finger almost cut off, and with the help of the Asterisk Mobile Medics, she went back out and salvaged her championship with a second-place in the second moto. She showed everyone she can ride hurt.
Another big amateur race is happening out in Ponca City, Oklahoma, and you can find updates over on
www.amateurmx.com
. The big story so far is the fact that KTM's
Blake Wharton
is racing eight classes. I wonder what that cost!

It's kind of interesting who is already here at Loretta Lynn's. Tarah Gieger was in yesterday riding around on a scotter with her Red Bull helmet checking things out, but she's flying to Washougal today. Brian Rehmert brought Bubba's bus in and he's flying to Washougal. But someone not flying to Washougal is the Butler Brothers Rig driver, who dropped off their semi already.
Even Matt Walker, former Pro Circuit rider, brought his camper up and dropped it off before heading back to Georgia for a few days. Matt is here just to watch some of his riders, one including Serious MX's Mike McDade, who will be gunning for a championship in the A classes.
Tom Carson, defending plus 45 champ, is already here with the Asterisk truck. Jeff Cernic, who will have an entire battalion of racers, has been set up for a few days already. And in one of those Loretta Lynn's makes for strange bedfellow stories, we have two spots saved for plus 35 rivals Donn Maeda, editor of Transworld MX (making his Loretta Lynn's on-track debut) and Racer X Art Director David Langran, who has raced here before but is now shooting for a top 10 in the Plus 30 Vet B/C division.

The whole place has been giving an amazing makeover, from clearing out the woods for more camping in the shade, to a new starting apparatus, new shower houses, etc. They've really gone over the top here in the last 51 weeks.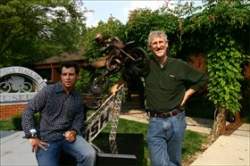 The King and Steve Posson
photo: Matt Ware
Switching gears, yesterday was a busy day at AMA headquarters in Pickerington, OH. To start the afternoon off Live Nation unveiled a bronze statue of
Jeremy McGrath
mid-Nac-Nac. The sculpture, by California artist
Steve Posson
, is now the newest piece in the AMA museum's permanent collection.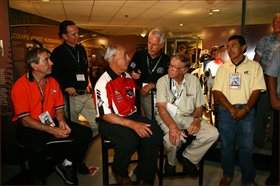 The On Any Sunday crew
photo: Matt Ware
Following that presentation was the opening of the "Malcolm!" - a new exhibit honoring none other than the legendary
Malcolm Smith
. The exhibit, curated by
Tom White
of White Brothers, puts together a visual trail of Malcom Smith from his first motorcycle to his most recent "favorite" ride. A cast of characters was on hand from
Jimmy "the Jammer" Weinert
to other cast members from the legendary "
On any Sunday
." To read more, check out this
report
by Live Nation's
Dave Prater
.
Finally, if you come to Loretta Lynn's, make sure you go check out Loretta's museum down by Western Town. It has thousands of pieces of memorabilia from her amazing career, including a motocross display. Also, stop by the Racer X booth throughout the week and get your free event sticker, pictured here.
Okay, that's it. All next week we will have daily video updates from Loretta Lynn's, as MX Sports Center returns on a whole new network: www.motocross.com. Jason Weigandt and DMXS' Kevin Kelly and David Izer will be working with the gang at GK Films to show you all of the happenings at the world's biggest motocross race, the AMA/Air Nautiques Amateur National Motocross Championships.
It's 8 a.m. and I'm an hour late for banner duty. Thanks for reading Racerhead and see you at the races!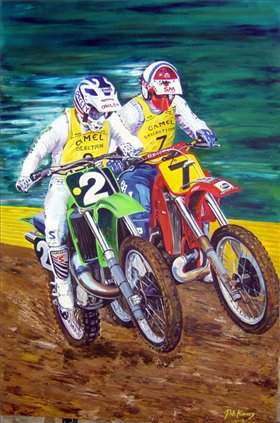 Jeff Ward and Dave Thorpe painting by Rob Kinsey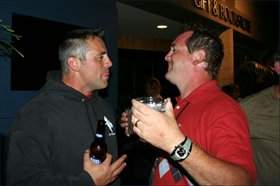 The MotoGP at Laguna Seca didn't disappoint, and although the Americans didn't fare too well, Racer X's Jason Berry got to celebrate Matt LeBlanc's 40th Birthday with the star. For complete Red Bull USGP coverage, visit www.roadracerx.com.
photo: Gregg Lowley