Hello, everyone, and welcome to the Rev Up. This is simply an amazing time a year for me, folks. I am over a decade removed from the intense training and incredible stress that last minute Loretta Lynn's training would bring me, but my body still tells me that I should be prepared for something big. As I sit here at my desk enjoying my last few hours of tranquility before traveling to Hurricane Mills my mind is racing back to all of those times when my family would be preparing for the long week at Loretta Lynn's. Dad and I would be putting on the fresh suspension and new plastic while Mom and my brothers would be filling the motorhome refrigerator and cabinets with our favorite race food. Every year it was the same scene. The anticipation, pressure, and eagerness to get it all over with isn't much different 20 years down the road as I sit here on the cusp of the onset of the 2007 AMA Air Nautiques Amateur National Motocross Championships.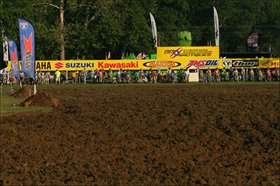 The best of the best
photo: Matt Ware
While Loretta Lynn's is my primary focus and ultimate destination, there are a couple of other events pulling at me pretty hard. For starters, we have another epic weekend of the 2007 AMA Toyota Motocross Nationals presented by FMF taking place in beautiful
Washougal
MX Park. Take a step back and look at that series and you will see the Lites division locked into a tie for the points lead, while the Motocross division is coming off of what many have called the greatest two motos in modern history. Secondly, the rest of my family will be in Indianapolis for the Brickyard 400. The emotions are still there, just in different places and on different levels. My first ideas for the Rev Up column came from feeling like I do right now. Please allow me to share this triple-headed juxtaposition of adrenaline and anticipation I'm feeling with you.
We are halfway through what has become the most incredible outdoor motocross series off all-time. Sure that's a bold statement, but I eagerly invite anybody to explain a better year to me. You kidding me? It's been full-on-four-alarm-barn-burning mayhem since the first drop of the gate at Hangtown. In his homecoming race last year, Ryan Villopoto suffered a mechanical failure. After putting in the fastest laps in Lakewood, but losing the overall, we should expect to see RV Park throwing down like never before. He'll have to if he wants to escape the clutches of his steadfast teammate, Ben Townley. Something has to give between these two. There could be a lot of shaking up with these boys as they race across the slippery high-speed hard pack of Washougal.
Over in the big boys class, we should see a James Stewart clinic. He put his balls on the tank and gutted it out last weekend. He probably didn't have to, but he did it anyways. I really have to hand it to him for swallowing his pride and soldiering through those two motos. James hates it when Carmichael passes him. How do you think he felt when Millsaps and Alessi went by? It's really heated up behind him with Timmy Ferry, Ivan Tedesco, Andrew Short, and the aforementioned 'Saps and Alessi all pouring it on. I don't know what happened to KW and Langston last weekend but they should both be really strong this time around.
And wait…what's that? Bubba Scrub warning! You know that little table top before they grab gears up the long hill? Yep.
Loretta Lynn's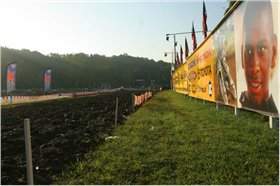 Nothing like Loretta's
photo: Matt Ware
My primary job duty here in Morgantown, West Virginia is Qualifying Coordinator for the Loretta Lynn's national. I've answered hundreds of phone calls and countless e-mails in the past three months. Now it's time to travel to the event and see it all come together. I'll be working from 6:00 a.m. till 9:00 p.m. for the next eight days, running through the substantial Tennessee heat fixing banners, carrying ice and Gatorade to the track workers and basically helping with whatever needs help. Most of the aspects of the race are the same from the first time I raced there in 1988. It's a three-moto format. The motos are 20 minutes long, and every class has 42 of the fastest amateur motocross riders in the country watching the gate fall. I'll save you the sappy drama this time. The event in all reality is very simple. Loretta Lynn's is the turnpike to motocross success. There are many exits and intersections along this road, but the statistics prove that graduating at the top of the A classes mean your pro career will begin inside the comfort of an 18-wheeler. But the real power of the events is watching the kids climb the ladder to that ultimate event horizon.
Brickyard 400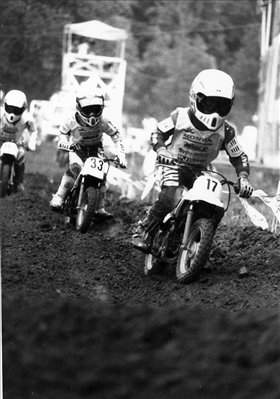 Clint Bowyer (33) went from the 10 Commandments to the Brickyard
photo: RX Archives
Anybody that has met me knows that I carry a fairly annoying amount of pride in my walk. When I sit back and look at what is going on this weekend it puffs my chest out and forces my lower lip into a proud frown. Two years after my last race at Loretta's I was printing
James Stewart
's #1 jerseys for
Fox Racing
. That same year I picked
Tommy Hahn
out of the middle of the pack in the 65cc class. Makes me smile to know those boys will be taking care of business over at
Washougal
Sunday afternoon. On the same day my two little brothers will be over at the infamous Indianapolis Motor Speedway staring down the best stock car drivers in the world. Last year Clint started on the front row and finished fourth. I wish I could be there to see him go again this year. It's okay, though, Casey will be there watching with his arms crossed making sure there ain't no bullshit. Hey, Clint's a grown ass man and he doesn't want or need any of my help. But it torments me when I can't be there to help him in case he did. I'm just proud of him, that's all. Indianapolis is the most historic race track in the history of auto racing and the Brickyard 400 is the second biggest race of the year for the Nextel Cup drivers. I'll be a nervous man Sunday afternoon.
But the thing I am the most proud of is the job I get to begin tomorrow morning. It's a tremendous honor to get to help out the Coombs family with their race at Loretta Lynn's as it helped shape the lives of my family. Hell, regardless if he wins or finishes last at Indy Clint said he is flying in on Tuesday just to watch a couple motos and fill his nostrils with that familiar 32:1 dirt to sawdust mixture on the track. Everybody that grew up there always goes back. I just can't wait to get there and work up a sweat tomorrow morning. It's going to be an amazing week.
Thanks for reading, see you next week.