It was a green weekend in Colorado. All four of the Racer X/Moto Tees Holeshot recipients were aboard Monster Energy Kawasakis, as well as both overall winners. Thunder Valley is a HUGE challenge for mechanics, as they have to deal with the altitude as well as the rich soil on the uphill start stretch, which leads into a tight right-hander. Here's how the races started out:
Lites
In the first Lites moto it was Chris Gosselaar getting his Monster Energy Kawasaki across the Racer X holeshot line first, barely edging out his teammate, Brett Metcalfe, and SoBe No Fear/Samsung Honda's Josh Grant. The good start helped Goose on to his best finish of the 2007 season—a seventh overall.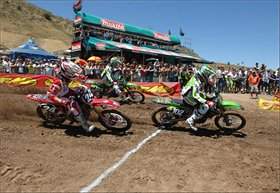 Lites - Moto 1
The second moto saw the defending Lites champion
Ryan Villopoto
come across the line first, and it looked as if RV was on his way to a 1-1 sweep till he lost his front end in the same corner two laps in a row, handing the win to his teammate, Ben Townley. It was Villopoto's fourth Racer X Holeshot of the 2007 season.
On a day when he needed them the most, James Stewart's Monster Energy KX450F pulled through in the high elevation of Colorado, earning him both Moto Tees holeshots and an extra $500 for his efforts. In the first moto he beat out the Team Honda duo of Davi Millsaps and Andrew Short, but then faded back to fourth as he struggled with the neck and back injuries he sustained at Unadilla.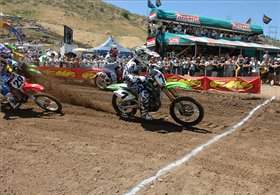 Motocross - Moto 1
After almost sitting the race out, James got a pep talk from his father Big James, then went out in the second moto and beat out Millsaps and Butler Brothers/DNA/BTO Sports'
Jason Thomas
to the first turn, then somehow gutted out an overall win with his 4-2. These two holeshots brings Stewart's total to six so far this season.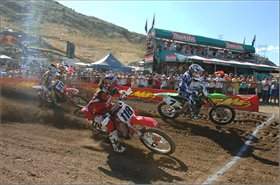 Motocross - Moto 2
Hangtown Holeshots
Lites
Moto 1:
Josh Grant
Moto 2: Ben Townley
AMA Motocross:
Moto 1:
James Stewart
Moto 2:
Davi Millsaps

High Point Holeshots

Lites
Moto 1: Ryan Dungey Moto 2: Josh Grant

AMA Motocross
Moto 1: Davi Millsaps Moto 2: Davi Millsaps
Southwick Holeshots
Lites
Moto 1: Ryan Villopoto Moto 2: Ryan Dungey
AMA Motocross
Moto 1: James Stewart Moto 2: Ricky Carmichael
Budds Creek Holeshots
Lites
Moto 1: Josh Grant Moto 2: Ryan Villopoto
AMA Motocross
Moto 1: James Stewart Moto 2: James Stewart
RedBud Holeshots
Lites
Moto 1: Josh Grant Moto 2: Ben Townley
AMA Motocross
Moto 1: Mike Alessi Moto 2: Mike Alessi

Unadilla Holeshots
Lites
Moto 1: Ryan Dungey Moto 2: Ryan Villopoto
AMA Motocross
Moto 1: Mike Alessi Moto 2: Davi Millsaps
Thunder Valley Holeshots
Lites
Moto 1: Chris Gosselaar Moto 2: Ryan Villopoto

AMA Motocross
Moto 1: James Stewart Moto 2: James Stewart