Monday Conversation: James Stewart
James Stewart just had the toughest outdoor national win probably of his entire career, and it wasn't because of Ricky Carmichael. Stewart was riding hurt after getting carried off the track just one week ago at Unadilla. The first moto took such a toll on him he would have just skipped it, but that would have handed the series lead to Tim Ferry, and Big James Stewart reminded James what champions do. So he got back out there and took a beating, which he won anyway.
This Monday Conversation happened a bit differently. When James had some time to rest, he agreed to go over the day and catch up on things. His voice was tired, he had trouble relaxing back in a chair, and he could hardly move his neck. He's a wreck, but he still just won a national.
Racer X:James lets start with how are you feeling? You sure look tired.
James Stewart: I'm not necessarily tired, but I'm just like hurting right now. My body is killing me; my neck and my back and my arms. It was really tough on me. The altitude is tough already and it's tough on endurance. I just couldn't stand up anymore. My neck and all was so painful, every time I would hit some bumps I would grit my teeth. If you were here at the race you would see how tough this track was.

I did see you coming into some turns letting off really early on a downhill while leading; is that what you mean?
I was just really struggling on downhills, and especially on hard g-outs in the corners. Also any time the bike would come up towards me and I would have to hold myself up. I just had my neck in tension the whole time. In the first moto it just locked up on me. I couldn't do anything. My hands went numb and I was just trying to ride it out.
In the second moto it was a little better until a little past halfway and it started doing the same thing. I was like, 'I am up here now, I better see how long I can run.'
Wasn't there a point in that first moto when you went from first to fourth that you said "Shoot, I just don't want to be here right now?"
I don't like getting passed but I knew the circumstances, what it was. It wasn't like getting passed on a 100 percent day. If I felt like I was 100 percent and those guys would have passed me, I would be a lot more bummed than I am now. I am just happy to finish both motos. Honestly, I still can't believe I won the overall. The way I was coming in, and being carried out on a stretcher last weekend, I can't believe it.
So your injury then is a general whiplash-type injury, neck stiff and all that?
Yeah, it's like a bad whiplash, nothing else. My hip was a little sore. Anyone that has been in an accident and slammed their neck like that knows what it's like.
What is going to happen next week?
Just a lot more therapy. I am actually excited about going to Washougal. The last two weekends have been way too tough. I just want to get back to the way I was riding at RedBud when I was racing Ricky, and get ready to race him at Millville.
You said in the press conference that your dad talked you into going out for the second moto.
Yeah, I wasn't going to go. I was in that much pain that I didn't want to go. He just said, "You have to look at the championship. Chad did it in supercross. You did it in supercross. Any true champion always has adversity. You have to push yourself through it." He was just telling me that.
If he wasn't here, I am pretty sure I wouldn't have gone. I believe in my speed and endurance enough that I can still win this championship without this weekend, even though I would be down a few points. But, this definitely helps out. I gained a few points on Timmy today and kept the same points on Andrew.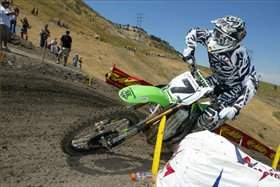 Stewart gritted out a 4-2 for the overall

photo: Steve Bruhn

About this track thing, backing up to the supercross banquet you mentioned you think the nationals should have smoother tracks. We have seen some debate.
I really wanted to help where, like this race, we had a lot of guys battling. I just want it to be fun. That is what I meant on that. In the last few races, I have sat back and just enjoyed the races, and stepped off the program a bit.
Do you mean like skipping Saturdays?
Yeah, well there is a lot of stuff going on with Saturdays. For me, it is nice to be home an extra day, but when I go to the races and things happen like they did at Southwick, it really bums me out and it makes me wonder why – why am I going out there on Saturdays? For the fans. Then I have a guy hanging over the fence flipping me off, how does that make me feel - when I don't have to be there? So I decided to just come in on Sundays. That is just a few fans around the country and stuff, but the other reason, I felt if I had that extra day off, it would be more motivating going into the weekend, instead of doing all those motos, flying on Friday, practice on Saturday, race on Sunday, fly home on Monday. I think it helped me. I don't think I lost anything on it.
Thanks for the time and rest up!
Thanks, Steve.