Kawasaki/Racer X Race Report
Round 7 of the AMA Toyota Motocross Championships presented by FMF was a high-altitude scorcher, the races were awesome, and the points so close at the end that even a calculator wasn't enough. After a minute or two of checking and re-checking, Stewart was confirmed the overall winner of a three-way tie for the win with Red Bull KTM's Mike Alessi and local favorite, Team Honda's Andrew Short.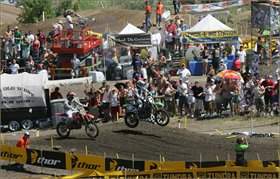 Davi Millsaps caught and passed Stewart and went on to win his first-ever AMA Motocross moto
Stewart actually won the overall with a 4-2! It was that mixed up.
Stewart wasn't really sure if he could ride at all, but he went to Lakewood intending to if he could. He was still very sore from a whiplash injury from the previous weekend at Unadilla.
In the Lites class, Pro Circuit left a pretty big mark, and it was green. All four of Mitch's Monster Energy/Pro Circuit riders had the lead in one of the motos at least once. Chris Gosselaar got the holeshot in moto 1, led just under a lap, and Brett Metcalfe took over. Villopoto took over on lap four and led the rest. In moto 2, Villopoto got the holeshot and fell twice, handing the lead to Townley.
This was Lakewood's third time hosting a round of the series. The track gets good reviews from riders since they haul in a lot of sand and dirt. The air is thin and it takes planning to do well here, and it can be very hot. This was a hot one, with temperatures Sunday reported at 100 degrees F.
Kawasakis in both classes did well, with Stewart taking the overall, Ferry winning moto 2, and Pro Circuit painting the Lites class green. Honda guys were prepared too. They even had a high-altitude test day to get ready. Suzuki had a day to forget with Dungey pushing his bike back in moto 2, and Tedesco high-siding out in moto 2 while challenging Alessi for second. Yamaha's guys were all struggling except Yamaha of Troy's Jason Lawrence in Lites.
In Lites moto 1, Chris Gosselaar took the first holeshot, and he was passed by Metcalfe, who has been out injured most of the year and was back strong. Josh Grant was after him, and a few spots back, Townley and Villopoto were going at it. Villopoto rode like he wanted to get to the front before the end of the first lap, trying aggressive moves, slamming outside lines, and doing a daring downhill triple to make a move on Townley. The two rubbed a little, and joked later that Mitch told them to just race fair – so they did! The track was a little wet from watering in the beginning, so it make Villopoto's aggressive moves to get up there look even more on-the-edge. He slid off the track once, and got back on still charging.
Lawrence fell on the first lap and had to charge up from way back, but he still came back up to 7th.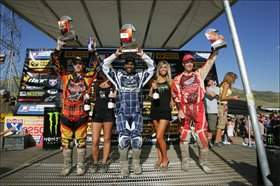 These guys left nothing on the track
Townley, with a big showing of family here to watch this race and the net, crashed with about two laps done when he went off the track and hit a haybale. He said it had a Monster Energy cover too. He made it back to second.
In moto 2, Villopoto got the holeshot with Townley right behind him, and the two started to check out. Josh Grant and Lawrence were again strong and were third and fourth. Villopoto fell one time and Townley took over, then he fell a second time in the same place.
Townley cruised in and slowed down to wave a lot (hey, family in town) and the podium went Townley 2-1, Villopoto 1-2, and Grant 3-4.
In 450s, Stewart had control in the very beginning and he stayed out front for 10 laps. His injury from Unadilla took its toll, limiting his neck movement and how hard he could hang on. His hands were going numb, and Millsaps put on a charge for the lead and started catching up. The two had a good battle and eventually Millsaps wore him down and got by, then Short and Alessi passed him too.
Stewart said later he wasn't going to go back out, but his dad Big James got him motivated to tough it out, and he was back for more.
Millsaps led four laps of moto 2 before going backward. Stewart was second, then he took over on lap five, and further back Alessi was charging up, and so was Ferry. Short was in third or second most of the time.
With the finishes mixed up and the racing close, as moto 2 was at the halfway point, the overall winner was up in the air. The order was Stewart, Short, Alessi, Tedesco, Millsaps, and Ferry.
If the music would have stopped right then, the winner would be Short with a 2-2. But Alessi would pass Short, and then he actually caught and passed Stewart a couple times, but Stewart found a way back around. If Alessi could make a pass stick, he would have the overall. Just when this was going on, Ferry came through and passed them all to win the moto, shuffling everyone's math once again.
Tedesco was pressuring Alessi too, but he lost the front in a rut and high-sided.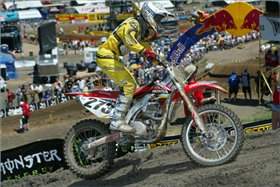 Ohio privateer Gavin Gracyk went 6-10 in the AMA Motocross class
The racing stayed close up front, and no one wanted to lose! Ferry's moto win didn't help him since his first moto was a charge from the back to 11th.
You could hear at the podium many times "nothing left on the track" and that was accurate. Stewart, Alessi, and Short all tied with 40 points each, with the overall going to Stewart for the best second moto. All of them looked beat on the podium and in the press conference.
Stewart obviously wasn't 100 percent and he said he was surprised to get the overall. There were places he had to roll into turns because the braking bumps were too hard. Still he toughed it out, just like he did in Vancouver with an injured ankle.
Lakewood was hot and tough, but strong privateers in the top ten were David "not gonna be privateer much longer" Vuillemin (8-5), Josh Summey (7-7), and one of the summer's cool stories, Gavin Gracyk (6-10) which moved him from 11th to 10th in points. Gracyk is actually getting to the races with help from Cycra and fans on the message boards.