450 Words: Thunder Valley
Has there ever been an AMA Motocross race that saw a half-dozen riders battle one another for a moto win—let alone three guys tie for the overall? One might have to go back to New Orleans in the mid-1970s, when the AMA 500cc National MX Championship was decided between a whole slew of legends: Weinert, Lackey, Semics, Howerton, Grossi, etc. Sunday's AMA Toyota Motocross race at
Thunder Valley
Raceway was simply amazing. It had drama, intrigue, suspense, and action everywhere—and last week's winner wasn't even in the mix! Too bad they all aren't like this…. though maybe someday they will be.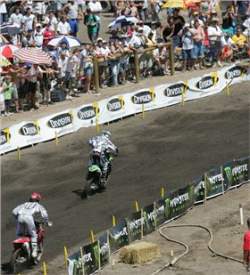 James gutted out an overall with a 4-2
After the first moto,
James Stewart
was the last person pretty much everyone on hand thought would end up as the overall winner. It was obvious that he was hurting from the way he started going backwards in the second half of the moto. First Millsaps, then Short, and finally Alessi went trucking by the struggling #7 in the heat and altitude. Everyone who pegged Stewart as an instantly dominant force was left scratching their heads.
Up front, Millsaps showed new life in a summer of struggle, and when he grabbed the early lead from Stewart in the second moto it looked like it was finally his day. But when he couldn't shake Stewart, and Short and Alessi drew up behind the Kawasaki all waiting for a chance to go past Millsaps, it was obvious that this one was going to be crazy.
Add the veterans Tedesco and Ferry—the two fastest riders on the track in the second moto—to that mix and you have one of the single most exciting motos in AMA Motocross history. It wasn't a Ricky-vs.-James battle to the end; it was better.
As you probably know by now, Stewart somehow gutted out the overall by holding on a little longer than Alessi and Short—both of whom missed a golden opportunity to win their first big-bike national—and collapsed on the ground after the finish probably not realizing he had won. He was concussed, dizzy, and his neck and back hurt from whiplash. But when he dropped down against the fence in the only shade he could find—it was provided by the umbrellas of his team on this scorching hot day—James should have felt like a champion, because he damn sure rode like one.
Come to think of it, they all did.