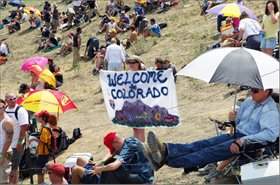 Head to the mountains
Hello, everyone, and welcome to the Rev Up. Alright, it's time to head to the mountains! The third running of the
Thunder Valley
National is right around the corner and this is shaping up to be the biggest one yet. Nestled into the side of one of the many mountains that lie just to the east of the Rockies, the Lakewood track has a creative layout with a ton of elevation changes, plus good dirt. No matter, this is one of the most challenging races of the season. In fact, it's an entirely different race altogether, what with the element that the boys will be dropping the hammer at the starting line at around 5000 feet above sea level. The thin air starves both the machines and the riders of power. It is absolutely imperative that your race bike is adjusted to perform at the crazy high altitude. Although, as good as you get the bike, it simply won't be as fast as it was at sea level. Thus, the previous Lakewood rounds have seen quite a few bike problems. The engines are sucking for air then get hot and lose power. It isn't much better for the riders who are all acclimated to taking in deep breaths of sea-level air. The first year I went I was breathing hard after walking up the hill from the parking lot. The first thing I thought was, 'Whew, busting out 30-plus-two on this rough, rutted track would be gnarly….' But hey, that is why these boys make the big bucks. We'll see who really has the juice this weekend.
Both classes are coming off an ultra dramatic weekend and the path to the championship narrows as it travels through Colorado. Let's get it up. Every round of the 2007 AMA Toyota Motocross Championships presented by FMF have been absolutely epic. Let's get Revved Up why this one will too!
Lites
Coming into the series there was some chatter about a budding rivalry between Ben Townley and Ryan Villopoto. Surprisingly enough, there has been almost no drama at all between the two incredible Monster Energy/ Pro Circuit riders. Ah, but as they ride into the halfway season in a dead heat for points supremacy, well, it's on now and the clean cut team work we have seen thus far will be put to the test. Townley's grandparents will be making the long trek to watch him race in America for the first time, so he will be riding with a little extra. Meanwhile his teammate is coming off an unfortunate DNF. I tell you what, it wasn't easy for RV Park last year and 2007 isn't giving him any gifts either. He was down, then charged to a nice points lead, just to see it cut down with a freak mechanical failure. The heat is certainly on now.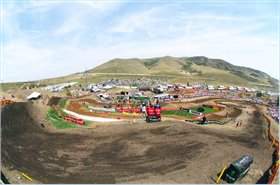 The view from above
Behind those two animals I see
Ryan Dungey
with the best opportunity to be the next race winner of the series. He's been close a few times and should be fully recovered from his nasty get off at
Red Bud
. Then again,
Josh Grant
and
Jason Lawrence
have been hammering away all summer and with the exception of Grant's win at
High Point
, those contenders haven't been given too many gifts. With mechanical failures being a big, big issue this weekend, there is a whole lot that can shake up. And don't forget that
Broc Hepler
wasn't that far off last weekend after missing seven months of riding. The Iceman might cometh.
Motocross
Somehow, Ricky Carmichael is still clinging on to a 16-point lead in the premiere division and as he heads, oh, well - oh yeah he isn't racing! Well, he didn't race last week either and he is still holding strong in the points lead. I wonder how that sits with the 15-time champ? I mean, surely that million-dollar bonus is sitting on his shoulder and talking into his ear, right? Hey man, when he received news that Stewart hit the deck last weekend it might have seemed like a foregone conclusion that the GOAT would give the title a second thought, but he didn't—he's sticking to his guns and staying home.

But I digress, James Stewart should be able to get the job done this weekend after feeling it out on Saturday. But if he doesn't, look out, because it will definitely be on. If James doesn't score any points this weekend, that would put the top seven super close together in points. Hey man, things always get weird in this class. Remember when RJ lost the 1988 title when his engine let go at Lake Sugar Tree? How about when RJ lost the '82 title here in Colorado when he crushed his wheel? There is still a long way to go and if things don't sort themselves out this weekend, the month of August could get really, really interesting.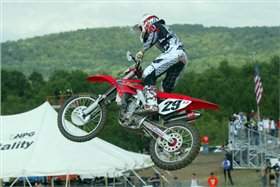 Homecoming
But for now I want to put in a big callout for Colorado's
Andrew Short
. The factory Honda rider has had a pretty solid season and is currently resting comfortably in fourth place points, a scant seven behind thrid place
Timmy Ferry
. Short always rides well at Lakewood and he has a chance to go out there this and pull off the biggest win of his career. Hey man, nothing makes a guy twist it harder than riding in front of his hometown friends and family. Go ahead and marinate that fact that said win could make him the points leader and that boy will be ready to eat. This is all hypothetical, of course. Ricky isn't racing and Stewart holds a 21-point lead over his teammate Ferry. But Stewart's inconsistency has forced us to play devil's advocate with him this weekend—if he's still feeling woozy from last Sunday morning's crash, it may blow this whole title chase wide open. Needless to say, a lot of people will have their eyes on him when Saturday practice fires off.
It should be another great weekend of outdoor motocross. Cute girls, cold beer, and good weather are all indigenous to Colorado. The only thing that missing is air! It will be interesting to see which bikes and which riders can get enough to win.
Thanks for reading, see you next week.