Bench Racing Ammo: Bubba at 'dilla
Throughout the office this week, we've all been rehashing this past weekend's event at Unadilla, trying to pick out a cool and/or unique topic for our Motosport Outlet Bench Racing Ammo feature (which if you haven't noticed, we've moved from Tuesdays to Thursdays.) DC then fired out this weird anomaly: From 2002 to 2004, in his first three seasons on the AMA professional circuit, James Stewart never lost a moto at Unadilla on his KX125—even against the four-strokes! However, from 2005 to now, he has not actually finished a moto. In fact, the last two years he has failed to make it out of the first practice.
James Stewart's Unadilla Careeer Results
2002 – 1-1
2003 – 1-1
2004 – 1-1
2005 – 29 - 40
2006 – 40 - 40
2007 – DNS - DNS
Forget about the Racer X cover curse—It's Unadilla that's got James jinxed!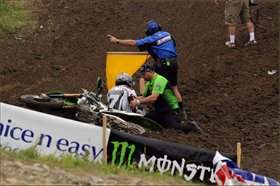 Stewart's bad luck at Unadilla continues...
photo: Paul Buckley
It's also interesting to note that this past weekend neither the first- or second-place rider in the AMA Motocross standings scored any points. We all know that the current leader,
Ricky Carmichael
, has chosen not to race and with Stewart crashing, we figured this would mark the first time in a while that this has happened….
Then DC dropped this tale on us:
Back in 1985, when the AMA was still holding three different championship classes -- 125cc, 250cc and 500cc -- the 125 title was wrapped up early by Team Honda's Ron Lechien, and the 500cc title had been put on ice by Yamaha's Broc Glover before the final round of the series at Washougal. However, the 250cc title was up for grabs between Kawasaki's Jeff Ward, Honda's Johnny O'Mara and Yamaha's Rick Johnson. So Honda took the drastic step of putting both Lechien and David Bailey -- the 500cc runner-up to Glover-- in the 250 class for the last race in the hopes of helping O'Mara catch Ward. So Yamaha responded in kind by sending Glover into the 250 class to maybe help Rick Johnson's longshot at the 250 title…. At least I think that's what happened.


"I rode the 250 to help Johnny—Honda wanted us all in there!" said Ronnie Lechien this morning when I called him at Maxima to see if he remembered it the same way. "The class was stacked, and it was kind of dusty too. Something happened to me in the first moto, but I think I came back and won the second moto. It didn't matter—Johnny won the overall, but Wardy still got his title."
One last question for the Dogger: I told him I would give him $10 if he could tell me who won the 500cc that day.
"Phil Larson!" He yelled. Nope.
"Goat Breker?" Nope.
When he finally gave up, I reminded him that with the first and second-ranked 500cc out, the door was open for Yamaha privateer Eric Eaton, from Tacoma, WA, to win his one and only national in the 500cc class at
Washougal
, and Suzuki's A.J. Whiting took advantage of Ronnie's absence in the 125 class to win his one and only national that day.