Welcome to the Shift Number Cruncher. This is a number that just won't go way! While we have already crunched this week's number in the past, since doing so, it has come back to be featured prominently in almost every aspect of the sport right now, as DC recently pointed when we asked him what numbers are hot right now. "Have you thought about all of the 101s kicking butt right now?" It didn't take long to stockpile a downright spooky amount of riders and refrences akin to the one-oh-one. Here's why.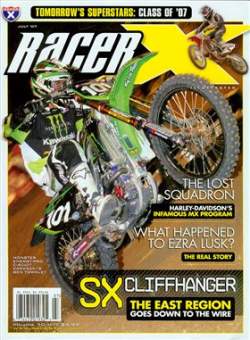 Ben Townley
Ben Townley
was joking around in the press confrence after
Unadilla
and told David Pingree that he needed to stop running the #101. You have to admit, the number has been pretty good to BT101. He had some bad luck in the supercross series early on but since then, the digit has helped him earn the east coast champonship, and as the series heads to Lakewood, CO, he is now tied with his teammate for the points lead. Ping should have challenged him to a supermoto race with the victor getting exclusive #101 ownership.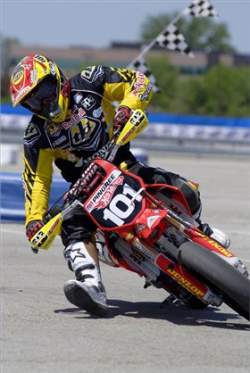 David Pingree
photo: Chris Hultner
Ping
is trying to take care of business over in the AMA Supermoto Lites action. Coincidentally, he is also tied for the points lead in the AMA Supermoto Lites class, only his foil is a kid named Brandon Currie.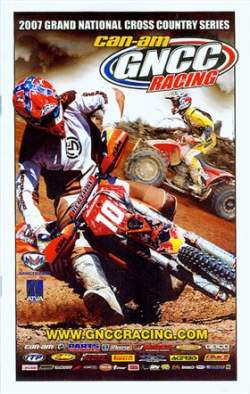 David Knight
David Knight
is a stud. The Weege interviewed him before his first Can-Am GNCC event of the year and he was quoted as saying, "I feel pretty good. I didn't come here to win today. I came here to dominate." Knighter, as he is called, is also a huge "
Dukes of Hazzard
" fan and runs a General Lee-like design on his helmet, although David has replaced the Confederate stars with his native Isle of Man emblems. He's now leading the Can-Am GNCC Series wearing #101.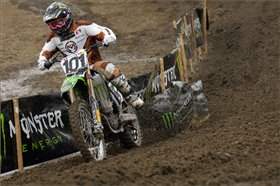 photo: James Lissimore
Oh wait, it gets better. This came to us from Danny Brault when we sent out the A.B.P. on 101: "Monster Energy/ Cernic's Kawasaki's
Paul Carpenter
is very close to winning his first Canadian National Championship. Carpenter has won three overalls, five motos, and has a 66-point lead over Marco Dube in the series. With three rounds remaining, all Carpenter needs to do is be consistent. It would be the first time six years that an American has won the MX1 championship. The last rider: Doug Dubach in 2001." Paul's number? 101.
Racer X
advertising agent Jason Berry gets pretty high on his horse when he talks about his boy
Tommy Searle
. Wearing his Manchester United shirt and speaking with just a "bit" of a biased tone in his English accent, JB claims "'Tommy Boy' is going to smoke the world at the Motocross of Nations then come to America and take the Lites series by storm in 2008." Not too sure about that, but it would make for a cool story. Searle is currently ranked fourth in the MX2 World Championships, wearing #101.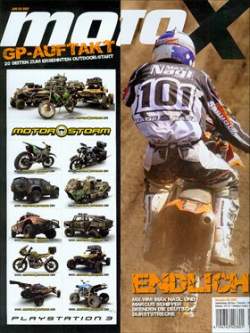 Max Nagl
This is Germany's
Maximilian Nagl
. "Max" is currently holding down 15th in the MX1 class across the pond, but the kid started the season as a Cinderella Story when he won a few big internationals with Stefan Everts himself offering the tutelage.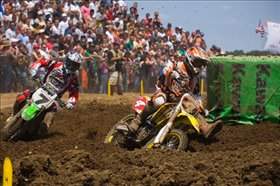 RC got win #101 at RedBud
photo: John Hanson
Ricky Carmichael
wore #101 the last time he rode (and won) the Motocross of Nations. It was in Ernee, France, September '05. But check this out: RC just stepped out of the AMA Toyota Motocross Series with his 101st MX win at
Red Bud
. That number also matches fellow retiree Stefan Everts' GP total of 101 wins. No one is ever going to break either of those records (though RC may push it to 102 at
Millville
…)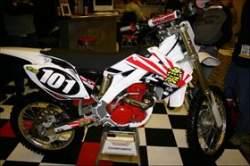 Mugen Honda
photo: DC
Pretty cool that Throttle Jockey brought out this super cool retro #101 Mugen Honda to the event that Carmichael earned his 101st outdoor victory. The 101 is of course dedicated to Johnny O'Mara's pairing with the famous machine in 1980.
(Editor's Note: In a strange coincidence, Ben Townley called the Racer X office just as we were getting ready to post this Shift Number Cruncher. He wanted to tell us that he had personally challenged Pingree to a run-off for the 101: "We will do a 30-minute motocross moto, then a however-long-they-do-it Supermoto race, add the times and see who gets to keep the 101!" Ping, the ball is in your court!)
There are other old school 101s, including Mickael Pichon, Mark Barnett in his '89 Winter-AMA comeback, and even Johnny O' again in the mid-'90s, but this dedication to the 101 is about it's current domination. If you can think of any current associations with #101 please send them to me and andy@racerxill.com.