Before the Motos: Thunder Valley's David Clabaugh
Thunder Valley MX, just outside of Denver, hosts Round XX of the Nationals this weekend. We caught up with the man in command this weekend, David Clabaugh, to discuss what's new for the third installment of his National. For more information, check out www.mxthundervalley.com.
Racer X: Tell me how you got started, David?
David Clabaugh: I was a racer, and then I got too old to be competitive, but I wanted to stay close to the industry. The city was running this track, and they were actually thinking about closing it. I approached the city about doing a long-term ground lease. So, basically, they were happy to have me take it over. This was about 1998. I had promoted races for a landowner at a different track on the east side of Denver for about three or four years prior to taking over Thunder Valley.
It's interesting that a city would run a dirt bike track.
Yeah, it was actually called Lakewood Sportcycle Park, or something close to that. Actually, the track used to be about two miles from here. That's where they had the first AMA National. When they opened that track, probably '74-'75, a bunch of people from town came to check out the facility. I was a XR75 rider at the time, and I was the mini-bike rider who demoed the track for those people—and the mayor—that day. In 1986 it moved to where it is today. So, the city ran it from '86 until '98. The track may have sat idle from about '90 to '94.
What kind of hoops did you have to jump through to go from local races to getting your own national?
Well, I just kept improving the facility, and I kept trying to get bigger type of races. Like, I can't get a national, so I'd hold a four-stroke national. So, I held three or four of those, and at the same time I was going to a lot of the other nationals. And during that time, I met Tim Cotter (NPG announcer), and he introduced me to the right people to talk to as well as show me how the thing works. When I started out, I would go to the races and work on the banner crew with John Ayers (of Moto Tees). Probably for half the nationals I pounded stakes and hung banners. Then I kept going and learning things. So when the opportunity to get a national came up, everyone knew who I was and knew I was involved at some level. They also believed I was a good candidate because I had a lot of experience from what I was doing.
In hindsight, how do you think your first national went two years ago?
Umm, it went well. There are always things that come up that you don't plan for. One thing was I had more cars than parking spots! We scrambled around. Fortunately, Bandimere Speedway [dragstrip] which hosts the Mile-High Nationals, is just down the street, and we share stuff. So, we just started shuttling spectators from Bandimere. Write-ups were good. And last year was better, so we're hoping that this year will be better yet.
How many local races do you have during the year?
Maybe five. We go from about the first or second week in February to about the end of October, plus we try to be open during the week for practice. And I do one indoor Arenacross in downtown Denver in the spring.
What do you different for the national than for the local races?
Well, I typically bring in a lot of sandy material. The dirt in Colorado is not the best. So, every year I brought in about 200 truckloads of sandy-dirt material to mix in with the dirt I have. And then we try to make some track changes to change it up for the guys. A lot of extra effort goes in to making the facility look manicured and pristine—picking up rocks, and mowing, and trimming.
What are some of the specific changes you've made to the track layout?
There was a chicane that led up to our biggest step-up, and it was kinda one-lined, so we added a couple of turns prior to that to make it more racing friendly. I think it will be a good addition.
Do you have a favorite part of the track to watch the races from?
Yes, probably on the south hillside where you can see nearly the whole track—that's probably the best place. And there's the downhill sweeper that gets kind of rough. And then I built a structure that holds a Jumbotron that's 25x18. Last year was the first year I brought in Jumbotrons. That works pretty cool because you can watch the Jumbotron and watch the leaders on the north end of the track, then when they come around they're right there so you don't miss too much of the action. Last year I had two Jumbotrons. They were too small, so this year I'm going with two 25x18s.
The Jumbo-Jumbotron! Even though this is only your third year, do you have a favorite moment from the past two years?
Probably last year when Ricky Carmichael said I did a great job while he was on the podium. He said he didn't know where the guy is, but he did a great job on the track.
Do you have any words of advice for the flatlanders coming up to Lakewood this weekend?
Well, it's going to be pretty warm (upper 80s), so be prepared. And, getting from the parking area to the track area is a bit of a hike, so I have about 15 golf-carts shuttling people to the top who need help. Plus, we're high-elevation [laughs] so there's not too much to do to prepare for that.
Being in a town with four professional sports teams, do any other celebrity athletes stop by? John Elway?
[Laughs] Yeah, today I got a text message from 15 of the Denver Broncos wanting tickets, so we're going to hook them up today. Somehow Andrew Short knows a couple of them too, so a few of them come out every once in a while. But, no, John Elway has never stopped by.
Do you have any sponsors you'd like to thank?
Yes, Toyota is our title sponsor, and Division 7 [national insulation contracting company based in Colorado] is our presenting sponsor, plus Red Bull and a bunch of our associate sponsors. They all add up to making this a great event.
2006 Results
AMA Motocross
1. Ricky Carmichael (Suz) 1-1
2. Davi Millsaps (Hon) 3-2
3. James Stewart (Kaw) 2-5
4. Kevin Windham (Hon) 4-4
5. Travis Preston (Hon) 5-7
AMA Motocross Lites
1. Ryan Villopoto (Kaw) 1-1
2. Broc Hepler (Suz) 4-2
3. Mike Alessi (KTM) 3-3
4. Andrew McFarlane (Yam) 5-5
5. Martin Davalos (Yam) 6-6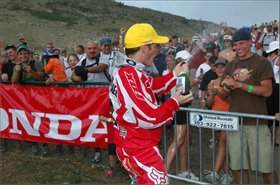 There will be a new winner in the AMA Motocross class this year!