Monday Conversation 2: Kevin Windham
Kevin Windham won his first national since 2003 at Unadilla. He had a moto-long battle with a re-charged Mike Alessi in moto 1, and rode "with the calculator on" in moto two, finishing third for the overall. It seems RC and Stewart have won every national in modern motocross history, so when RC finally got to stay home on a Unadilla weekend (for the first time in tem years), and Stewart crashed out Sunday morning, it was anyone's game! Suddenly the pits were abuzz with "who would win?" Windham likes a throttle-control track, and Unadilla is certainly that. He was ready for a good weekend, and when Stewart pulled out, he was ready for a win.
We talked a bit about this win, the track thing, and the schedule thing – topics that seem to be on everyone's minds this summer.

Racer X: When you call home tonight, what are you going to say about today?
Kevin Windham: I can't wait to call home as a matter of fact! I don't get cell service out here at Unadilla, so… Anyway, I was coming into the weekend with confidence. With James here I didn't expect to win. I thought he would be here and he is kind of on a different level right now. I don't want to take any credit from myself though, you have to be out there. I think today's racing was incredible. I won, but I think there were good battles all day long from what I could tell. It was just a good day. I came in here with the right attitude and the bike was awesome, my Sobe/Samsung/No Fear Honda was working great. That's all it takes.

That first moto you battled with Mike Alessi for practically the whole moto. You must have passed him with three laps to go.
Something like that, it was aggravating! He was riding well. I would surge on him and couldn't get around him and would let him go. When we first went out it was raining. I was getting pounded and beat up, it was brutal – rocks everywhere. It was tough. He wasn't making mistakes and he had the fast line. There wasn't a good racing line because of the water that had fallen. He was in the fast line. With about three laps to go he made a bit of a bobble and I was able to capitalize on it. That was like the only mistake that he made.

Mike has been struggling it seemed, and then he made the podium at RedBud, then after that first moto today, it's like he's a real-deal 450 guy now.
He's there. He's got a ride - that makes you a real deal. I don't know. I hear all kinds of rumors about the Alessis but I have a hard time keeping up with myself so I don't know where he is going or what their ambitions are. Are they going overseas? I have heard all kinds of crap. Yeah, he was real today. He rode really strong and was fast. I don't know how he would have compared to the two guys that didn't show up, but he rode good.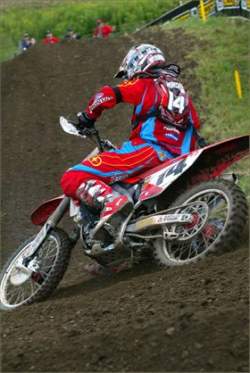 This was Windham's first overall win since 2003

In the second moto you found yourself behind two Hondas with Ferry behind you, and you said in the press conference that you shouldn't have gotten out the "overall points calculator."
Yeah, after a certain point in the race. In the beginning you don't know what is going to happen. You have to keep plugging away. Toward the end I started doing the math. I don't know if I had anything for Ferry. I think I could have used Ferry to get up to Short a little bit more. I just wish I had a little bit better second moto performance. It's been so long since I had an overall and it feels so good. They are hard to come by these days.

With Ricky and James in the mix and the results so lop-sided, it must really be hard to stay motivated to go for the win every time.
It's a different game right now. It's one that has 98 percent of the guys racing for third or better. It's disappointing. You can't ask the competition to lie down. It was tight today. It was tighter racing. People didn't really know who was going to win. I miss that. When you have Ricky and James (both there) you don't know that either; when you have just James, it's like "I wonder who is going to win this one," [laughs]. No big surprise.
That is frustrating for me - frustrating for a lot of people. I don't know the solution. I know they are trying to find ways to tighten the racing up. But the cream rises to the top and James Stewart is just a bad dude right now.

How was the track to you? This track catches a lot of hell.
Every track catches a lot of hell. There are so many people complaining about nationals and stuff. To be honest with you I hate it for the nationals. I am in the middle of my talks about possibly doing supercross-only. It has nothing to do with the nationals at all, it has to do with the scheduling, and the outside sponsors care a little more about supercross. They can take people to a nice stadium and put them inside. It's a little bit more appealing. It's in big towns and it's attractive to some of these bigger companies that bring outside money into the sport.
But, this is the heart of racing and without this it will slowly trickle away and die, and I think it will have huge consequences on the dirt bike side of motorsports.

So what decision process are you going through? You said in press you have been talking to Jeff Spencer about this.
I have considered every option possible - to not coming back, to supercross-only, to try and figure out a way to do what Ricky did and make a partial schedule on both seasons. Everything is up in the air.

I know that I quickly went away from the idea of doing nothing at all and go home and start a new life. I'll tell you what, this is my life. Where I am at right now is an area where I had to back away from the extra stuff, still do my training, but not the extra stuff, just do my job and come here and race on the weekends. That helped me a little bit. That has helped me get through what I need to do and how I finish the rest of this year.
If I go home for two months, I realize that "I am a motorcycle racer. I have to get out there and race." There is no question about that. There is no question in my mind that this is who I am and who I want to be until I just can't do it anymore. What people don't understand, and I don't want to complain, but the two weekends of supercross that we get off, those are not weekends off. You know they are not off. We are busting our butts five days a week and all the weekends, all of us. Week in and week out we are always doing something, X Games, or high altitude testing, or this or that. This is really a 42-week job, on the road.
If you asked me if I thought there were too many nationals, I would say no. If you asked about supercross, I would say no. But when you put the two together, it's too many races. There are too many.
People ask "why do you do X-Games?" It's because they are going to put us in front of 41 million viewers. Or "Why did you do McGrath's race?" Well, because I took home $185,000! Then why do the U.S. Open? Because you can win $100,000.
It's more now, like if you sweep everything it can get as high as $250K.

Yeah! It's not hard to find out why we do those. But enough is enough, and that's where the feelings come from that I am going through. The amount of racing I did last year, it was a lot.