The list was long with riders who could win the Motocross Class at
Unadilla
—but the list might only be around for this race. Once
James Stewart
crashed out in practice, the rest of the pack saw an opportunity to win that might never come around again, so the pressure was soon on. Most of the riders tried to block it out and pretend it was just another race. But after several threw away their chance for victory, there's no doubt they're wishing they had another shot.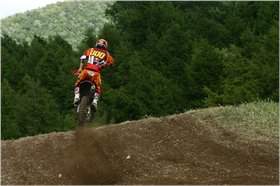 A few small mistakes cost Mike Alessi a win
First on that list is
Mike Alessi
. After a great ride at the last race at
RedBud
, MA800 took the first moto holeshot and tried roosting away from everyone, hiding behind the curtain of
Unadilla
mud and rocks. Only
Kevin Windham
was able to catch a ride behind him, but he seemed content to follow Alessi for most of the race. Just near the 30-minute mark, Alessi bobbled and Windham got past him to take the win, but Mike's second put him in position for the overall in moto two if everything went right.
It didn't. Mike didn't get the holeshot the second time around, but he was right there elbow to elbow with Windham on the first lap. Then he came into the mechanics' area with his hand up, signaling a problem. Somehow, Mike's goggles were toast after one lap, and he stopped for a new set. The Red Bull KTM team put in a remarkably quick change, but the damage was done: Mike pushed hard for two laps to try to get back in the hunt, be he was just too far back.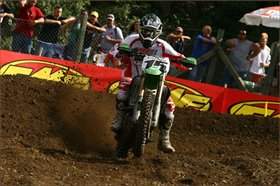 Tim Ferry's last-lap crash in the first moto ended his chances for an overall win
Tim Ferry
could have won the overall, too. A bad start in moto one left
Red Dog
fighting through the pack, but he clawed his way to third by the time the white flag came out. But when the checkers fell, Timmy was gone! Apparently he tipped the #15 Monster Kawasaki over on the final lap and dropped from third to fifth. Then he won the second moto, meaning he could have had a 3-1 to top Windham's 1-3….
Finally,
Davi Millsaps
has been struggling lately, but he grabbed the Moto Tees holeshot in the second moto and made it work for him, getting away and holding his Honda teammate
Andrew Short
, Windham and Ferry in check. A first moto fade to seventh would prevent the Duke from contending for the overall, but a moto win surely would have felt good. Until he washed out in a corner and threw it all away.
No one is sure of
James Stewart
's status for Denver yet, so there may be another chance for all of these 450 guys to get a win. But if James returns, Alessi, Ferry and Millsaps may be left thinking about what might have been for a long time.