Hello, everyone, and welcome to the Rev Up. First off, I want to apologize to One Industries and you readers for being a day late with The Rev. I'm working on having this smoke wagon rolling for three years solid and one of the only things that make a column worth it's salt is it being on time every time. But I digress; I had a really good excuse and I'll keep the instances of it being late few and far between.
Moving right along, lets roll our shoulders, shake out the arms, and do a couple McGrath claps because we have Una'effing Dilla on the card for this weekend! As one of the most history rich motocross tracks in the northern hemisphere this round of the 2007 Toyota AMA Motocross nationals presented by FMF has a lot to live up to. I think I can say with a clear conscience that this has been the most prolific outdoor series we have ever seen. Every weekend has produced huge crowds, great weather, and just off the frame racing action. I have to sigh a little as I try to fathom the fact that
Ricky Carmichael
won't be racing this time. But hey, we prepared ourselves for this last year. He made it pretty clear as to which tracks he was making the last stop at and last year Ricky made sure the Hill People knew that he loved them and he would miss them very much. But hey, the show goes on, brothers and sisters. There will be motocross after RC. Things are going to be just fine. They'll be great actually. I have a feeling this weekend is going to mirror the five rounds that have preceded it.
Speaking of the
Unadilla
fans, man, those folks are cut from a different cloth. Far removed from their lunacy of the late 70's and mid 80's, the soul of those wild bastards is still alive inside the aging, slower paced, but still hard-core fans that will line the fences atop Gravity Cavity. Let's get into it. Make sure their isn't any dirt in those goggle, throw them on, make sure their straight and lets ignite the Rev Up on this fine Friday the 13th.
Lites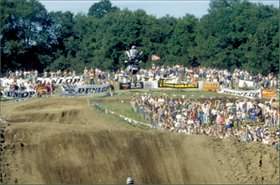 Kevin Windham busting a heelicker out of the Gravity Cavity
photo: Fran Kuhn
I was fortunate enough to make my first trip to the majestic confines of
Unadilla
Valley Cycle Park for the first time last year. While a wicked practice crash from
James Stewart
kind of ruined my goal of watching him go at it with the GOAT, the boys in the Lites class made the experience incredible. If you remember right, there was an incredible first moto battle between
Josh Grant
,
Andrew Short
,
Nathan Ramsey
,
Ryan Villopoto
, and
Mike Alessi
. The five-rider freight train swapped positions throughout the moto and when the dust settled it was Alessi taking the win ahead of RV Park. #800 was too smoked to last the second time out and RV ran away. While Mikey Boy is gone, he was replaced with a snarling Ben Townley. The battle of supremacy between the defending champion and this newbie from the land of the Kiwis has been pretty salty. In the beginning it seemed like Ben may have the upper hand, then RV poured it on. With the boys returning to the track on the tour that most resembles a GP track we might see a hell of a fight from BT101.
Behind them it's just an all out war.
Josh Grant
,
J-Law
, and Dungey have been battling all series long. Grant was really fast here last year and I'd keep an eye trained on him. If he can get out front early he might have a chance to back up his win at
High Point
. What about the return of the Iceman? Maybe factory Honda's
Tommy Hahn
is ready to show all his cards? These boys are going to put on a show for every lap of both motos, I promise.
Motocross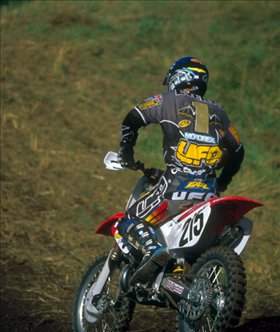 King Stefan Everts competed here back in the mid-90s
photo: Fran Kuhn
James suffered a spectacular ass-over-tea-kettle-yard-sale style crash in practice last year and wasn't able to race. This was a true shame because he really likes this track and has put in some down right astonishing rides during his tenure at the "hillacious" racetrack. James will be fun to watch this weekend. He'll be about a minute ahead of everyone else but he'll ride his hardest every lap just like he always does and put on a show for the fans.
Behind him I'll predict
Mike Alessi
to pull two more holeshots and ride to another podium. Whatever they did to that shock is working for his mental ability to ride that burly KTM450. We could see some really good racing between he,
Grant Langston
, and
Timmy Ferry
.
I'm not quite sure where
Davi Millsaps
, Windham, Tedesco, or Le Cobra stack up here. It sure would be cool to see Windham harness some of the good history he has at 'dilla get rolling. It really baffles me to imagine that just three years ago he beat RC at this place and two weeks ago
Red Bud
, well, I never really saw him. Keep the towels waving for
Gavin Gracyk
too.
So on to Unadilla we go. Rocks, Gravity Cavity, and that enormous tabletop that the boys (especially DV12) whip it on are all heading our way. If you love your motocross history then you have to be amped up for another thrilla at Unadilla. Harness the power of the memories of O'Mara running out of gas at the 1986 250 USPG and handing the win to The Hurricane who returned a year later to win the 125 class at the 1987 MXDN. Remember James pulling over and letting Reedy go by then dusting him on a 125 two stroke. But really think about all of the times #4 brought out the charge and redefined speed. He won't be there. But his ghost will be out there riding in the pack with other retired Unadilla legends like Pierre Karsmakers, Gary Jones, Steve Stackable, Marty Smith, Jean-Michel Bayle, Bob Hannah, and Rick Johnson. A lot of fans (especially the Hill People) will be there this weekend that have seen them all win. Who will they see win this time?

Thanks for reading, see you next week.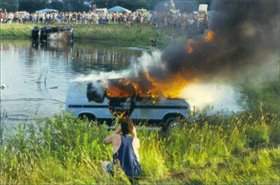 photo: Rob Harris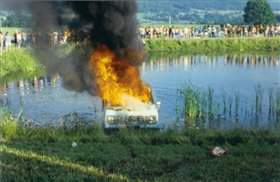 photo: Rob Harris