Privateer Profile: Justin Sipes
It seems like there are more and more brothers competing together in motocross. The Alessi brothers are possibly the most recognized but there is another duo from Kentucky that might just give them some competition in the coming years. You know SoBe No Fear/Samsung/Factory Connection rider Ryan Sipes; now meet his younger brother, Justin, who has been inching up on a top ten finish in the AMA Motocross class.
Racer X: Justin, how has your season been going so far?
Justin Sipes: Not bad. My bike blew up at RedBud while I was running in tenth; I was pretty bummed out about that. In supercross things were going well. I wasn't training much leading up to the races so I got a little tired. In Detroit I crashed out and got hurt so I was off for a while.
Why weren't you training before the races?
Well, I wasn't sure which races I was going to do, if any. So, by the time I realized I was going I had a week or two to get ready. Two weeks of training doesn't do much. But as things went on and I rode more and more I got better.
So, St. Louis was your first supercross ever?
Yeah, I have ridden on a couple private tracks but they are a lot different than the actual racetracks. It's a whole different deal when you get in that stadium. And racing on them is different.
What is your best finish outdoors so far?
My best overall is 17th right now. My best moto finish is 16th but I was running in tenth at RedBud and I felt like I could have stayed up there until my motor blew up and I DNFed the second moto. My bike started losing power on the second or third lap and I started struggling to clear jumps. I don't know what Tedesco got the second moto but I was running the same lap times as he was. It's hard to say.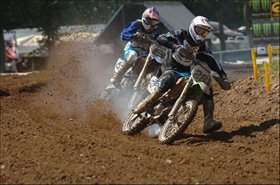 Justin was running 10th at RedBud till his engine let go

How many years older is your brother?
He's four years older.
Is it hard having him as a brother or does it make things easier?
It's good. I pretty much just do whatever he does for training. He knows a lot more about it so I just jump on the wagon and do what he does.
How old are you?
I turn nineteen next Wednesday.
Happy Birthday for next week. Anything lined up for next year?
Thanks. No, I don't have anything right now. I just want to do the best I can at the rest of these races and hopefully something will work out for next year.
Is your brother going to be back this weekend?
Yeah, this will be his first race back. We've been riding every day, pretty much.
How's your speed compared to his?
It's about the same right now. He's just coming back but I beat him at a local race we did a while back.
Have you been to Unadilla before?
I went and watched last year.
What are your goals for the last seven rounds?
I'm hoping for a top-ten; that would be my next goal. Actually, I have a bet with my buddy where I can't get a haircut until I get a top-ten. My hair is already pretty long so I better make it happen.
By the time we get to Glen Helen you are going to look like that guy from Knocked Up that didn't shave or get a haircut for a year.
Does he look like a homeless guy or something?
Yeah, it's funny. You'd better get on the gas because that isn't a good look for anyone. Where do you guys live in Kentucky?
The town is called Flaherty. I love it here.
Is there good riding out there?
Really we have just our practice track and our neighbor's track that we just rebuilt. There are some local tracks but they are really smooth and easy.
Are you totally privateering it or do you have some people helping out?
I pretty much just use the money I make from the races to get to the next one. I have some good sponsors that help a lot though.
Does your brother kick down any factory parts or are you pretty much on your own?
No, I'm pretty much on my own.
Thanks for talking with us and good luck this weekend. Get that top-ten finish so you can get a haircut.
Alright, man, will do. See ya.
Justin Sipes' Sponsors:


www.gatewaycycles.com
www.dunlopmotorcycle.com

www.ozzmods.com
XTA Motocross
MX Training