Before the Motos: Unadilla's Greg Robinson
For this week's Before the Motos, we caught up with Greg Robinson between thunderstorms to see how things are shaping up for this weekend. Greg is the ringleader of the Unadilla event team that has been hosting events in New York countryside for nearly 40 years. For more information on this weekend's race, check out www.unadillamx.com.
Racer X: How did you get started?
Greg Robinson: My father Ward purchased the property in July of 1968. He and a lot of his friends rode hare scrambles, basically. They'd take their bikes and set up a track in a farmer's field and ride somewhere. And he had an opportunity to buy this farm, so he went for it – he even quit his job!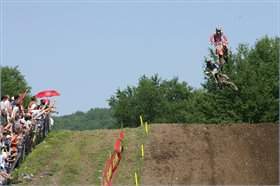 Unadilla is a beautiful venue
photo: Simon Cudby
So the goal from the beginning was to have organized events, not just a place to play-ride?

Well, 1969 was our first organized event. We had about 500 spectators at the first race. The following year we had more than 1000 and it just kept growing from there.
When was your first National?

1990 or 1991. Before that, we had Grand Prix races, pretty much – plus Trans-AMAs and Trans-USAs way back in the early '70s up until that series folded. We also ran the 250 U.S. Grand Prix. We started doing the GPs in '77 and went to about '92. There were also a couple years where we had an AMA National and a GP.

Can you compare how the GPs are different from a National? What have you seen change over the years.

The GP races were easy. It wasn't as professional as the races are today. There's not as much money involved. It was a more relaxed atmosphere. The show came to town. We had the track ready and the grass mowed and away we went.
What was your first job at the track?

Probably a lot of mowing, with tractors and Weed-Eaters. I also remember helping with the fencing and picking garbage. All that good stuff [
laughs
].
What are you duties today?

I usually have a radio on and everyone calls me when they need something. Basically, my dad is the promoter, but I've taken over a lot of the responsibilities. I make sure everything's going right on the track, and I'm coordinating the different crews with security, and the track crew, and the AMA, and the NPG staff that are here. Pretty much making sure that everything is running right.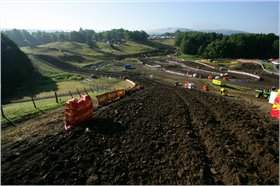 photo: Simon Cudby
How many local races do you have during the year?

We usually have two local races a year.

What do you differently for the local races that you do for the National?

Well, we have a separate amateur track. The National track is only raced on three times a year – the MX National, then two weeks later we have the ATV National, and then we have a GNCC in September.
What's new for the track this year?

Probabaly the biggest thing we did this year was leveled-out the pit area and changed the grading and drainage for half of the actual pit area. And that involved actually leveling the starting line, so there's no downhill-uphill part in our start, it's all perfectly flat. We filled in 33 feet at its deepest point. We moved a lot of material. We've changed several sections of the track—we have a new layout in the center section. And we just had a huge rainstorm, so that pretty much washed all of our new topsoil away. It's frustrating. We had it looking really nice, with some nice grading, and we had it all covered up with hay and grass growing – then we got 4.5 inches of rain! And now it's in not-so-nice looking. But, we'll have it fixed back up by the time everyone gets here.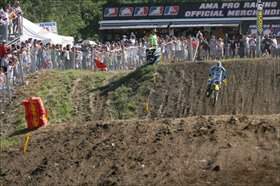 RC drops in to Gravity Cavity in '06
photo: Simon Cudby
Sounds like your work is never done.

Absolutely. The last thing you want to be doing the week of the race is to rebuild everything you just finished building the week before. But, that's the way it goes.
What are some of the new things for the facility itself?

We have a really cool VIP area. It's in a really neat spot. People who go in there are going to experience the race from a vantage point that they never have before—unless they snuck in! It's right in the old mechanics area in the infield. It's their own area - almost two acres - and it has bleacher seating. We're pretty excited about this.
Do you have a favorite part of the track?

I think my favorite part of the track is Sky Shot. They say LaRocco's Leap is the biggest jump on the circuit, which it probably is a little bit longer. But, this one is more thrilling, just because it's natural terrain – it's a natural tabletop. The best part is when they jump a snowmobile on it! This guy, Kenny Murphy, goes further on the snowmobile than the motorcycle guys. He's going to try to break the world record this year and go 200 feet. [Yes, the guy is going to do this jump on Sunday during intermission. On the dirt]. He did a little over 160 feet last year.
Over the course of the years, is there one special moment that sticks out in your mind?

Well, I think being 2007, and being the 20th anniversary of the Motocross des Nations being in America, I think it's fitting to bring it back here. We had it in 1987—the first track to have the MX des Nations outside of Europe. The first successful des Nations outside of Europe, I should say. And of course, it rained, really bad. That could be the crowning achievement of motocross. It's like hosting the Olympic Games.
Also, I just think it was kinda neat growing up and being that close to people you admired in the sport—being close to professional athletes—and having them stay at our house. We had Danny LaPorte and Dave Watson from Britain stay at my house in '82 and train before the Grand Prix. That was the year that Danny won the 250 Grand Prix Championship. You get to sit around and hang out with Ricky Johnson, Bob Hannah, or Jeff Stanton. It's great to get to know them in a different way; a way that most people don't get to see them. Everyone used to say Bob Hannah was a jerk, but he was one of the best people we've ever been around. You get to see them when they're not in front of all the people and things are more normal.
Are you going to Budds Creek for the '07 MXoN to be a spectator?

Absolutely.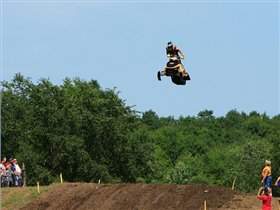 On Sunday you'll have a chance to witness a snowmobile trying to break a world record!
photo: Tom Ferriter
What are you looking forward to most when you go there?

I just want to see how much the event has changed – after hosting one and being at a few others. Just being able to see what's different. I'm pretty sure we'll win. Being on our home soil, and our home track, we'll have a pretty good shot. And I know our team will be good. I'm pretty confident that we'll bring home the bacon again. If you've never been to one it's a whole different atmosphere.
Do you race too, or have you raced in the past?

No. I rode, but never raced. Every once in a while I still ride, but I kinda had to give it up after a couple of knee operations and back surgery.

Is running the track your full-time job?

No. Actually, I'm a marketing rep for an insurance company during the week.

Do you have anyone you want to thank?

Yes. Monster Energy is our title event sponsor. We also have Nice 'N Easy Shoppe. And our presenting sponsor is Renegade Haulers.
2006 Results
AMA Motocross
1. Ricky Carmichael (SUZ) 1-1
2. Kevin Windham (HON) 3-2
3. Davi Millsaps (HON) 2-3
4. Chad Reed (YAM) 4-4
5. Tim Ferry (HON) 5-5

AMA Motocross Lites
1. Ryan Villopoto (KAW) 2-1
2. Andrew Short (HON 3-2
3. Mike Alessi (KTM) 1-7
4. Andrew McFarlane (YAM) 4-4
5. Brett Metcalfe (YAM) 5-5