Hello, everyone, and welcome to the Rev Up. Wow, another break in the schedule. Man, just when things are really rolling we take a break!
I wanted to use this week's column to go back to Red Bud and talk about some of the more prominent performances and occurrences. First off, I've been going to outdoor nationals for 15 years and last weekend was the best one I have ever seen. It just seemed like everything was firing on all eight cylinders. Perfect track conditions meets perfect weather conditions, then they get married to the most incredible head-to-head rivalry of our generation…. Wait a minute, it's happened at almost every round of the 2007 series! How lucky we are to have been able to enjoy RC and Bubba every race up to this point.
As great as this last one was, I wanted to embellish upon a couple of aspects that may not have been given their due diligence. And while there might not be a pro motocross race going down this weekend, but there is plenty to get Revved Up about. Let's twist it.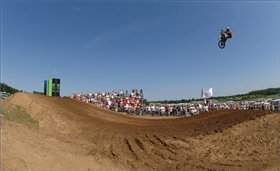 JBS
photo by Carl Stone

Right off the bat, let's talk about Bubba's effort last Sunday afternoon. The last time anybody has held off Ricky Carmichael as long as James Stewart has the past two weeks was Kevin Windham back in 2003 at Unadilla and Washougal. What was different then was the fact that Kevin was riding a CRF450 while RC was getting all he had out of that old premix burning 250. So for all intents and purposes, it's never happened! How do you beat Ricky Carmichael at outdoor motocross? You can't. Nobody has ever done it before, and now, it looks like no one ever will.

But no one told James Stewart, and he was three laps away from completing a masterpiece of an upset. Can you imagine the impossible nervous tension he felt holding back that freakish, rampaging beast for 29 minutes of the second moto with dirt flying around in his goggles? He didn't mention it until later on, but I guarantee you James was one eyeing it for most of those laps waiting for his tears to clean the grit out of his thousand-yard stare. And he didn't go ape-shit on his goggle guy, so give him credit there.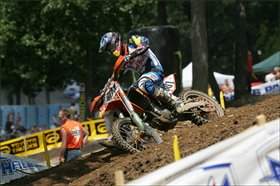 Hell of an effort from Jeff.
photo by Steve Bruhn

But hell, all excuses aside, he was doing a masterful job of holding back the relentless charge of the GOAT. It was almost like James had a spotter telling him where Ricky was at behind him. RC tried high, low, and even tried sideways a couple times and he couldn't find a way around. Both of those guys could have crashed their brains out a half dozen times. And for what? James didn't have to try to beat Ricky; RC didn't have to win either. They did it for as racer's pride. And between those two, wow, that's a pad load, Chet. Until Millville…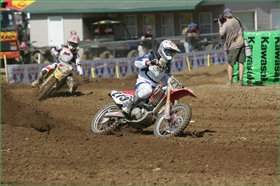 Gavin is absolutely killing it.
photo by Steve Bruhn

Mike and Jeff Alessi received a lot of accolade for their runs and with good reason. Mike looked incredibly tough out there, although I have to say that the guy that impressed me the most was Gavin Gracyk. He was really on it. Gavin was parked across the way from RC's motor coach at Red Bud and I watched him non-chalantly lean his stock looking CRF450 on his small trailer and slowly pull his helmet off shaking head after the second moto. The man had just put in a 9th place run and smoked a couple people that are making a million dollars this year. It really hit me right there: Somebody needs to pick that kid up. He is really fast; he doesn't get tired, and has a great attitude.

We've been talking about Red Bud all week, and with good reason. It was the best outdoor national I've ever personally seen. High Point 2006 would have been right beside it had James been able to race both motos. Other than that, Red Bud was tops by a landslide.




OK, guys I'm going to talk a little NASCAR here so if you're not into it just click back over to the main page. The Pepsi 400 will take place this Saturday night at the historic Daytona Superspeedway. This Saturday night is 7-7-07. I don't have to tell you the number of my favorite car. Our hometown of Emporia, KS, is commemorating the day, "Clint Bowyer Day." Which isn't a big deal except for my family, and the 28,000 that call Lyon County home. It isn't just a big day for Clint. There will actually be three Emporia natives waking up on Saturday morning with a big day ahead of them. Chris Tidwell used to help Clint with his dirt modified, and when Clint packed his bags and headed to Tobacco Road, Chris tagged along. Chris now works on Kevin Harvick's team as a brake technician and will be standing shoulder-to-shoulder with the #29 crew during opening ceremonies. Also, one of the coolest things about the opening ceremonies is the fighter jet fly-by. Few things deliver chickenskin more than an F-15C fighter plane crushing through the air over 180,000 spectators at the conclusion of The Star Spangled Banner. The man holding the stick of said fighter jet will be none other than Emporia's own Chad James who was in my graduating class of 1995.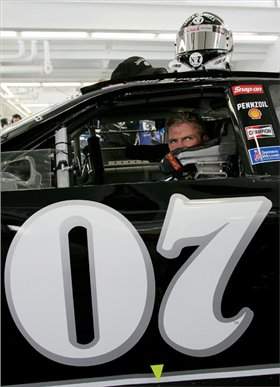 07-07-07
photo from clintbowyer.com

Clint needs a win. He has an average running positon of 9th at Daytona and he will have a rocket fast car; although the last time he raced there he finished backwards, upside down, and on fire. He isn't afraid of finishing like that again as long as when he climbs out and the top of the tree says, "07." If you're close to a TV around 7:30 EST this weekend, give us a chest thump. I promise you the driver of the black RCR Jack Daniel's Monte Carlo will be leaving a dent under the accelerator.

Thanks for reading, see you next week.